Are you searching for the best places to buy Croatian wine in Switzerland? Look no further! Here are seven of the most trusted online outlets to buy high-quality, authentic Croatian wine.
4 of these online shops are based in Switzerland, 1 is registered in Chech Republic, 1 is from Germany, and 1 is based in Croatia. All of them are supplied with superb Croatian wines that can be shipped directly to your doorstep.
When buying wine online in Switzerland, you would typically expect domestic shops to offer better end prices because of lower shipping costs and because they store wines already imported to Switzerland. But, shockingly, this is only rarely the case.
So, let's dive in and find out where you can buy Croatian wine online in Switzerland.
Here are 7 best places to buy Croatian wine in Switzerland
Weinhaus Kroatische Weine is an online store based in Germany offering a wide selection of wines from Croatia. It's 85 wines in total from 16 different Croatian wineries. Not surprisingly, they offer 43 different labels of Croatian red wines alone, as the Croatian coast is quite famous for its powerful reds. They source their wines directly from Croatian wineries and guarantee quality with every purchase.
Weinhaus uses shopify e-commerce platform. They offer almost every payment option available, but the prices are in Eur. Their delivery service covers most of the Swiss territory and is focused on the Austrian, German and Swiss markets. They offer free shipping for orders over 100 Eur.
For Switzerland (and Austria), shipping is free for orders over 250 Eur.
Pros:
user-friendly experience, especially with mobile devices
fair delivery terms and conditions
Shopify e-commerce platform
Cons:
higher wine prices
prices calculated in Eur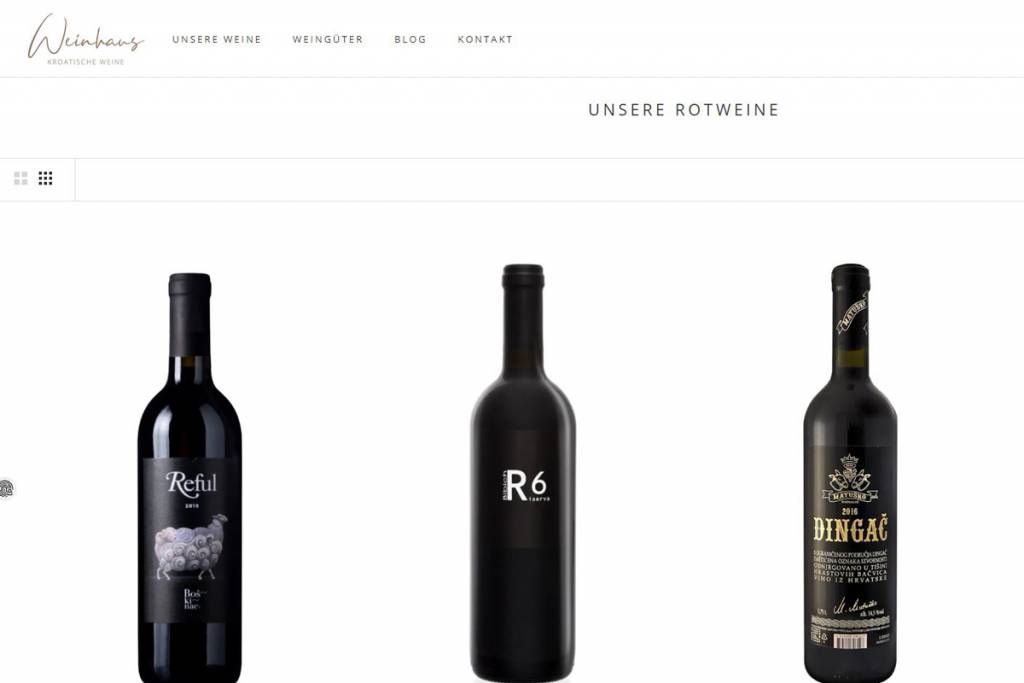 Mirakul Weine is the leading online store for Croatian wine in Switzerland. It's based in Zurich, and it has been active for years. However, it offers no more than 56 different wine labels from Croatia, but it does have Croatian sparkling wines (5) and dessert wines (also 5) as well. Also, interestingly, 15 magnum-size bottles. Something very interesting for wine collectors.
Mirakul holds wines from 17 different Croatian wineries and generally offers competitive prices, depending on the winery. Most of the wines could be purchased online at a better price from other web wine shops, but the service is reliable, and the shipping is free for orders over CHF 100.
Pros:
free shipping on orders over CHF 100
reliable customer service
magnum bottle options available
Cons:
limited selection of Croatian wine labels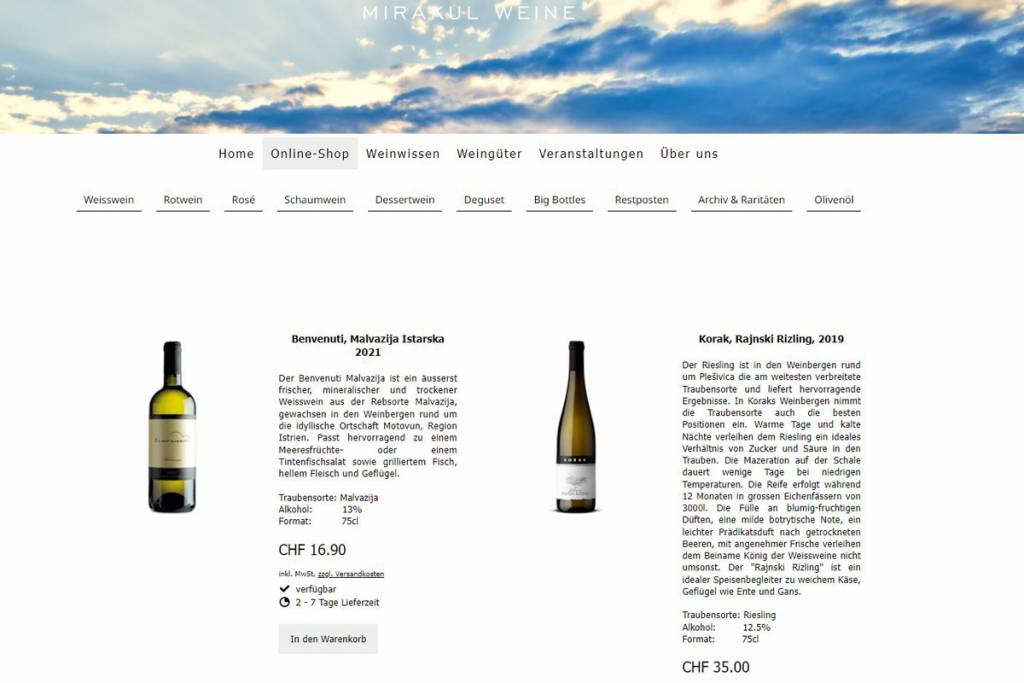 Based in Croatia, Wine&more offers shipping to non-EU countries using DHL service to Switzerland. Shipping costs can be significant, but the prices are most competitive, and there is also a free shipping option for Switzerland for orders over 350 CHF. Wine prices include all the taxes. There is a minimum order of 40 CHF.
The key advantage of Wine&more is the selection of more than 800 labels from hundreds of producers. This could be overwhelming, which is why customer support is important.
Customer service is devoted and passionate about wine. Wine&more also creates much content about Croatian and Balkan wines. This educational and informative component is very nice, and it's something we must highlight.
Wine&more uses the WSpay system. Every credit card payment, including Pay Pal and cryptocurrency, is accepted, and secure payment is installed.
Pros:
most extensive Croatian wine online selection by far
generally best prices (with calculated duties)
educational content about Croatian wines
Cons:
shipping costs can be significant for smaller orders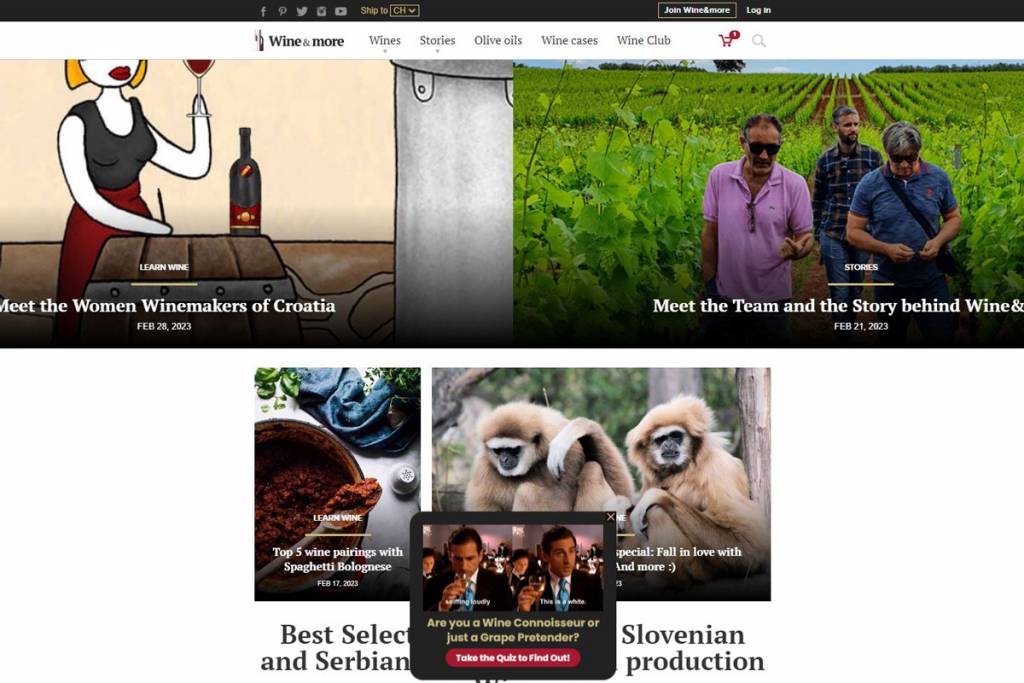 Wines from Croatia is a specialised online wine store in Switzerland that focuses only on Croatian wines. It's based in Jonen near Zurich and offers a selection of 46 labels in total from 11 different Croatian wineries. There is a story about each of the 11 wineries available, and with this selection, they managed to cover all 4 major Croatian wine regions.
Shipping cost starts at 11.90 CHF, and there is an option for order collection, which is free, of course, and which can be suitable for Zurich residents. Wine prices are fair, depending on the particular winery, but certainly not the most competitive.
Pros:
based in Switzerland
small but comprehensive selection
Cons:
relatively limited selection compared to other stores
not the most competitive prices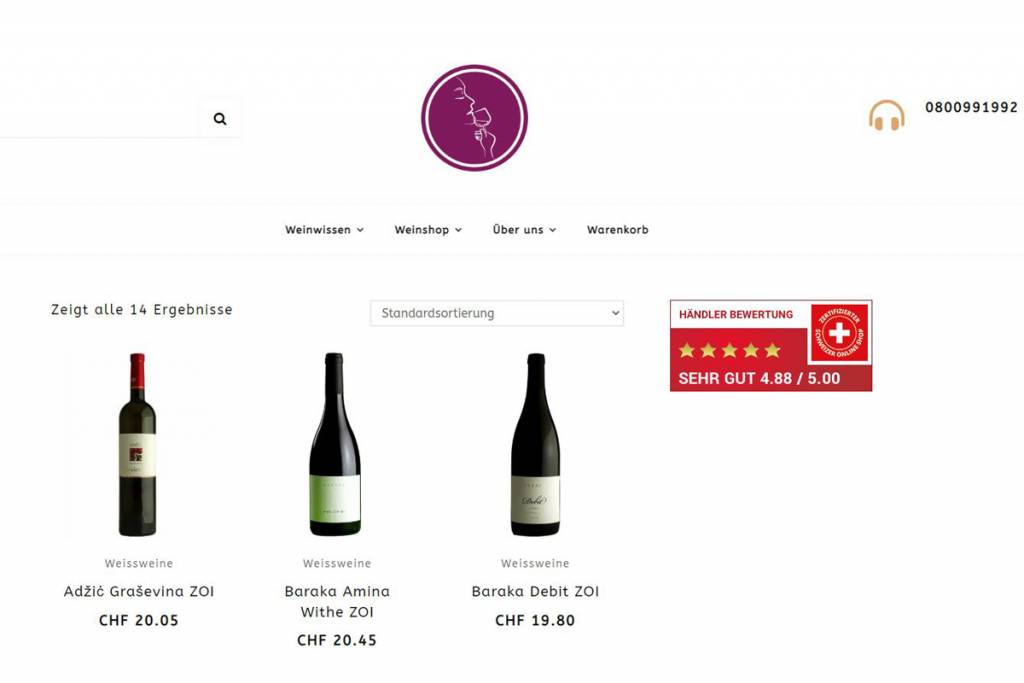 8Wines, registered in the Czech Republic and using UPS for delivery, is a strong contender for ordering Croatian wine in Switzerland despite offering only 56 labels from several producers. Prices can be presented in CHF, but they are not the most competitive. 8wines accepts all major credit cards and provides secure payment options. It is worth noting that the prices might differ at checkout because the Swiss taxes aren't displayed.
Free shipping is advertised for orders over 350 Eur, but it is not valid for Swiss customers.
Pros:
sufficient selection of different Croatian wines
Cons:
shipping costs
no free shipping to Switzerland
many wines are out-of-stock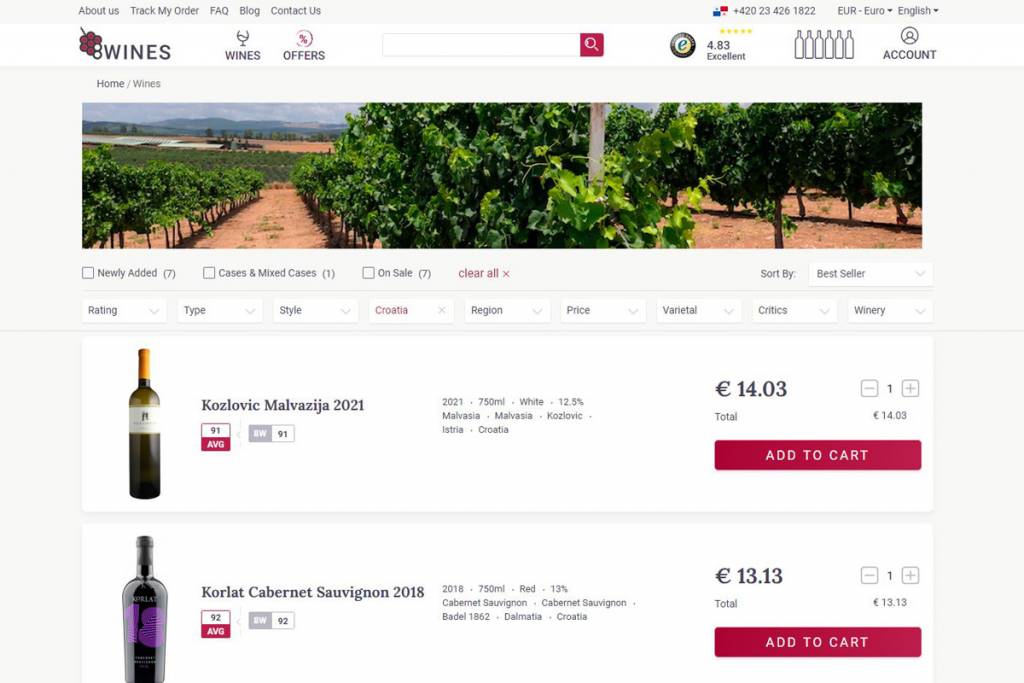 Vallis Aurea is another Swiss importer registered in Schaffhausen. Their wine shop in Zurich is no longer operating, but they offer a selection of 50 Croatian wines to Swiss customers online. There is a minimum order delivery, and it's 99 CHF. Free shipping is only for orders over 400 CHF.
Generally, wine prices are competitive. The selection of wines is interesting, with few wines nobody else offers and with a quite large price range from 15 to 60 CHF.
The website is not state-of-the-art optimised, and the user experience could be improved. especially the checkout process. Also, Pay Pal payment is currently not possible.
Pros:
Swiss-based
few unique wine labels
Cons:
PayPal payment not possible
user experience and checkout process could be improved.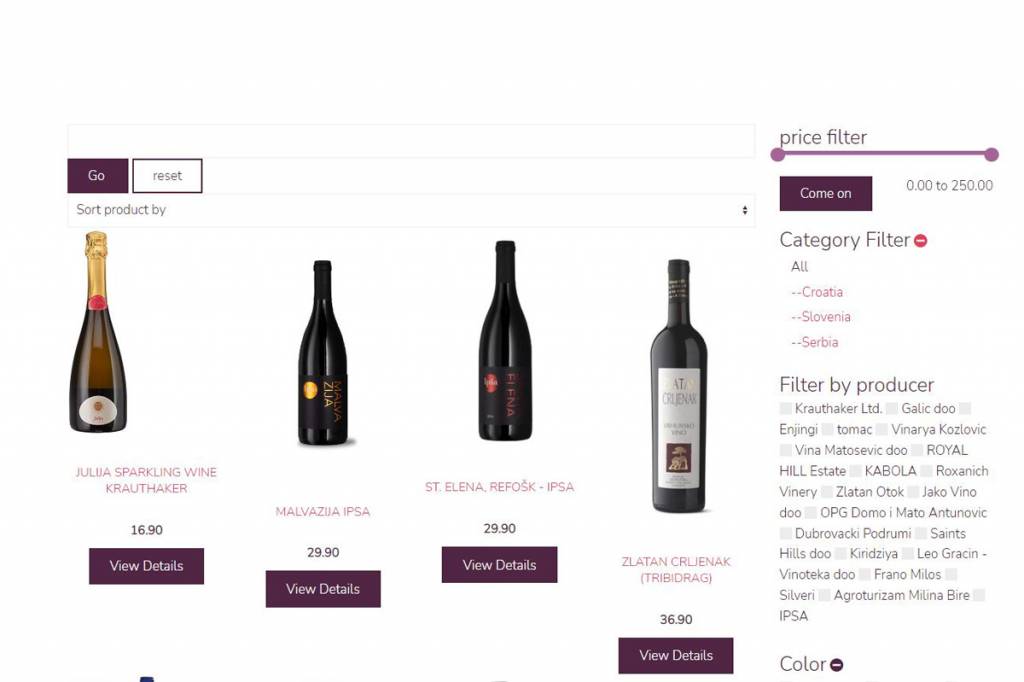 Volim vino (the love of wine) is an online store for Croatian wines based in Switzerland and offers a selection of only 11 labels from only 4 wineries. It started working in the summer of 2021. Prices are very competitive and the lowest available for these 4 wineries. Regretfully, several wines are sold out.
Shipping cost is a flat rate of 15 CHF, and deliveries of 12 bottles or more are free of charge.
Pros:
very competitive prices
free delivery for orders of 12 bottles or more
Cons:
very limited selection (only 11 labels from 4 wineries)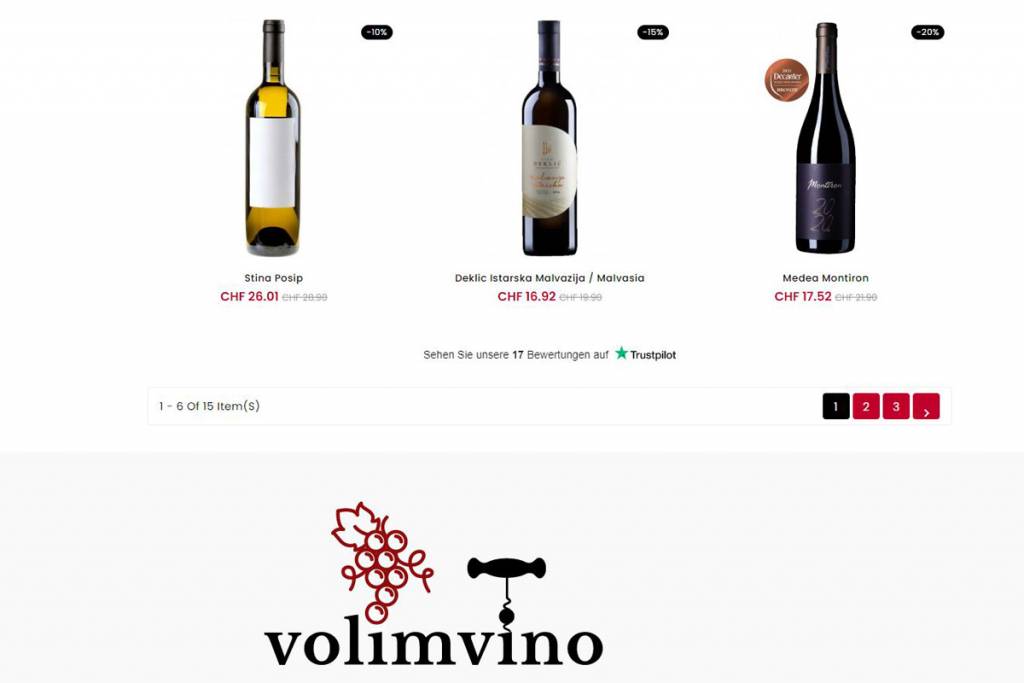 Croatian wine online in Switzerland
There is an interesting variety and selection of wines from Croatia for Swiss customers. The most comprehensive selection is available at Wine&more, but other stores have other advantages and a few unique labels. To buy Croatian wine online in Switzerland, you can use any major credit card or Pay Pal payment with secure payment options. Shipping costs vary depending on the store. It's usually more affordable to use Swiss-based stores if buying a few bottles online. For larger orders, there is usually a free shipping option with other stores that deliver to Switzerland. It makes sense to compare prices and buy from the most competitive store. When buying Croatian wine online in Switzerland, remember that Swiss taxes are included in the presented prices. Enjoy your shopping!
Availability of Croatian wine in Switzerland
The availability of Croatian wine is generally good and improving. However, there are still some limitations regarding selection and price range. For this reason, it's important to compare the different stores before deciding which one to buy from. In general, Wine&more offers the most comprehensive selection by far, while others also offer different interesting labels.
The quality/price ratio
Croatian wines aren't cheap, and nobody expects them to be. It's the quality/price ratio of Croatian wines that matters, and it is usually quite good. There are some great values available to Swiss wine lovers as well. Out of the top 7 choices for buying Croatian wine online in Switzerland, Volim Vino has the best prices. However, their selection could be better as it includes only 4 wineries.
With the right approach, you can buy very good Croatian wines for a reasonable price. With so many options available online, buying Croatian wine in Switzerland has never been easier.
So, if you're looking to buy Croatian wine online in Switzerland, make sure to do some research and compare the different stores before making a purchase. With a bit of luck, you'll find wines that are both unique and affordable! Enjoy your shopping experience!
Delivery and payment terms and conditions
Before making any purchase, it's always important to check the delivery and payment terms and conditions of the store. The best shops will offer secure payment options, and they will accept every major credit card or PayPal. Also, make sure to take a look at the shipping costs and free shipping conditions. Usually, Swiss-based stores offer flat-rate shipping and provide free delivery for not-so-large orders. But Swiss-based online stores could have more expensive wine prices.
Last but not least, remember that the prices presented include Swiss taxes.
Conclusion
All in all, buying Croatian wine online in Switzerland is a great way to access some unique wines and explore different styles of Croatian winemaking. With the right approach, you can buy good quality wines at competitive prices and enjoy them without having to leave your home. So, take some time to explore different stores and confidently buy Croatian wine online in Switzerland. Enjoy your purchase!