Dubrovnik, a pearl of the Adriatic and a UNESCO World Heritage site, is renowned for its rich history and stunning architecture. It is a must-visit place if Croatia is your next destination!
So why not make your trip to Dubrovnik even more unforgettable by exploring the exquisite wineries that lie just a stone's throw away? Join us on a journey through the top 7 wineries near Dubrovnik and discover the best day trip for an ultimate Croatian experience you won't forget!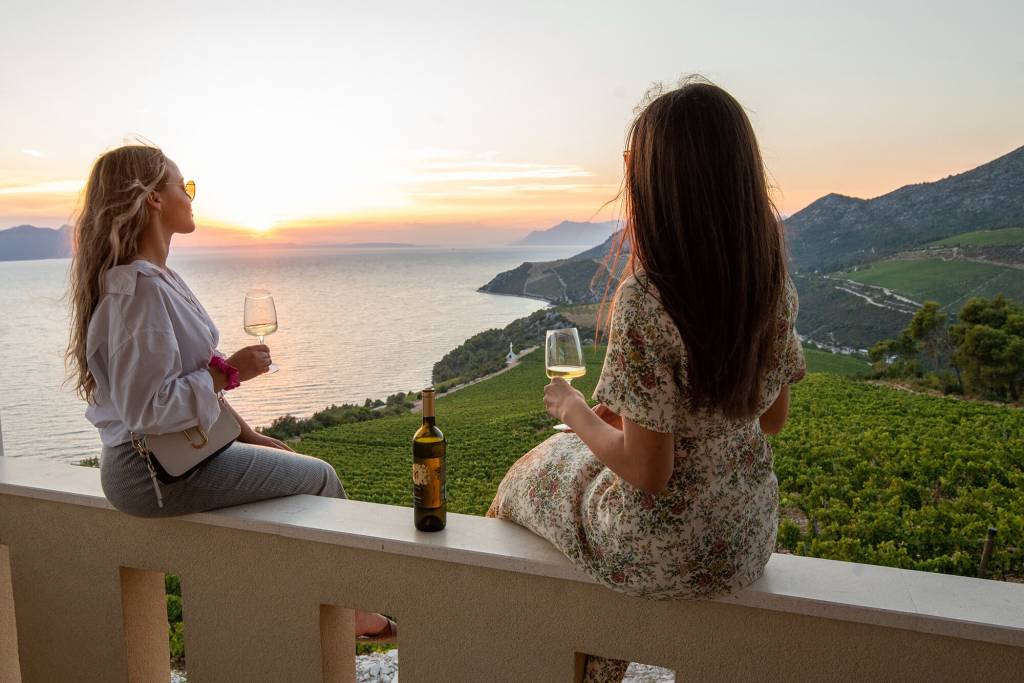 Croatia's coastline is a fantastic destination for those seeking a wine-filled holiday, with a rich history of viticulture and numerous amazing native varieties to taste and discover! Dalmatian winemakers are creating exceptional wines using native grape varieties, gaining more global recognition. If you visit Dubrovnik, a UNESCO heritage site, you're lucky, as some of the country's best wineries are just a short distance away. Even if it's raining, visiting local wineries is a must-do activity in Dubrovnik, as it offers a memorable wine and gourmet experience!
Introduction
If you have already traveled to Dubrovnik and thought you had experienced it all, think again! Our carefully curated list of the top 7 wineries near Dubrovnik will take you on an unforgettable journey of discovering new flavors, experiences, traditions, local culture, and heritage sites.
Take in the breathtaking coastal views, meet the winemakers, visit medieval towns and cultural heritage sites, and enjoy the local cuisine. Experience the best of both worlds as you indulge in gourmet wine and food tastings,
On your day trip from Dubrovnik, you will get the chance to take in spectacular coastal views as you enjoy your trip to these wine-growing regions, meet the winemakers, visit some amazing medieval towns and cultural heritage sites, enjoy local cuisine and traditional delicacies paired with the region's renowned Konavle, Pelješac, and Komarna wines.
Top 7 wineries near Dubrovnik
Embark on an unforgettable day tour from Dubrovnik to the Konavle region, where you can explore the Croatian countryside and taste locally produced wines from traditional family-run wineries.
While in the area, take a short trip to the Pelješac peninsula, renowned for its ideal grape-growing conditions and popular Croatian wines made from the Plavac Mali variety from the world-renowned Dingač and Postup appellations. These vineyards are situated on steep slopes with triple insolation from the sun, rock, and sea, resulting in unparalleled wine flavors. A glass of first-class wine matched with mesmerizing scenery!
A visit to the medieval town of Ston is a must-do activity, where you can explore the ancient walls, indulge in delicious wines, and visit oyster farms. On the other hand, if you're looking for a coastal town steeped in history, Orebić is your destination. This charming town has a long and fascinating past, its streets lined with mansions and villas built by wealthy sea captains over the centuries. These architectural gems are a sight to behold and a testament to the town's rich cultural heritage.
Komarna, Croatia's youngest appellation, is the only appellation in the country where all wineries are certified organic. Situated near Ston, the area offers wine lovers the perfect opportunity to indulge in exquisite organic wines while enjoying the stunning panoramic view. Don't miss the chance to experience this unique and eco-friendly wine region!
Let's head to our list of the top 7 wineries near Dubrovnik!
Crvik winery
Crvik winery, a family-owned business located in the charming village of Komaji, just outside Dubrovnik, has produced an array of red and white wines for over a century. The winery offers wine tastings, tours, and even lodging at their guesthouse, making it the perfect destination for wine lovers and travelers.
The winemaking tradition in the Crvik family dates back to 1897, when the great-grandfather, Andro, constructed the first wine cellar. Over the years, the second and third generations continued production despite the turbulent times. In 1993, the third generation, Andro Crvik, inaugurated a modern winery, which led to numerous awards at competitions across Croatia.
Today, the Crvik winery represents a fusion of traditional and modern techniques. The father and son team works side by side, combining the father's old-school, traditional views with the son's modern vision and ideas to create an excellent variety of wines. The winery's diverse selection includes white, red, rosé, and Prošek, a traditional Dalmatian sweet dessert wine.
Visitors can enjoy the peace and tranquility of the area while savoring the rich flavors of Dubrovnik's cuisine. In addition, the winery offers a beautiful outdoor tasting area where guests can sample their wines and take in the stunning scenery.
Key takeaway: Whether you are a wine connoisseur or a curious traveler somewhere near Dubrovnik, visiting Crvik winery is a must! With over a century of winemaking experience, this family-owned winery will impress even the most discerning palate.
Rizman winery
The winery is known for its production of premium quality wines made using traditional winemaking techniques and modern technology. The winery's vineyards are located on steep slopes that overlook the Adriatic Sea, providing the ideal growing conditions for the grape varieties grown here. The winery's dedication to traditional winemaking techniques, sustainable farming practices, and the use of only the finest grapes results in rich, full-bodied, and expressive of the terroir of the Neretva region. Visitors can indulge in the unique flavors of the flagship wines made from native varieties Plavac Mali, Pošip, and Tribidrag (also known as Zinfandel and Crljenak) in the tasting room, accompanied by indigenous gastronomic delicacies that perfectly complement the wines. And, of course, the stunning terrace with its breathtaking views of the Adriatic Sea provides the perfect backdrop for a memorable wine-tasting experience. So, if you're looking to discover the best wineries near Dubrovnik, Rizman winery is worth a visit!
Key takeaway: Visitors on a day trip from Dubrovnik can enjoy a full sensory experience in a relaxed and welcoming environment. For those who want to take it to the next level, the tasting room also serves up delicious local delicacies that perfectly complement the wines on the terrace with a stunning view of the Adriatic sea and the surrounding area.
Terra Madre winery
If you're looking for an unforgettable winery experience, Terra Madre Winery is a must-visit destination. Situated in the stunning Komarna appellation, the winery produces a range of exceptional organic wines that will delight even the most discerning wine enthusiast. Their Plavac Mali, Cabernet Sauvignon, and Merlot are particular standouts, each offering a unique and unforgettable taste. What sets Terra Madre Winery apart, however, is its unwavering commitment to sustainability and organic farming practices. From the moment you arrive, you'll notice the care and attention that goes into every detail of the winemaking process.
But it's not just their wine that sets Terra Madre Winery apart. The winery is also dedicated to providing exceptional hospitality and customer service. Their tasting room is a warm and inviting, perfect for enjoying a glass of wine and learning more about the winemaking process. And if you're looking for a more in-depth experience, the winery offers tours of its vineyards and facilities. During the tour, you'll get an up-close look at the meticulous care that goes into each bottle of wine. You'll leave with a deeper appreciation for the winery's commitment to sustainability and organic farming.
Overall, if you're looking for a memorable winery experience, be sure to add Terra Madre Winery to your list of must-visit destinations.
Key takeaway: Terra Madre Winery is a truly unique and unforgettable destination for wine lovers on a wine tour from Dubrovnik. With exceptional wines, a commitment to sustainability, and unparalleled hospitality, it's easy to see why this winery is a favorite among locals and visitors alike.
Saint Hills winery
Saint Hills winery is a charming boutique winery located in the idyllic village of Oskorušno, near the beautiful city of Dubrovnik. Winery is housed in a historic stone house once owned by a family who emigrated from Croatia in search of a better life.
Today, Saint Hills winery continues the tradition of wine production that has been a part of the tradition for many years. They carefully select the best grapes and work with experts to produce exceptional wines. One thing that sets them apart is that some grapes come from other parts of Dalmatia or even the Istria region.
The winery's philosophy is focused on producing wines that reflect the character of the local soil, climate, and grape varieties. The winery produces a range of wines, from crisp, refreshing whites to full-bodied, robust reds, each with its unique flavor profile.
Saints Hills Winery is not just a place for wine lovers, it is also a destination for those seeking a unique and authentic Croatian gourmet food and wine pairing experience, using locally sourced ingredients and paired perfectly with their wine selection. They even have a guesthouse where wine lovers and travel enthusiasts can stay and soak up the tranquil beauty of Oskorušno.
Key takeaway: With its tranquility, delicious wines, and warm hospitality, Saints Hills Winery is a must-visit destination for anyone visiting the Pelješac peninsula on their tour from Dubrovnik. It is a testament to the passion and dedication of its founders, who have transformed the winery into one of the most sought-after destinations in the region.
Matuško winery
Matuško winery is a renowned winery in the small village of Potomje, nestled within the picturesque Pelješac Peninsula in southern Croatia. Matuško winery has become a staple of the region's wine scene with a tradition of winemaking dating back centuries.
The winery is known for its high-quality Plavac Mali wines, made from indigenous grapes grown on the steep, rocky slopes of the Dingač appellation. The winery's dedication to sustainable viticulture and winemaking practices has earned them numerous locally and internationally awards.
Matuško Winery offers tastings and tours to visitors, providing a unique opportunity to experience the winemaking process firsthand while enjoying the breathtaking views of the surrounding vineyards and coastline. With its commitment to quality and tradition, Matuško winery is a must-visit destination for any wine enthusiast traveling to the Pelješac Peninsula.
Wine recommendations: If you want to taste some amazon Plavac Mali wines, a trip to Matuško winery is necessary! Tasting the selection of Plavac Mali wines from Dingač appellation will create an unforgettable experience at this renowned winery nestled within the picturesque Pelješac peninsula.
Grgić winery
Welcome to Grgić winery, a beautiful family-owned winery on the Pelješac peninsula founded by world-renowned winemaker Mike Grgich. You may recognize his name from the famous Chardonnay he made at Chateau Montelena, which shocked the wine world and won the Judgement of Paris in 1976. This was a turning point for the Napa Valley wine industry.
Originally from Croatia, Grgich studied winemaking at the University of Zagreb before moving to California, where he gained fame and success. In 1996, he founded Grgić winery with his daughter Violet and nephew, Ivo, focusing on the local white grape Pošip and local red grape Pavlac Mali.
The winery is located on a stunning peninsula with a 270-degree view of the Adriatic Sea. In the tasting room, visitors can try their exquisite wines and a selection from their sister winery in Napa.
Wine recommendations: On your trip from Dubrovnik, experience the beauty and excellence of Grgić Winery, a family-owned winery on the Pelješac peninsula. Taste their exquisite wines, enjoy the stunning view of the Adriatic sea, and learn about the winery's focus on native grapes, Pošip, and Pavlac Mali.
Korta Katarina winery
Korta Katarina is an exquisite winery and villa in the charming seaside town of Orebić on the stunning Pelješac peninsula, a few hours' drive from Dubrovnik. With breathtaking views of the Adriatic sea, nearby islands, and beautiful natural surroundings, the winery offers everything you need for an unforgettable experience: luxurious accommodations, a gourmet restaurant, a spa, a pool, and a wine bar. Every detail is carefully designed to create a unique experience. For an extra special treat, they even offer to book their yacht.
Korta Katarina is one of the most modern and well-equipped wineries on the Pelješac peninsula. Owned by an American couple who loved Croatian hospitality, cuisine, and wine, the winery offers a range of high-quality wines, including native Plavac Mali from Dingač and Postup appellation, Zinfandel (also known as Crljenak and Tribidrag), and Pošip. Their wines have won numerous awards in prestigious international competitions. Be sure not to miss out on a tasting accompanied by a selection of local cheeses and cured meat plates while enjoying the stunning views.
Key takeaway: Experience the ultimate luxury at Korta Katarina, an exquisite winery and villa in the beautiful seaside town of Orebić on the Pelješac peninsula. Or take advantage of the extra special treat of booking their yacht for a truly unforgettable experience.
FAQ
Wine tasting in Dubrovnik?
Dubrovnik, the picturesque Croatian city on the Adriatic coast, is a popular destination for wine lovers seeking to indulge in the region's rich and diverse wine culture. Wine tasting in Dubrovnik offers a unique opportunity to savor the flavors of the local wines, which are often made from native grapes grown in the nearby wine-growing regions such as Konavle, Komarna, Imotski, Pelješac peninsula, Korčula.
The wine-tasting experiences in Dubrovnik vary from casual tastings in local bars to guided tours of wineries in the surrounding countryside or organized day trips and boat tours to Pelješac and Korčula island. Some of the most popular wines to try in Dubrovnik include native Dalmatian varieties Plavac Mali, Babić, Zinfandel (also known as Crljenak and Tribidrag), Pošip, Grk, Maraština, Malvasia Dubrovačka, or other Croatian varieties such as Malvasia Istriana, Graševina, Teran, each with its distinctive taste and aroma. You can sample international varieties such as Chardonnay, Merlot, Cabernet Sauvignon, Syrah, and others made in Croatian fashion.
Whether you are a wine connoisseur or a casual drinker, be sure to experience wine tasting in Dubrovnik as an unforgettable experience that will leave you with a newfound appreciation for Croatian wines.
What is the best Dubrovnik white wine?
Apart from native Dalmatian whites, Pošip, Grk, Debit, or Maraština, when in Dubrovnik, don't miss the chance to taste Malvasia (Malvazija) Dubrovačka. Although it has been grown in the area for over 600 years, recent research has shown that it is identical to the Italian Malvasia di Lipari, and it is believed to have originated in Greece before spreading to several Mediterranean countries.
Despite almost going extinct, Malvasia Dubrovačka has been saved by a handful of dedicated producers who still cultivate and promote this exceptional grape. The wine produced from Malvasia has an appealing golden yellow color and is incredibly aromatic, with stone fruit and floral aromas, often with hints of citrus and honey.
You'll experience a full-bodied, round wine that remains fresh and lively due to good acidity when you sip. Malvasia pairs best with seafood or light poultry dishes and is also used to make a sweet dessert wine known as Prošek, made from dry berries. Don't miss out on this rare and unique grape variety!
Best wine bars in Dubrovnik
Dubrovnik is known for its beautiful scenery and historical landmarks, but it's also a great destination for wine lovers. The city boasts several wine bars that offer an extensive selection of Croatian wines and a welcoming atmosphere.
One of the best wine bars in Dubrovnik is D'Vino Wine Bar, located in the heart of the Old Town. They offer over 100 wines from all regions of Croatia and various cheese and meat platters.
Another popular wine bar is Wine Bar Bakus, a cozy spot in the heart of Old Town where you can sip some famous local wines. Their staff will guide you through the selection, ensuring you have the best experience possible. And if you need a break from the heat, we've got you covered with a unique "cave" area that's naturally cooled, allowing you to relax and savor the flavors of the region's top wines.
Malvasia Wine Bar is named after the famous Malvasia Dubrovačka wine variety, a favorite wine in the medieval Republic of Dubrovnik. Be sure to sample this little-known white gem and other famous local wine varieties.
Lastly, Tavulin wine and art bar, a family-owned business, offers a relaxed and friendly atmosphere! They offer a diverse selection of white, red, and rose wines, craft beers, delicious tapas, coffee, and desserts. As you relax and sip on your wine, take a moment to admire the beautiful stone wall adorned with artwork created by talented local artists from Croatia.
Conclusion
For decades, winemaking in the Dubrovnik area was limited to small family wineries. However, the increase in the expansion of vineyards opened up the wine culture of the region to visitors from all over the globe, who can now explore the unique flavors of the great wine regions near Dubrovnik every time they visit this fascinating city.
From the Komarna region to the Pelješac peninsula and its medieval towns and picturesque countryside in Konavle, there are plenty of new and exciting places near Dubrovnik to sample awarded Dalmatian wines.