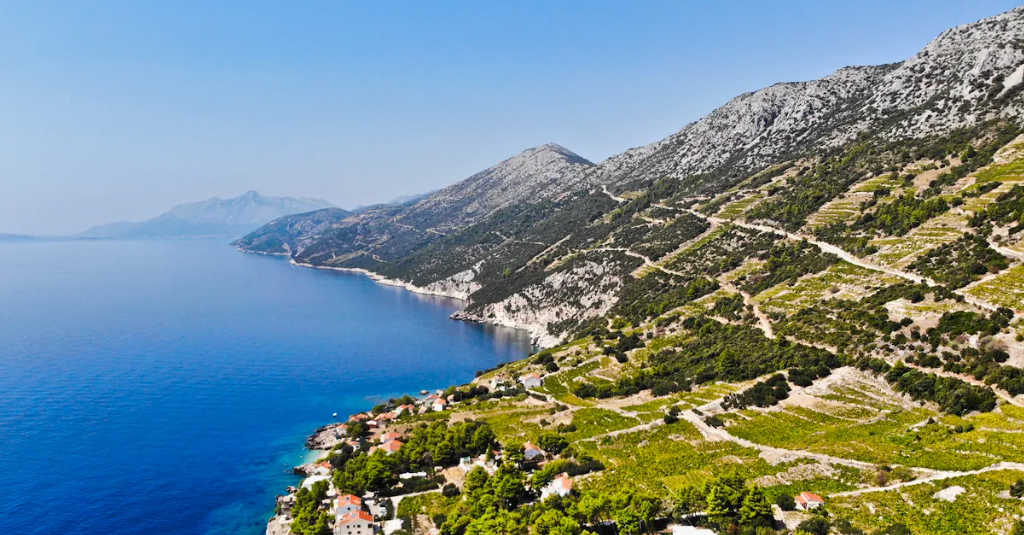 Introduction to Dingač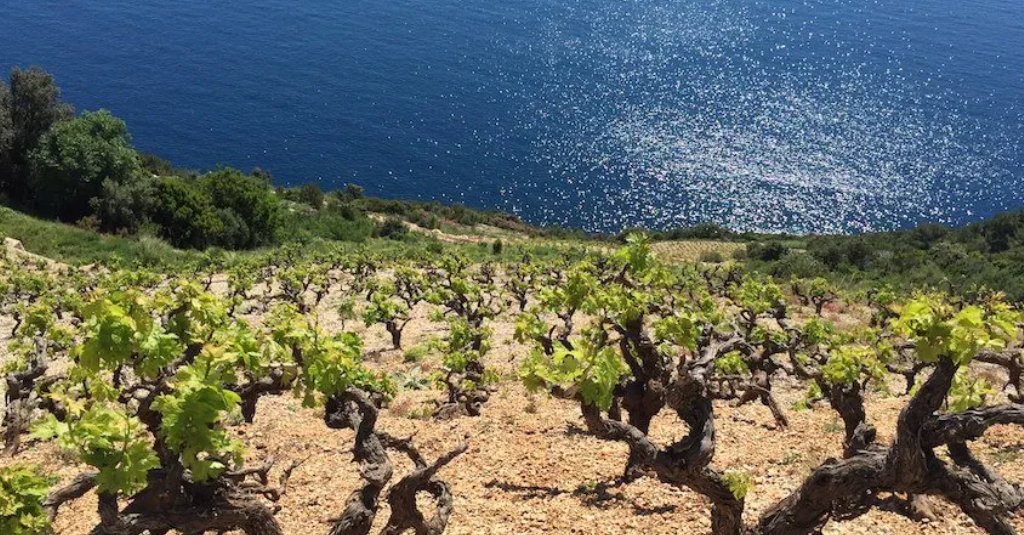 Have you ever tasted Dingač? Is Dingač some grape variety? Well, the correct answer is – no.
Dingač is a wine-growing microregion on the Pelješac peninsula in the Dalmatian wine region in Croatia. Situated on the southwestern-facing slope of the Zabrada mountains between the small villages of Trstenik and Podobuče, it is a highly regarded area for growing the native Croatian red grape variety called – Plavac Mali!
Uncover all its secrets by reading our article – you won't miss out on this unique adventure to uncover the mystery behind famous Dingač wines! Find out the top 10 wines from the Dingač microregion to savor some amazing flavors from one of the most popular Croatian red grape varieties – Plavac Mali!
Key Takeaway: Have you ever heard of Dingač wine? It's an amazing type of the most sought-after Croatian red wine made from the native grape variety Plavac Mali, grown in the Dingač appellation (or microregion), on the Pelješac peninsula, in the Dalmatia wine region. Time to get your hands on some of those exquisite wines – uncover their alluring flavor today!
The Story Behind Dingač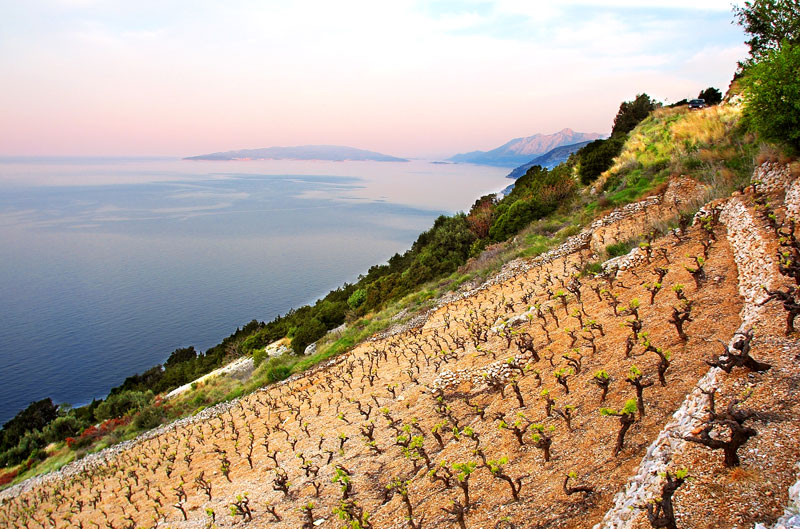 Dingač is the stretch of coastal land between Podobuče and Trstenik. This 7-kilometer area is where Plavac Mali grapes – a varietal unique to Dalmatia – thrive thanks to an ideal combination of soil composition and climate conditions. When it comes to wine from this region, nothing but these privileged grapes grown between mentioned two locations have the privilege to be called Dingač!
Potomje is located in the middle of the peninsula and is the location of perhaps the most attractive vineyards in Pelješac. On one side, the vineyards are protected by a stone massif from the cold winds, and on the other, they descend steeply towards the sea and are thus perfectly positioned towards the sun.
Picture 1. Dingač wine map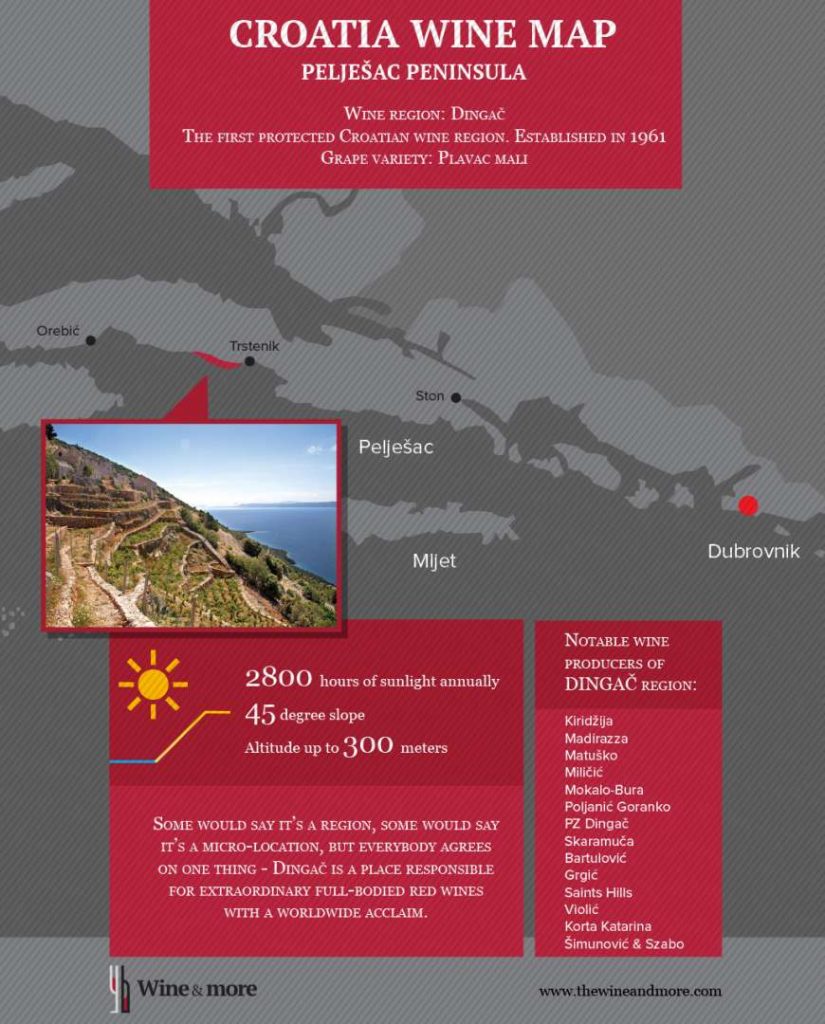 The area is not very accessible but a small, rural road runs the length of the region. Also, at Potomje is the entrance to a one-lane tunnel through the mountain that winemakers paid to build in 1973 in order to transport grapes directly. This replaced the old system of using donkeys or mules to carry harvested grapes over the 400 m high pass of the mountain, though some winemakers continued to use them, as well as horses, during the harvest time because no machines or tractors can come on those steep slopes where truly fascinating vineyards reside.
The donkey has long been a faithful companion to Dalmatian laborers, making it an iconic symbol of the region. Wineries such as Matuško and Dingač co-op proudly display this distinctive animal on their labels – not only for its symbolism but also because the donkey is a living embodiment of hard work and loyalty.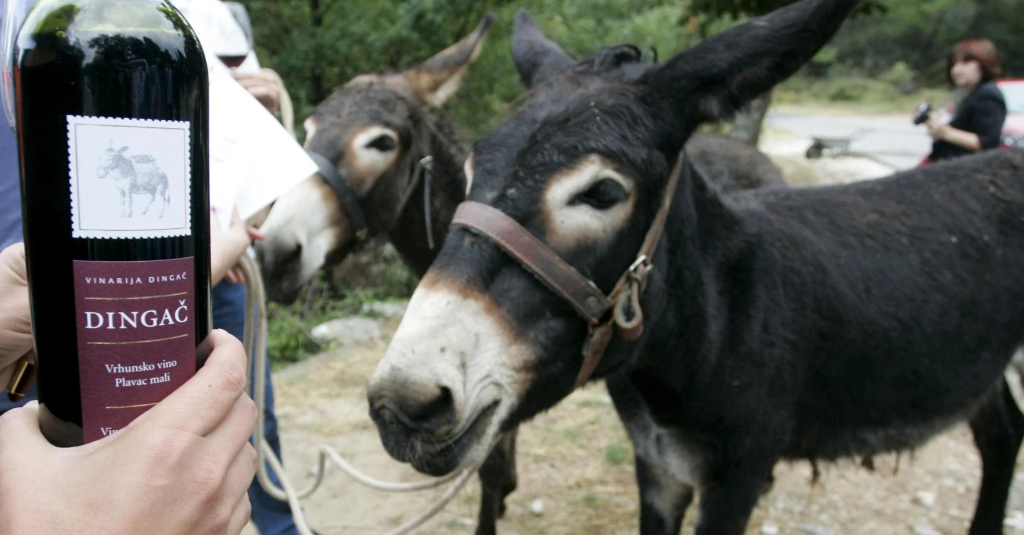 For centuries, Dingač wine has been renowned for its unparalleled value. Even before the 15th century, it commanded a price tag 3-4 times higher than even other top-quality Dalmatian wines!
If you've ever wondered why Dingač is so famous, here's the answer: it was officially recognized as Croatia and former Yugoslavia's first protected wine appellation in 1962. While private winemaking wasn't allowed at that time, the demand in the country and abroad for Plavac Mali from the Dingač microregion was very high. It caused frequent falsifications to the detriment of the reputation of this famous wine.
A decree from the Ministry of Agriculture declared that only Pelješac island's Agricultural Cooperative (also known as "Dingač") could produce wines under the name – Dingač – giving us our very own Croatian classic!
Key Takeaway: Dingač was officially recognized as Croatia and former Yugoslavia's first protected wine appellation in 1962. As in the rest of Pelješac, Plavac Mali is "the king of red wines" in the Dingač microregion as well.
Dingač Terroir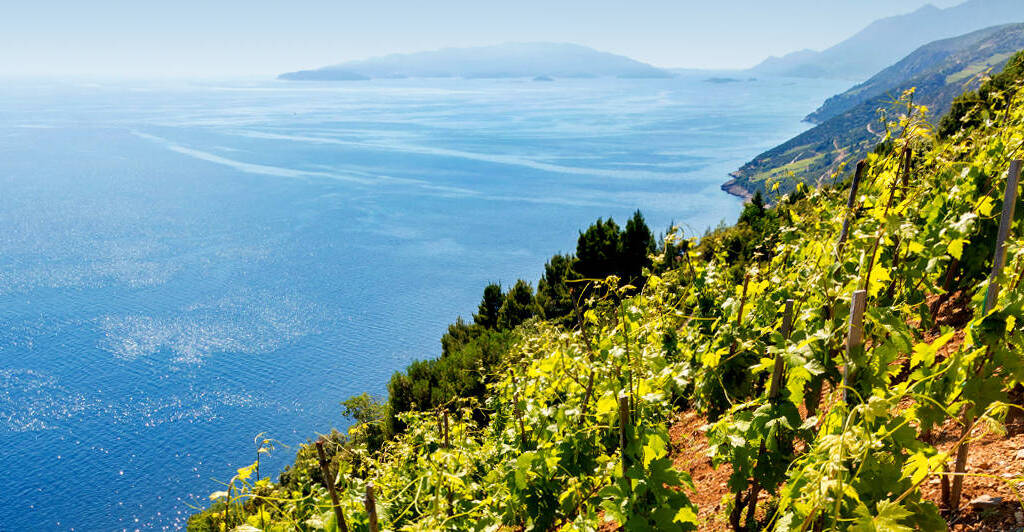 Located on the picturesque Dalmatian coast, Dingač is one of the world's most iconic wine regions. Its unique terroir, topography, and soil composition make for a distinctive flavor profile when compared to other wines from around the globe.
With its 45° slope inclination, vineyards planted from sea level up to 300 m, up to 2800 hours of sunshine annually, and rugged karst landscape ensuring minimal surface erosion – it's no surprise that reds are thriving in this dramatic Mediterranean setting!
Soil characteristics and human impact
If you ever wondered what makes the beautiful vineyards of Dingač so unique, it's their vineyards! Throughout centuries, in order to protect the soil from erosion, local inhabitants build terraces, thus made possible to cultivate grape vines in those locations.
Larger stones were used to build terrace walls (transl. suhozidi) while smaller stones and pebbles were taken outside of the future vineyards. All this allowed for lushness and wild Mediterranean vegetation growth in summer dry months which served as an indicator of quality terrain in a particular location.
Soil is essential to the magical nectar that we know as Dingač wine. The terroir of this Croatian delight was formed on a unique base of pebble detritus deposits made on the mother substrate of Quaternary karst, in an incredible range of soil inclinations from 10°-60°!
Despite the stunning views overlooking the sea below, tending vines and harvesting grapes can be quite treacherous due to dangerously steep slopes reaching over 45 degrees at altitudes well above 1,000 feet! No easy feat for any vintner wanting to get their hands on those exclusive grapes!
The soil is skeletal due to containing mostly white pebbles and small stones on the surface of the ground – which forms an excellent thermal insulator. The majority of soil is comprised of 75% pebbles, with 25% made up of gravel and finer stones including sand (about 40%), dust (30%), and clay (30%). This combination makes for an extremely permeable substrate that optimizes heat regulation on the ground level.
You could call Dingač soil a magical blend of various beneficial components like
potassium as one of the most important factors influencing the quality of grapes, and ultimately wines,
moderately rich in humus,
nitrogen,
low in phosphorus.
All are carefully balanced to provide the perfect mix for creating world-renowned grapes and wine. Its slightly neutral or mildly alkaline reaction combined with sufficient quantities of calcium, sulfur, and boron but a lack of magnesium gives it an ideal composition that has been treasured by local winemakers!
Climate conditions
With the Plavac Mali variety cultivated under Dingač and Postup's extreme conditions, winemakers have a challenge on their hands. The soil quality and steep inclination with southern exposure combined with its Mediterranean climate prove difficult to work in – an hour of hard labor at other vineyards can be three times as long in these unique regions!
Dingač is nestled in a perfect mild Mediterranean climate and protected by two mountain ranges from northern winds, while the deep sea on the south side serves as an ideal heat regulator.
In winter, it warms up air temperatures and in summer, relieves extreme heat levels. The region's slope of the terrain creates ideal conditions for grapevines to thrive by allowing maximum exposure to sunlight with reflected rays from the sea surface. Pebble-strewn soils help keep their roots cool while stone walls (suhozidi) and rocky massif above the vineyards offer maximum use of solar radiation.
Key Takeaway: Dingač is an appellation from which any wine enthusiast can taste some of the world's most exquisite red wines made from Plavac Mali! Due to its fascinating terroir, Dingač is also the first, authentic, and most famous Croatian grand cru!
Plavac Mali from Dingač
Plavac Mali (pronounced Plah-vahts Mah-lee) or simply Plavac, as it is called on Pelješac, has been a Dalmatian red grape variety since ancient times, widespread on the coast and on the islands of central and southern Dalmatia.
Plavac Mali (in translation "little blue") grapes thrive under the most extreme of conditions and nowhere is this more true than in Dingač and Postup wine-growing microregions.
The vineyards faced southwest, which means they here experience what's known as triple insolation:
an intense mix of direct sunlight, intensified due to limited rainfall,
sea-reflected sun rays from a nearby coastline and vineyards on 45° inclined slopes,
plus additional light reflection from white rock surfaces beneath the vines!
These unique bunches of Plavac Mali vine hang onto rocky hillsides, their roots reaching depths up to 10 meters. This allows them to draw nourishment and hold strong against the harshest conditions – even in severe drought periods or heaviest rainfalls due to natural drainage created by the earth's tilt as natural drainage.
The results are strong, full-bodied red wines with a massive bouquet that resembles the great wines of the genre: Sangiovese or Zinfandel. The difference is that the flavor of the best bottles of Dingač is, some would argue, more robust, both in taste and smell.
One of its greatest virtues is drought resistance and resistance to most major fungal diseases, especially powdery mildew. It produces wines with a medium to the high concentration of alcohol and a medium to low concentration of total acids, with a characteristic varietal aroma and taste. In extremely favorable positions such as the Dingač vineyards, it produces top wines.
Plavac Mali is essential to some delicious full-bodied red wines that can be overwhelming due to naturally high tannins and lower acidity levels unless carefully crafted by experienced winemakers through traditional techniques:
balanced vineyard practices and
careful extraction methods.
Dingač is a full-bodied, mouthwatering wine with intense and concentrated aromas of ripe fruit. Under the direction of the best winemakers, it can open subtle sensory hints that can remind you of sagebrush from the Dalmatian Coast or herbs found in abundance on the Pelješac Peninsula!
In most Dingač vineyards, cultivation occurs entirely ecologically, resulting in robust wines boasting rich extracts and nice alcohol content.
Get ready for an unforgettable experience and journey into flavor heaven with our top 10 wines from Dingač!
Key Takeaway: If you're looking for something truly special, why not take a deep dive into the warmth and luscious complexity of Plavac Mali wine grown on the captivatingly resilient terrain of Dingač appellation?
Top 10 Wines From Dingač
When it comes to deciding which Plavac Mali from Dingač microregion is the best, it really comes down to your personal preference. There is a common opinion that, when it comes to Plavac Mali, you just got to taste every one of them to make the right decision! We carefully selected the top 10 most popular wines from Dingač appellation to make your tasting journey easier. Cheers!
Matuško Dingač Reserve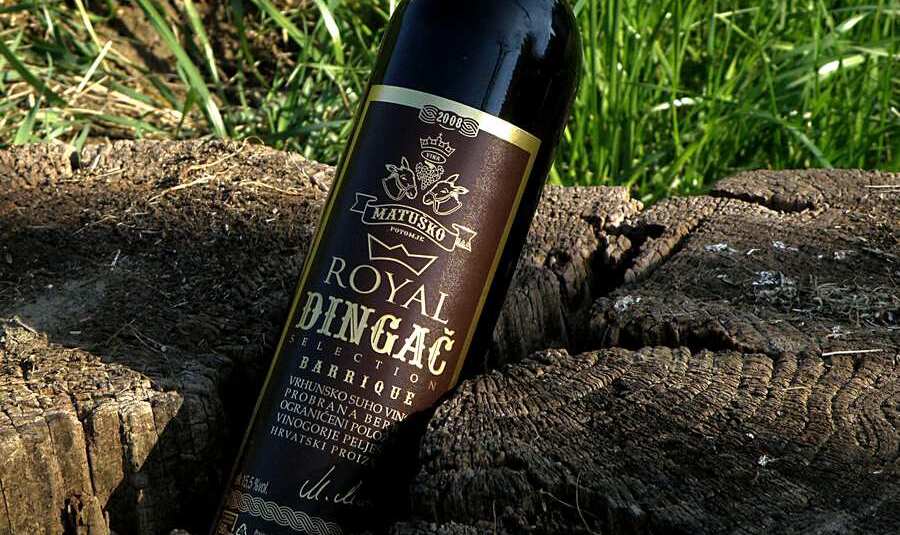 Step into the world of Mato Violić – Matuško and experience something extraordinary! He is one of Croatia's pioneering winemakers, known for his unique style. With a rebellious spirit, he created an iconic wine that has since become a status symbol – Dingač Reserve.
This isn't just any vino, it derives its exceptional qualities thanks to climate conditions and micro-locations of the Dingač appellation as well as the Plavac Mali grape variety (which locals refer to fondly as 'the blood of the soil' thanks to its ruby red color and drought resistance). But don't take our word for it: taste history by trying out one bottle at your local shop or online retailers now!
TASTING NOTES:
If you're searching for one of the best examples of Plavac Mali from the Dingač appellation, look no further than Dingač Reserve. Grown in an ecological zone, this wine comes from carefully selected berries harvest. Matured to perfection in oak barrels – making it as elegant and smooth as can be! Its unique flavor profile reminiscent of dark berries has been rewarded in national and international competitions – proving that it's definitely something special. Take your time when opening, as this wine will need at least two hours to open up and show those amazing flavors before consumption!
Key Takeaway: Indulge in a sip of excellence with every glass of Dingač Reserve. This award-winning wine embodies the essence of Croatia's wine-making tradition, balancing bold berry notes with a smooth finish that'll leave you wanting more!
Edivo Dingač
Edivo wines started out as an ambitious endeavor twelve years ago when two friends decided to embark on a journey of discovery and craftsmanship. Their mission? To make wine with an incredible twist: aging it for two whole years under the Adriatic Sea in amphoras!
The results were astounding – Edivio Plavac Mali from the so-called – underwater winery – carries all that oceanic flavor, giving you a unique taste experience unlike anything else. So why not try something different today? Pick up your bottle of Edivo and let its deep blue depths take you away!
TASTING NOTES:
Looking for a unique and flavorful Croatian red wine? Plavac Mali from Dingač appellation is an excellent choice! Jammy, fruity flavors of plum with hints of berries like red currant and blackcurrants create the perfect balance. Spicy notes such as cloves, cinnamon, sweet spices, and cedar add complexity to this full-bodied but mineral experience. Enjoy its juicy texture coming from finely polished tannins combined with refreshingly high levels of fruitiness – all wrapped together in one balanced package that's sure to keep you engaged sip after sip!
Key Takeaway: Are you looking to indulge in a full-bodied red wine that packs fruit, spice, and minerals? Plavac Mali from the famous Dingač micro-location aged in the most famous Croatian underwater winery is here for your tastebuds!
Benmosche Family Dingač
Robert Benmosches's journey began with a trip to Dubrovnik, where he was inspired by the region's wines and decided to create his own collection. He invested in land on the Pelješac peninsula, planting Plavac Mali grapes and Zinfandel in Viganj! Using traditional techniques along with barrique barrels for aging 12 months followed by 18 months spent aging in the bottle has resulted in the creation of a highly acclaimed wine. Come sample Robert's creations…you won't regret it!
TASTING NOTES:
With deep, seductive red and subtle brown hints around the edge of the glass, this wine offers an incredibly inviting bouquet. Vibrant aromas reminiscent of just-picked berries and dried fruits mingle with lush notes that only come from aging in wooden barrels. Its flavor is as magnificent as its scent: harmonious tannins provide balance, while undertones of warmth result in a luxurious lingering finish. Enjoy every drop!
Key Takeaway: Plavac Mali and Zinfandel wines from the Benmosche family were served at the inauguration of USA president Mr. Joe Biden. Don't hesitate to indulge your senses in an unforgettable tasting experience with this Plavac Mali and its luscious aromas, harmonious tannins, and a luxurious lingering finish in every sip!
Madirazza Dingač Grande Riserva
Madirazza Winery is an illustrious family business that has been around for generations. Nestled in Pelješac, this renowned winery boasts over 20 hectares of land, producing a variety of wines from distinctively unique locations – Dingač and Postup. With the perfect environment to cultivate Plavac Mali grapes, there are few who can match Madirazza's top-quality vintages!
TASTING NOTES:
Experience the velvety richness of this dark red wine and its tantalizing aromas – bursting with blueberry, blackcurrant, and cherry for a sweet yet mature bouquet. Then be surprised by herbal notes like mint, pepper, tea fennel, and coffee that will transport you to new depths! Swirl your glass today to explore these unique flavors in every sip.
Key Takeaway: Savor the smooth and rich flavors, with a bouquet that's bursting with sweet blueberries, juicy blackcurrants, and plump cherries!
Kiridžija Dingač
For a long Kiridžija winery has been a part of the Croatian wine scene, but only a few know about him due to his small production. This unique winemaker produces around 5,000 bottles annually aged 25 years with distinctive characteristics crafted from the native Plavac mali variety at Dingač microregion in the Pelješac peninsula near Croatia's coast! His wines are unlike any others as they're barrel-aged in Hungarian oak barrels. A sip of this premium dry red is an experience you don't want to miss out on!
TASTING NOTES:
A delightfully juicy and refreshing wine with aromas like mint, berries, carob, and dark chocolate. It's got a concentrated taste that lingers on your palate, looking for more – adding subtle heat to let you know it doesn't get much better than this. Trust us: an exclusive sensory experience awaits!
Key Takeaway: Immerse yourself in an exclusive taste sensation with this Plavac Mali produced in limited quantities!
Saints Hills Dingač
Family boutique winery Saints Hills is located on the marvelous Pelješac peninsula. In cooperation with Michel Rolland, a family friend and one of the world's best oenologists, they make top wines in their vineyards in Istria and Dalmatia. This Dingač comes from the Dingač microregion, special for its triple insolation: from the sun, reflection from the sea, and reflection from quartz in the soil. After being hand-harvested, the Plavac Mali grape goes through meticulous double sorting: cluster by cluster and then berry by berry to produce this amazingly rich and complex wine.
TASTING NOTES:
Dingač is a truly exceptional wine, delivering an intriguing blend of warm flavors like ripe fruit and chocolate as well as subtle nuttiness. Aromas span the Mediterranean spectrum – from oregano to basil to mint – intermingle with smoky tobacco notes for added depth. Its full-bodied body and silky tannins make it perfect for pairing with any meal, but especially one featuring plums or dark chocolate!
Key Takeaway: Get ready to explore this amazing selection of Plavac Mali from Saint Hills boutique winery – we guarantee you will be deliciously delighted!
Bura Dingač
Bura winery produces some of the most exquisite Plavac Mali on the picturesque, steep 45-degree southern slopes of the Dingač microregion. They have been producing some of Croatia's most unique and delicious wines for over five generations. The fully organic winery is a true expression of the exquisite microclimate that defines this part of the Dalmatian wine region.
TASTING NOTES:
Bura Dingač is a powerful, dry wine from Croatia born of slightly raisined grapes in native yeasts. On the nose, you'll be hit with strong notes of black fruit like pine or dried hay – but on your palate, you're in for something special: aromas of Mediterranean herbs are sprinkled amongst strong body, sweet tannins reminiscent of raisins and dates, salty nuances and a long enjoyable aftertaste that lingers invitingly!
Key Takeaway: Experience Bura Dingač, a powerfully balanced wine from the Dingač microregion. With notes of black fruit and pine along with dry hay, this full-bodied vintage boasts intense aromas of Mediterranean herbs for an utterly unique profile!
Skaramuča Elegance Dingač
The Skaramuča family has been producing viticultural and winemaking wonders since they first set foot on the Pelješac island. Wine enthusiast Ivo Skaramuča was a founding force of private wine production in Croatia's Dalmatia region, demonstrating that with sufficient hard work, dedication – and, of course, love for their craft – it is possible to make one of the most acclaimed wines from this part of the world!
Grapes coming into the process for this PLavac Mali from the Dingač microregion are known as high-potency grapes for the production of strong and characterful wines, albeit sometimes too heavy. This is not the case with the aptly named Elegance by Skaramuča winery.
TASTING NOTES:

Age has only improved this robust Dingac wine. Rich aromas of sun-dried figs, prunes, raisins, and tobacco leaves mingle with classic red & dark berry notes to create an indulgent olfactory experience. Then comes the grand finale: a strong tannin structure that caresses your mouth like velvet while keeping true to Plavac Mali varietal characteristics– a signature move from Skaramuca Elegance! So pour yourself a glass and tap into its power today!

Key Takeaway: Get ready to treat your senses with the Skaramuca Elegance Dingac: a full-bodied red that's been gaining finesse through five years of aging!
Vicelić Dingač
Mateo Vicelić continues his great-grandfather's legacy by re-invigorating a picturesque limestone vineyard that slopes from 1800 feet down to the coast. This terrain yields Plavac Mali, which produces full-bodied reds and aromatic medium-bodied ones. Mateo has plans in place for further development with 10 000 bottle capacity on 3.5ha currently being produced as well as potential 6 ha family plot replanting — two wines are taking center stage: Dingač offering age-worthiness and complexity while the early drinking crowd pleaser known as Plavac!
TASTING NOTES:
Get ready to experience a mouthful – literally! This full-bodied red wine offers the perfect balance of plum and spice, with oak giving it an extra kick. Black cherry flavoring gives it that vivid, robust touch, while sharp notes of nutmeg give this delicious glass its satisfying finish. Cheers to you Plavac Mali lovers out there – time for some sippin'!
Key Takeaway: If you're looking for a full-bodied Croatian red wine experience, then look no further than Vicelić Plavac Mali wine!
FAQs About Dingač
What kind of wine is Dingac?
Looking for a truly unique and complex wine experience? Look no further than Plavac Mali from the Dingač appellation! You'll be delighted by its carob, dried figs, and sage aromas combined with delicious warm dark fruit tones – there's something in it to please even the most discerning connoisseurs of fine wines.
The combination of specific climate and terrain provides low yields, but the result is an incredibly concentrated wine and what is considered the supreme expression of Plavac Mali.
Want to experience the best of Croatian wine? Look no further than Dingač! The Plavac Mali wines from this esteemed wine-growing microregion are a true testament to quality and indulgence. Their full-bodied taste, robust fruitiness, and high alcohol content make them stand out as one of Croatia's finest wines! If you enjoy premium wines in limited quantities – then add some Dingač Plavac Mali bottles to your collection today!
Where is Dingac?
The Dingač (or Dingac) microregion is situated on the southern slopes in the middle part of the Pelješac peninsula. Pelješac is situated in the south of the Dalmatian coast in Croatia. It stretches on the steep southern slopes of the peninsula between the villages Trstenik and Podobuče.
Which Croatian Dingac is best?
Plavac Mali red grape variety from the Croatian Dingac microregion to every wine enthusiast offers a unique taste and insight into this extremely important appellation.
Some of the most sought and popular Croatian Dingac wines come from winemakers such as Matuško, Bura Mrgudić Plavac, Skaramuča, Saint Hills, and Madirazza Plavac. Edivo is the first underwater winery whose Plavac you should definitely taste. As well as Plavac from boutique winery Vicelić, Kiridžija, and family Benmosche.
Each Dingac Plavac has unique characteristics that make it special. Depending on your preference for flavor profile or food pairing potential, there are many excellent.
Conclusion
Unfamiliar with Dingač's backstory? Don't worry – you're not alone. Here's the scoop: despite what some may think is the name of the micro-location, it isn't a grape variety at all! If you've ever wondered what makes the award-winning Croatian wine Dingač so special, here's your answer: it is a red wine made from Plavac Mali grapes grown in a particular region of Pelješac known as Dingač.
Dingač is the ultimate benchmark for Croatian winemaking. With its distinctive geography, it has been continuously producing exquisite wines since 1961 as part of a Protected Geographical Origin appellation.
Plavac Mali is an indigenous variety that gives these wines their unique character and tastes thanks to careful cultivation done entirely by hand – no small feat given the steep terrain!
So make sure to enjoy only authentic, traditionally crafted bottles of Plavac Mali from the Dingač microregion for an incredible experience! So if you fancy something bold yet nuanced, try giving some of the mentioned wines a swirl whenever you get the first chance!