If you're looking for the perfect wine gift for your loved ones or someone dear to your heart, we've got you covered. Wine enthusiasts can be tough to impress, but we've searched and found out what makes the best Croatian wine gifts.
You'll be the ultimate Croatian wine-gifting superhero after this article. From practical wine glasses to artful wine stoppers, and exceptional Croatian wines, we've got a range of options to choose from. And if you're feeling extra generous, why not gift them a wine subscription, wine tasting, or wine gourmet gift card? Or simply go with a delicious snack to enjoy with their favorite bottle of Croatian wine? Trust us, they'll be toasting to you. So, raise a glass, and let's find the perfect gift!
Introduction
Attention wine connoisseurs! Are you tired of being gifted the same boring bottle of Pinot? Fear not. We've got you covered. Let's face it, you're picky, have strong opinions, and expect only the best.
So, why settle for just any old wine when you can gift yourself (or a fellow wine enthusiast) something that'll take your wine game to the next level?
We've searched for the secrets to the ultimate wine-adjacent Croatian wine gifts, from practical must-haves like expert-approved wine glasses to quirky surprises like salty snacks or homemade delicacies to pair with your favorite bottle.
Don't know where to start? No problem, we've sorted wine gifts into categories for different occasions: glassware, decanters, coolers, corkscrews, stoppers, food, books, odds and ends, and even wine subscription services. So, sit back, relax, and get ready to upgrade your wine gifting game!
Key Takeaway: Looking for a gift as unique as the recipient? Look no further! Our Croatian wine gifts are handpicked and packed with personality. With each gift carefully curated, you can be sure to spread joy and make any occasion a little more special. From birthdays to holidays, or just because, there's no better way to show you care than with our best Croatian wine gifts.
Wine Tasting Gift Box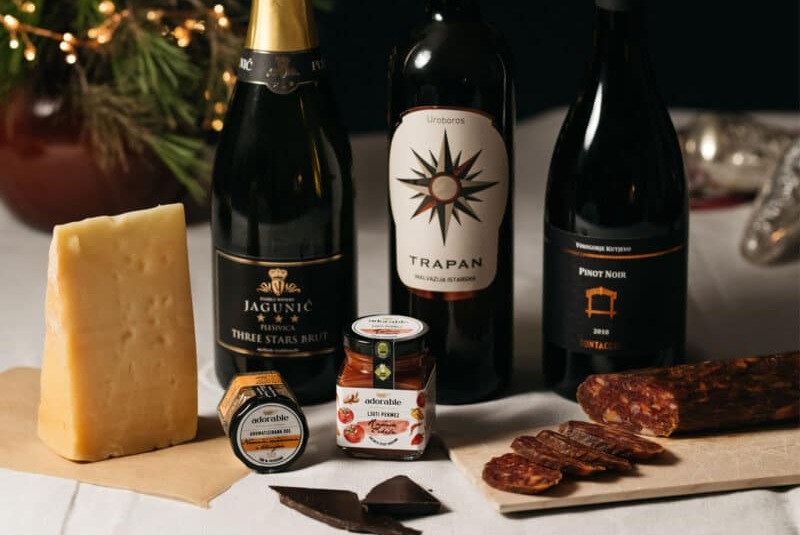 Whether you're shopping for your mom, dad, siblings, spouse, or partner, any wine enthusiast will enjoy the wine gift suggestions that include accessories, food, and more than one bottle of wine. Send them a unique wine-tasting gift box that provides plenty of different artisanal Croatian products to make your gift even more memorable.
Whether you're a fan of crisp whites, bold reds, or effervescent sparklings, some Croatian online wine shops have got you covered. They offer a vast selection of wines, paired with Croatian hand-made delicacies. These delicious bites can either be arranged on a charcuterie board or simply munched on straight from the bag.
Any wine gift set worth its salt will choose complementary finger foods based on the wine. Finger foods include
locally-produced cheese,
locally-produced salami,
chocolate,
nuts,
crackers,
jam,
olives,
olive oil.
Wine gift boxes are like long-distance virtual wine & dine experiences that you can gift to your loved ones, colleagues, or employees. These carefully curated care packages come with wine, wine accessories, homemade delicacies, other artisanal products, and all the good vibes that come with sipping a glass full of character.
Key Takeaway: Whether it's for a birthday, corporate event, or just because, wine gift boxes will bring a smile to any wine lover's (or any type of lover's) face, guaranteed!
Wine Tasting Gift Box For Different Occasions
Wine, oh wine! It's the perfect gift, but choosing the right bottle for different occasions can be tricky. There are so many fantastic Croatian wines to choose from. It can be hard to know where to start!
But here's our tip: go with the wine that evokes an emotional connection. Whether it's the variety they grew up drinking or a bottle that brings back memories of a sunny vacation, the perfect gift makes them feel special. If possible, include a variety of red, white, and rosé wines.
Look for unique wines in local wineries or specialized wine shops. Try to find something the recipients might not buy for themselves. Online wine shops often offer wines at discounted prices, which makes it possible to get excellent wine at a low price.
You can make a one-of-a-kind gift to suit everyone on your list, from Mom to a business acquaintance. At first thought, it may seem that giving wine is overdone since it's usually a popular go-to gift for many people worldwide; but the opposite is true, thanks to many factors. Besides the obvious reasons that make each bottle of wine unique, like
different varietals,
countries of origin,
and the wineries that produce them,
there are additional key factors that help gift a bottle of wine an obvious choice for anyone stuck in gift-giving limbo.
Women's Day
If you're looking for a special present for that amazing woman in your life, you're in luck! There's a world of wonderful wine gifts out there, from sweet and simple to truly indulgent. Whether you're shopping for a mom, sister, girlfriend, grandma, aunt, or anyone else, these options are sure to make her smile.
Wine glass set: If you're in the market for a set of wine glasses, why not go for something versatile? Universal wine glasses can handle any type of wine, from bubbly sparkling to rich reds and crisp whites. And the best part?
They're lightweight and sturdy, so you don't have to worry about them breaking easily. Not only are these glasses practical, but they also make for a fantastic gift. Perfect for a housewarming party or anniversary celebration.
Champagne stopper: Have you ever struggled with trying to keep your sparkling wine fresh after opening it? We've all been there. There's a simple solution – Champagne stoppers, one very useful gift for a wine lover even if they have one already! These handy little tools are perfect for anyone who loves sipping on a glass of fizz. Picture this – you've popped open a bottle of your favorite sparkling wine, but you don't want to finish it all in one go. What do you do?
That's where the magic of Champagne stoppers comes in. They keep the carbonation locked in, so your wine stays as fresh as the moment you opened it. And the best part? They come in a variety of styles and materials, from stainless steel to plastic with a rubber blocker. Not only are they practical, but they also make for a fantastic gift for any sparkling wine fan. Plus, they won't break the bank!
Wine holder: Introducing the perfect household must-have that comes in two fantastic options: a one-bottle or a two-bottle holder. Both come with added bonus features, like extra slots for those delicate wine glasses and mini ceramic dishes for serving up the cutest appetizers. This gift will make a statement at any holiday bash or family get-together.
Newlyweds
Gifting a bottle of wine is a great way to make a special occasion even more memorable, and weddings are the perfect opportunity to do so. When searching for the best bottle of wine to gift the happy couple, take the time to really consider what you're buying. A high-quality bottle of wine will help the newlyweds celebrate this exciting time in their lives, whether they open it on their wedding night, during their honeymoon, or even years down the road on a future anniversary. Just imagine the joy they'll feel as they raise a glass and toast to the life they've built together, surrounded by their loved ones, including the thoughtful friend or family member who gifted them this special bottle.
Engraved wine box: Looking for a special gift for the happy couple? Why not go for an engraved wine box? It's a super thoughtful and unique keepsake that they'll treasure for years to come. You can either find a wine box in your local store and get it engraved, or you can just buy one online! Just imagine their names and wedding date beautifully etched onto the box. These wine boxes come in different sizes, so you can choose one that holds one, two, or even three bottles of wine. Make this gift the star of the show and watch the couple's eyes light up with joy!
Bottle coaster: If you're looking to add a touch of sophistication to your wine-gifting experience, why not try to give a wine bottle coaster? It's the perfect way to show off your favorite bottle of vino while keeping your table looking neat and tidy. And, if you have a friend who loves to host dinner parties, a wine bottle coaster makes for a lovely gift. They come in all sorts of materials, like stainless steel, silver, marble, crystal, or brass, so you can find the perfect one to match their style. Trust me, any wine lover would love to receive one of these as a gift. They'll think of you every time they pop open a bottle at home.
Personalized wine glasses and decanter: Want to give the perfect gift to a just-married couple? Why not go for something that's both practical and stylish? How about a custom-made decanter and stemless wine glasses set? Not only do they add a touch of class to their table as a decorative centerpiece, but they also allow them to serve up the finest bottles of white wine like Malvazija or Graševina, or even red wines like Teran or Plavac Mali.
Wine fridge: Wine fridges are the epitome of luxury gifts! With a wide range of options available, there's something for everyone. You can find one that fits your budget and bottle storage needs, whether you're a casual wine drinker or a serious collector. Plus, if you really want to impress your wine-loving friend, look for a dual-zone fridge. This baby allows you to keep whites at one temperature and reds at another – perfect for those who want to keep their wine stored at just the right temp. It's the ultimate gift for anyone who wants to upgrade their wine game at home!
Business Partners
Wine gift box: Wine gift boxes are a fantastic way to show your appreciation to business partners. Whether you're trying to win over a new client or just say thank you for their business, a personalized wine gift box can do the trick.
If you're looking to make a good impression, why not try a branded wine gift box? Not only will your new client be impressed with the wine, but promotional items like branded wine openers or stemless glasses will take your gift to the next level.
For a more personal touch, try a wine gift box filled with a variety of wine, cheese, and crackers, your partner or client will definitely feel appreciated. Plus, it's a great way to introduce them to the amazing world of Croatian wines!
Wine book: Have you tried pairing wine with books yet? It's a fun twist on the classic food and wine pairings. And, if you're planning on gifting wine, why not throw in a book that covers the basics of vino too? It's a thoughtful touch that's sure to impress. Cheers!
Private wine tasting. Most wineries in the country offer super fun private tasting sessions where your partners and clients can indulge in some amazing wine. You can gather anywhere from 8 to 50 people, so it's perfect for both small and large groups. The best part? They'll have a wine expert on hand to guide and educate them on the wine-tasting experience.
Wine journal: Here's a cool idea for your wine biz partner – why not gift them a custom-designed wine journal? It's the perfect way for them to jot down all their wine-tasting notes and watch their palate develop over time. Trust us, it's a game-changer. Plus, it'll make their wine-tasting experience even more memorable and enjoyable!
Wine connoisseur
If you have a wine connoisseur on your list, a wine-themed gift basket is a great idea! It's a fun and personal way to show you care. There are tons of wine tools and accessories to choose from that will definitely impress your wine connoisseur. From basic corkscrews to fancy wine openers that collectors would love to have, you can pick one that suits their style.
And the accessories? Oh, the possibilities! Imagine a wine thermometer to make sure their wine is always at the perfect temperature. Or how about a Coravin for their rare and expensive bottles? And don't forget about the little things like foil cutters, aerators, and wine coolers. The options are endless!
Coravin: Have you heard of the Coravin? This handy device is like a dream come true for anyone who appreciates a good glass of wine. With the Coravin, you can enjoy your wine by a sip, glass, or two, without having to open the entire bottle. Perfect for those nights when you don't want to drink an entire bottle, but still want to indulge in a single glass. And the best part? You can find older models at more budget-friendly prices, or splurge on the newest models for the ultimate wine-drinking experience. If you have a wine-loving friend, this makes a fantastic gift – they'll be able to enjoy their expensive taste in wine over time instead of all in one night.
Wine decanter: Wine decanters are the ultimate sophisticated and stylish gift! Not only do they look gorgeous, but they're also super functional, especially for those tannic reds like Plavac Mali and aged Teran that just need a little air before they're ready to drink. These decanters often have a shape similar to an hourglass, with a wide bowl that narrows at the top. And if you're feeling extra fancy, you can even find ones that look like swans, snakes, or even grape vines. Treat your wine-loving friends to this luxurious splurge gift!
Ice bucket: If you're a big fan of Croatian white or sparkling wines, you need an amazing ice bucket in your life! Not only is it a practical gift, but it also adds a touch of class to any occasion. Keeps wine bottles perfectly chilled, easily accessible, and makes a statement with a beautiful display. With so many options to choose from like stainless steel, glass, ceramic, and marble, you're sure to find the perfect one that fits your style. So go ahead, and add some sophistication to your wine-gifting game!
Aroma kit: Looking to level up wine-tasting skills? This wine aroma kit is the perfect tool for your wine-enthusiast friend! It's packed with all sorts of amazing wine scents, from classic wine faults to fruity and non-fruit characteristics. You get to play detective and guess what's in each little jar just by taking a sniff. Trust us, it's not as easy as it sounds, but it's so much fun! This kit makes a fantastic gift for your sommelier-in-training friend. So, get their nose ready to dive into the delicious world of wine!
Check out our summary of perfect wine gift boxes ideal for different occasions.
Table 1. Wine-tasting gift box for different occasions:
Wine
Cured meat
Cheese, olives, olive oil
Artisanal jam or chocolate
Wine accessories
Wine-tasting gift box for women's day
Sparkling wine:
Jagunić La Bulle Rose
White sweet wine: Franković Muscat
Rosé wine:
Rosé Premium Kutjevo
Red wine: Dalmatian
Dog Babić
Istrian traditionally made sausages
Aged cow's cheese made
by an artisanal producer from Pag island

Hand-made orange jam


Wine glass set
Wine caddy
Champagne stopper
Wine decanter
Wine opener
Ice bucket
Wine-tasting gift box for newlyweds
Sparkling wine: Ivančić Griffin
Brut
White wine:
Benvenuti
Malvasia
Istriana
Rosé wine:
Enosophia Matarouge
Red wine:
Ritoša Cabernet Sauvignon

Dalmatian
dry-cured
ham (pršut)

Goat, sheep
or cow cheese from Istria
Hand-made artisanal jam made from plum, dandelion, figs
Engraved wine box
Bottle coaster
Personalized wine glasses and decanter
Wine fridge
Wine-tasting gift box for a business partner
Sparkling wine: Šember Brut
White wine:
Josić Graševina Superior
Rosé wine:
Ante Sladić
Lasina Opol
Red wine:
Sontacchi
Pinot Noir
Salamis from Istria featuring Istrian black truffles
Sea salt flavored with black olives and wild herbs

Hand-made natural pomegranate
jam
Wine gift box
Wine book
Private wine tasting
Wine journal
Aroma kit
Wine subscription
Wine-tasting
gift box for
the wine connoisseurs
Sparkling wine: Tomac Amfora
Brut
White wine:
Krauthaker Kuvlakhe Graševina
Rosé wine:
Miloš Stagnum Rose
Red wine:
Bedalov Dingač
Kulen – delicious Slavonian regional cured sausage

Hard full-fat sheep Istrian cheese
Hand-made gourmet chocolates from artisan chocolaterie
Coravin
Legacy wine openers
Wine decanter
Wine journal
Set of luxury wine glasses
Aroma kit
Wine cooler
Archive Wine Gift Box Set
The Kutjevo winery wine archive was established in the 1890s by the Turković family, then-owners of the Kutjevo wine estate. In World War II, the archive was ravaged, but from 1947 until today, it has been systematically organized.
Since 1947, premium labels from exquisite harvests in their portfolio have been stored in an old wine cellar where more than 65.000 bottles are currently aged.
In ideal conditions, carefully guarded by their experts – oenologists and cellarmen, Kutjevo archive cellar is full of the best vintages and exceptional wines.
Carefully preserved vintages are also available for sale, which is especially appreciated by connoisseurs and wine enthusiasts, aware of the time, effort, and mystical heritage woven into every stone of this unique cellar.
Key Takeaway: Every wine enthusiast will appreciate carefully aged vintages from the Kutjevo archive cellar. Each bottle holds a lot of history and heritage – you can almost taste the time and effort that's gone into making every vintage special.
Gift Card for Wine Gourmet Experience
If you're looking for an amazing winery experience in Croatia, you've got to check out the Istrian peninsula! This region is home to some of the best wineries in the country, and Meneghetti Wine Hotel & Winery in Bale is one of the standouts. This winery has been producing some of the most recognizable Istrian wines and olive oils for years, and they're available for you to taste. At the same time, you relax in the beautiful and romantic atmosphere of their vineyards.
You'll be blown away by Meneghetti Wine Hotel & Winery – the location is stunning, the setting is perfect, and the wines are out of this world! You can try wines made from native and international grapes grown in the red soil of Meneghetti's vineyards, giving the grapes and wine a unique character that wine lovers and sommeliers love.
At Meneghetti, they don't just focus on making great wine but also on growing grapes in an eco-friendly and sustainable way. This luxurious haven will satisfy all your senses with premium wines, traditional villas, and delicious food.
Surprise your special someone or a wine enthusiast friend with a gift card for a memorable gourmet experience at the Meneghetti Wine Hotel & Winery. Welcome drink, a five-course dinner tasting menu, a glass of Meneghetti wine with every course based on the recommendation of their sommelier, and high-end service and top location.
Key Takeaway: Treat yourself or a wine enthusiast friend with a gift card for an unforgettable wine-gourmet experience at the Meneghetti Wine Hotel & Winery!
Wine-Tasting Gift Vouchers
A personalized wine-tasting gift voucher is a thoughtful present. And we have a perfect recommendation for that too!
Kozlović's family has been making award-winning wines since 1904. – that's generations of grape-growing expertise. And it shows in the quality of their wines.
With this perfect gift voucher comes guided wine tasting (2 hours) with a tasting of 5 wines from their vineyard Valle and Santa Lucia single vineyard. Some of these wines can be sampled only in their winery. Wines are accompanied by five exclusively created small plate dishes that honor the tradition of the Istrian peninsula, from appetizers to desserts. Reservation is mandatory.
Key Takeaway: A perfect wine gift comes with Kozlović's personalized wine-tasting gift voucher! Savor award-winning wines from their vineyard Valle and Santa Lucia, accompanied by exquisite small plate dishes.
FAQs About Croatian Wine Gifts
What to give to a person who loves Croatian wine?
Wine-ing about what to gift a wine-lover from Croatia? With over 130 delicious native wines to choose from, it can get a bit overwhelming. Fear not. We've got you covered. Whether you get the wine in your local store or via online wine shops, here is how to solve that dilemma.
When it comes to gifting Croatian wine, it's all about knowing your recipient's taste buds. So, before you hit the store or log on to your online shop, tap into their emotional connection by gifting them wines they have tried or similar wines to their preferences.
For example, if they prefer dry, fresh wines, grab a bottle of Graševina. If they have fond memories of island-hopping in Dalmatia, a bottle of Dalmatian wine will surely bring a smile to their face. Impress them with unique selections such as Plavac Mali from Dingač appellation, Pošip or Grk wine from Korčula island, sparkling wine from Plešivica, Teran from Motovun, and Malvazija from Istria peninsula.
If they already have a preference, introduce them to different styles of preferred variety. Or, pick a region and get them a few bottles from the same area. If they're new to Croatian wines, choose a bottle or two from each region to give them a taste of everything. You can give them special wine-tasting gift boxes as well, with selected homemade delicacies or gift cards for wine gourmet and wine-tasting experiences.
So, there you have it. With these answers in mind, you're sure to pick the perfect bottle of Croatian wine to gift for every occasion!
Is gifting Croatian wine a good idea?
Sure, it may seem like an unfamiliar gift option, but trust us, it's anything but that. With so many factors that make each Croatian wine unique and recognizable on the world wine scene – from the grape varietals and region of origin to the winery that crafted it – you'll never run out of options. Plus, there's always a bottle that will suit even the pickiest of taste buds.
And here's a bonus, bringing a bottle of Croatian wine to an event can be a lifesaver when you feel overwhelmed. It can help break the ice and start a conversation.
Let's not forget wine is always a classic. It's been a favorite drink for centuries and is a crowd-pleaser. You don't even have to break the bank to find a bottle that will impress. There are plenty of great options at a reasonable price. Just ask your source.
The best part? Wine is a gift that can be easily given, wrapped, or not. If you're in a rush, just add a handwritten note to make it extra memorable. See, wine is the gift that keeps on giving!
What can you put in the Croatian wine gifts?
If you're feeling overwhelmed with all the options for wine gifts, don't worry – we've got you covered. Whether you're looking for accessories, you can put in glassware, decanters, coolers, corkscrews, stoppers, food, books, or even wine subscription services.
For a food-themed Croatian wine gift box, shop for interesting items at local or online gourmet stores that aren't easy to find at your local grocery store. Artisanal chocolate and cheese or honey and homemade delicacies are popular products that pair well with a variety of Croatian wines. These items will add a special touch to your wine gift. You can also find a ribbon that ties in with the theme and tie to your gift box.
Conclusion
Hey wine lovers, are you tired of the same old routine of gifting your wine-savvy friends with predictable bottles of wine? We hear you! But don't worry, we've got some exciting off-the-beaten-path wine gift ideas that will impress even the most discerning wine connoisseur.
From practical wine-tasting gift boxes to beautiful archive wines that double as art pieces, we've got you covered. And if you're looking for the perfect gift card for a wine gourmet, we've got that too! We've compiled a variety of ideas for the best Croatian wine gift.
So, whether you're shopping for a special occasion or just because, we hope our recommendations will help you approach gift-giving to your favorite Croatian wine enthusiast with confidence!