To truly immerse yourself in Croatian wine culture, why not stay in a charming vineyard or olive grove? With a history steeped in winemaking, Croatia has some unique accommodations where you can indulge in your love of wine and create unforgettable memories.
Introduction to 9 Best Croatian Boutique Wine Hotels
Since wine is so deeply rooted in Croatian tradition, the pleasure becomes even better when holidays or vacations are combined with a boutique hotel and gourmet experience!
If you love a good glass of wine and are looking for wineries in Croatia that can provide you with an all-around hedonistic experience, take a look at our 9 best Croatian boutique wine hotels below. Create a simply unbeatable experience, and when planning a trip to Croatia pair it with these luxurious and boutique wineries!
Korta Katarina Villa & Winery
Villa Korta Katarina & Winery is an exquisite property where every detail has been carefully crafted to ensure an unforgettable experience. As a proud member of Relais & Chateaux, this exclusive villa is nestled amidst breathtaking scenery and offers a range of world-class amenities with exquisite decor that exudes elegance and sophistication. A dream destination for those who cherish the finest wines and savor gourmet cuisine as well as stunning panoramic views.
The story behind Villa Korta Katarina & Winery is as captivating as the property itself. Lee and Penny Anderson, two Americans who fell in love with Croatia's welcoming culture during a humanitarian mission, decided to invest in the country's hospitality industry.
Nestled in the heart of Orebić on the Pelješac peninsula, this unique building boasts elegant stone facades that rise above the beach and sea. From the meticulously designed facilities to the delectable gastronomic offerings, you'll experience the perfect blend of comfort and sophistication. And all of this in a breathtaking natural setting that's sure to leave you in awe.
Guests of the Korta Katarina winery, located next to the Villa, can also enjoy unique gastronomic menus paired with Korta Katarina's top wines produced from popular native varieties such as Pošip and Plavac Mali, with prior notice.
A visit to Korta Katarina Winery is not just a journey into the world of wine but a journey through time and celebrating the area's cultural heritage. The villa and winery take their name from the old Orebić fenced captain's villas, known as "korte," which were once an integral part of the local architecture. Korta Katarina continues to honor this legacy by incorporating the name and style of these magnificent villas into their architecture and design.
Key Takeaway: If you're looking for an unforgettable holiday that combines stunning landscapes, exceptional wine, and exquisite cuisine, look no further than Villa Korta Katarina & Winery.
Boškinac Hotel, Restaurant, and Winery
Boškinac Hotel, Restaurant, and Winery is romantic, family-owned with a gourmet restaurant and well-regarded winery, set in a peaceful oasis on the picturesque island of Pag.
Perched on a hill surrounded by vineyards, olive groves, pine trees, and fragrant gardens, it's the perfect getaway to unwind and take in the idyllic surroundings that invite you to linger and rejuvenate your senses.
As the sun begins to set, prepare your taste buds for an extraordinary gourmet experience. Indulge in a culinary journey at the gourmet Michelin-starred restaurant where every dish is beautifully crafted to delight your senses. Pair your meal with a glass of Boškinac's finest wine made from awarded native and international varieties for the ultimate dining experience.
Treat yourself to an array of tastings and indulge in the rich flavors of the finest offerings from the island. But that's not all, the hotel is renowned for promoting the island's most treasured delicacy – the famous Pag cheese. With 20 different types to choose from, sourced from different producers and parts of the island, you might just discover a new favorite!
Key Takeaway: Escape to the peaceful oasis of Boškinac Hotel in the picturesque surrounding for a romantic, gourmet experience with well-regarded wines and famous cheese from Pag island.
Prović Merlot Hotel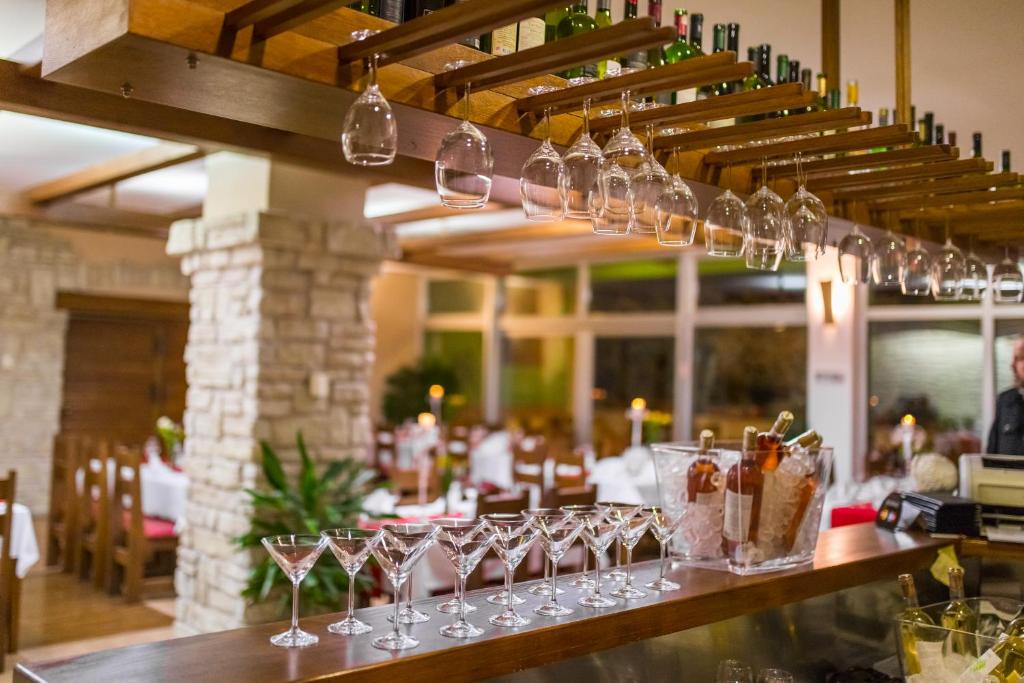 Boutique family hotel Merlot from Prović winery owners was born from the love for Neretva and its unique beauty. Prović family wanted to create a place that would allow their guests to immerse themselves in the wonder of the Neretva Delta fully.
Their hotel is more than just a place to stay, it's an experience! They allow guests to relax, unwind and indulge in the region's delights and believe that the best way to experience a new place is to explore its culinary traditions, which is why they specialize in producing wines from their vineyards and preparing local specialties traditionally.
Like the Neretva, their wines are full of character and personality, reflecting the region's unique terroir.
Key Takeaway: A stay in Prović family Merlot hotel will surely fill you with joy, laughter, and discovery. So book your stay and wrap yourself in the colors, flavors, and magic of the Neretva region!
Roxanich Winery & Design Hotel
Experience the one-of-a-kind Roxanich Winery & Design Hotel, where vintage style meets contemporary design in a stunning fusion that pays homage to the cultural heritage of Istria. Nestled in the heart of Motovun, a beautifully preserved medieval fortress surrounded by lush forests and the serene river Mirna, this is the perfect spot for nature lovers and history buffs alike.
But that's not all! The region is also famous for its white truffles, which grow in specific micro-locations with abundant flora, and its vineyards cultivated for centuries. Roxanich Winery offers a grand tour through its impressive five floors and underground wine cellar, the perfect environment for its wide range of expertly aged wines.
But it's not just about the wine – this luxurious hotel is also home to various exciting events and gourmet workshops. And, for art lovers, the hotel features a rotating selection of exhibitions to stimulate your senses and inspire your mind.
Discover the best of Istria's culture, from stunning fine art to mouth-watering cuisine, award-winning wines, and the fascinating world of Istrian viticulture.
Key Takeaway: The renowned Roxanich Winery & Hotel celebrates local wine-making tradition and cultural roots. Don't miss this extraordinary opportunity to indulge in authentic cuisine and the aesthetics Istria has to offer!
Meneghetti Wine Hotel & Winery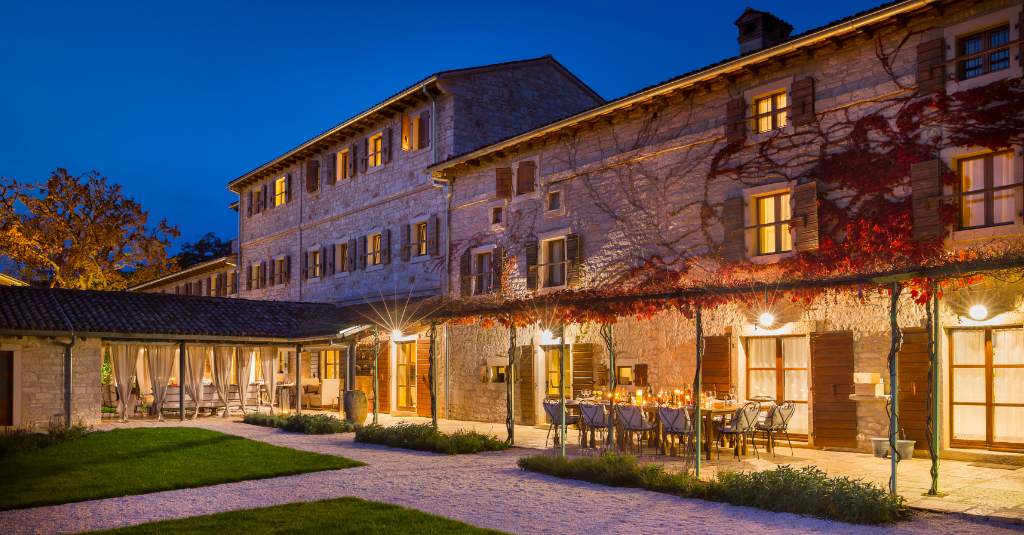 Meneghetti Wine Hotel and Winery, located near the Istrian town of Bale, is set amidst 120,000 square meters of picturesque vineyards, aromatic gardens, centuries-old cypress trees, and olive orchards, this hidden gem offers an unforgettable experience.
With a range of accommodation options available, Meneghetti caters to every type of traveler. Whether you're seeking a relaxing family vacation, a romantic getaway, or a contemporary leisure experience, their villas, residences, suites, and rooms are a perfect choice.
Step into a world of pure luxury and relaxation at Meneghetti, where you can enjoy your very own private slice of paradise, the indoor or outdoor pool, or soak up the sun on the Meneghetti private beach.
The restaurant at Meneghetti is a culinary experience like no other. Offering a modern twist on traditional dishes, the chefs use only the finest locally sourced ingredients to create mouth-watering delicacies. And if you're a wine enthusiast, you're in luck. With a selection of bottles of the highly coveted Meneghetti wines, your dinner experience may just turn into an unforgettable evening. And if you're looking to learn some new culinary skills, why not sign up for one of their exciting cooking classes?
It's the perfect destination for recreational runners, avid cyclists, and those who love long walks and lounging poolside.
Key Takeaway: At Menegethi Hotel and Winery, you can enjoy a lavish getaway amidst serene Meditterenian atmosphere. Stay in rustic stone houses amidst olive groves and the amphitheater-shaped vineyards.
Cattunar Wine Residence
Explore the natural beauties of the inland Istrian peninsula, often time overlooked in the height of summer. A unique opportunity to enjoy mentioned is the Cattunar Wine Residence, located further inland in Brtonigla.
If you're looking for an unforgettable vacation experience, look no further than the Wine Residence Cattunar, located in the heart of picturesque vineyards. Get ready to escape the hustle and bustle of tourist hotspots and immerse yourself in a fairy-tale world of lush greenery, olive groves, and serene tranquility. At this incredible accommodation, you'll discover uniquely designed and decorated rooms that provide a peaceful and comfortable atmosphere with all the modern amenities you need. You'll also enjoy breathtaking views of the stunning Istrian landscape from your window.
Plus, Wine Residence Cattunar offers plenty of perks, including free bikes, free private parking, a seasonal outdoor swimming pool, and a fitness center.
Key Takeaway: Don't miss out on the hidden gem of inland Istrian peninsula, Cattunar Wine Residence! Enjoy a world of lush greenery and serene tranquility!
Bolfan Vinski Vrh
Picture yourself standing on a hilltop, surrounded by sprawling vineyards as far as the eye can see. This magical place is Bolfan Vinski Vrh, a cozy cottage that beckons you to reconnect with nature. The owner, Tomislav Bolfan, has infused his philosophy into every aspect of the place. From the mouth-watering food served in the restaurant, sourced only from local farmers they know, to the organic and naturally made wines, every corner of Bolfan Vinski Vrh speaks of the owner's commitment to the environment. It's a haven for those who want to immerse themselves in the beauty of nature and enjoy life's simple pleasures.
Bolfan Vinski Vrh is a gentle and true reminder that the food we choose to eat should do more than just stop our hunger – it should also nourish our souls. So why not take a moment to pause and slow down your pace while enjoying wines crafted from Bolfan vineyards?
As you settle into your cozy accommodations, let the warmth of the fire and the crisp taste of a Bolfan Sauvignon Blanc or Rhine Riesling help you unwind and relax. This Croatian Uplands paradise is the perfect place to rejuvenate your mind, body, and spirit.
Key Takeaway: Experience soul-nourishing food and rejuvenating Bolfan wines in a cozy Croatian Uplands paradise – a reminder to slow down and savor life's pleasures.
Sontacchi Wellness B&B Winery
In 2015, the Sontacchi family started offering accommodation on the property located in the heart of Kutjevo. Situated in this famous Croatian wine region, the Sontacchi is the best start for exploring Graševina – the most produced and versatile grape variety in Croatia.
This family's accommodation, called Wellness B&B Winery Sontacchi, has five rooms, i.e. ten beds. The entire facility exudes an old Slavonic flair. It is equipped with inherited and unique furniture. The building also has its own story, which is accompanied by the interior design, because every piece of furniture comes from an ancestor of the Sontacchi family. In addition, the rooms are decorated with various antiquities such as old manuscripts, postcards, art paintings, and old family photos.
In addition to traditional elements, this accommodation facility contains everything necessary to meet the standards of every modern guest. Sip and savor with a wine tasting in the cozy wine cellar, or treat yourself to some serious R&R with access to the sauna and indoor pool.
Key Takeaway: What's more interesting than staying in the middle of the magic winery that also offers really authentic, rustical accommodation? Visit Sontacchi Welness B&B to experience true Slavonian way of life.
FAQs About Croatian Boutique Wine Hotels
Best hotels in Croatia for couples?
Almost every mentioned boutique wine hotel is an ideal place for couples. Each offers an intimate setting, with amazing insight into local products, premium wines, and true gourmet experience. From Korta Katarina and its luxurious ambient, designer Roxanich hotel and winery to Bolfan vinski vrh philosophy, each of our 9 best Croatian boutique wine hotels will offer couples an amazing experience.
Romantic hotels in Croatia?
For a romantic getaway, we suggest a peaceful oasis of Boškinac Hotel located in the picturesque Pag or a Gospoja Vinotel located on the island Krk for a romantic, gourmet experience with awarded wines and an amazing selection of cheese from this island. Meneghetti Wine Hotel & Winery in Bale is a perfect romantic hotel, as well. A great invitation to step into a world of serenity, relaxation, and pure luxury, where you can enjoy your very own private slice of paradise, indoor or outdoor pool, or soak up the sun on the Meneghetti private beach.
Unique hotels in Croatia?
If you want to add something special to your trip, go beyond the typical hotel stay and try to stay in one of the country's unique boutique wine hotels. You might find yourself in a vineyard, or olive grove, surrounded by aromatic gardens or with a fantastic sea panoramic scenery. One thing is for sure: your trip will be even more memorable if you spend a few nights in Villa Korta Katarina, Boškinac Hotel, Roxanich Winery & Design Hotel, Meneghetti Wine Hotel, Cattunar Wine Residence or Bolfan Vinski Vrh and Sontacchi Wellness B&B Winery.
Conclusion
Over the last decade, Croatia has become more and more popular as a destination, able to meet the needs of any traveler, from foodies to history nerds, from culture mavens to outdoor sports fanatics, from budget backpackers to lovers of luxury. As more and more people visit the country, a variety of accommodations have risen up to meet them.
Namely, in the last ten years, Croatian wine tourism accommodations have mostly been profiled through rural holiday homes or super luxurious villas and boutique hotels with swimming pools, through an increasing number of beautifully decorated wine cellars and canteens with olive oil, truffles, or cheese available for tasting.
They are especially loved by guests who choose privacy, a romantic getaway, a unique hotel stay, and plenty of recreational facilities. From traditional coastal accommodation made in stone to ultra-modern spa experiences and architecturally astounding retreats, Croatia is awash with places for wine lovers to lay their hats.
It could be an exclusive retreat in Meneghetti, a five-star stay in Roxanich Winery & Design Hotel, or a combination of spa and hotel experience in Korta Katarina, there's something for everyone. All are creating must-visit wine-focused destinations. While in the past, a trip to a top wine region could easily have involved a vineyard tour or two, these days, you can take it even further with luxurious overnight stays in the heart of established and rising Croatian wine regions.
---
*Please note that some booking links are set up through affiliate programs, meaning Croatian.wine gets referral credits if you purchase these items via our links.