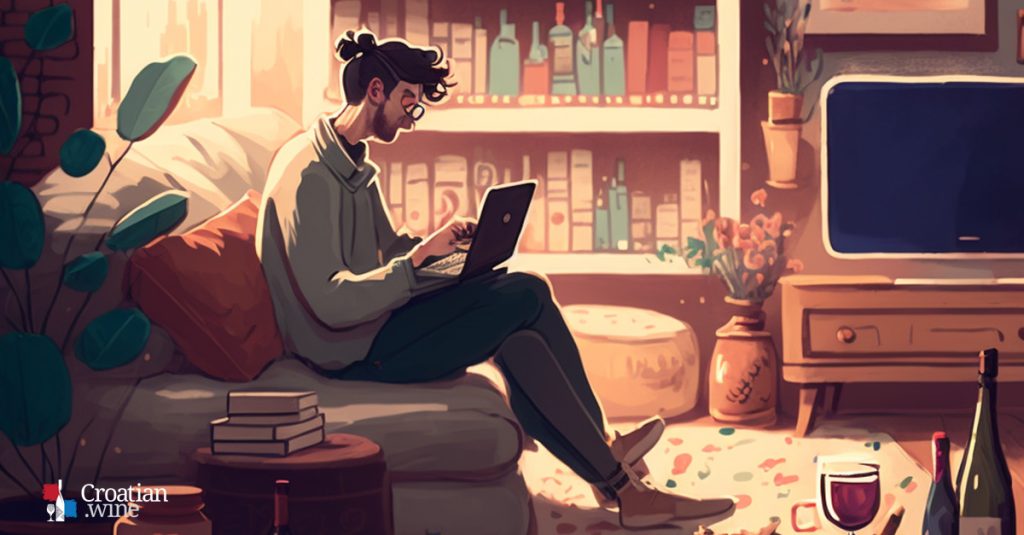 If you think you can buy Croatian Wine in the US as easily as it was sippin' on that Malvasia while watching the sunset on some Croatian island, it's time to face reality. Good Croatian wine is not so easy to come by in the States but fear not – we've done our research and found the top 5 places where you can buy plenty of Croatian wine online:
Croatian Premium Wine
Wine&More
1000corks
Madison Wine Cellar
Wine.com
As the name suggests, they are dedicated to premium quality Croatian wines. Based in Boston, Croatian Premium Wine delivers to most States. They have the largest selection of labels, 79 in total. Although some of them are Stock out, they have good replacement options and cover all four Croatian wine regions, although focused on Dalmatia mostly. In fact, even ten different Dalmatian winemakers (exceptionally concentrated on Komarna appellation), three from Croatian Uplands, two from Istria, and only one from Slavonia.
You can find many suitable Plavac Mali labels, including their own "Komarna 7" label, a blend of Plavac Mali of all seven wineries of the Komarna appellation. It retails at a competitive price, although the same couldn't be said for many other labels.
Nevertheless, this is definitely a place to consider for someone seeking quality Croatian wine.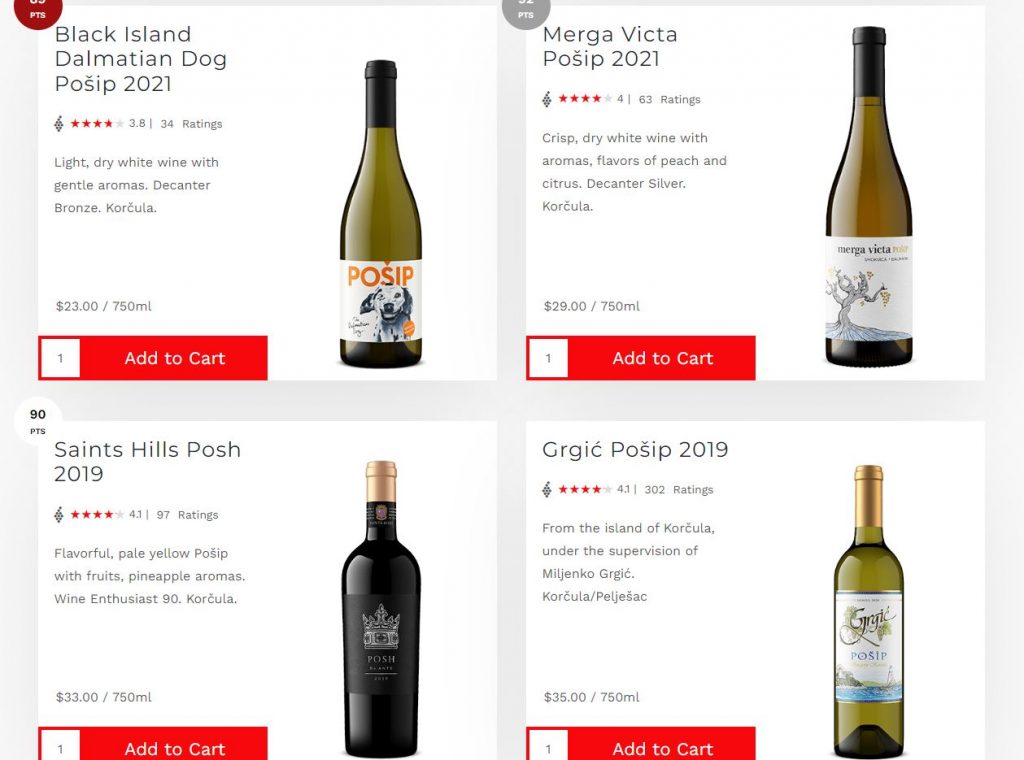 Croatia's leading wine webshop is based in Croatia and makes Croatian wines available in the EU and UK, but also in the US through an importer in California. Therefore, not all 800+ labels are available in the US. However, 55 different labels available in the US cover a lot of styles and expressions. Since many are stocked out, in reality, there are some 30 labels available to US customers. From California, Wine&More delivers to 44 States and uses UPS wine shipping service. Also, many of the wines are from Dalmatia, but Wine&More also offers wines from every Croatian wine region and around 14 different producers.
For example, prices are generally the best, approximately 15% lower than Croatian Premium Wine. Of course, shipping costs and taxes are calculated separately, so the final cost might differ depending on the wines ordered and the shipping address.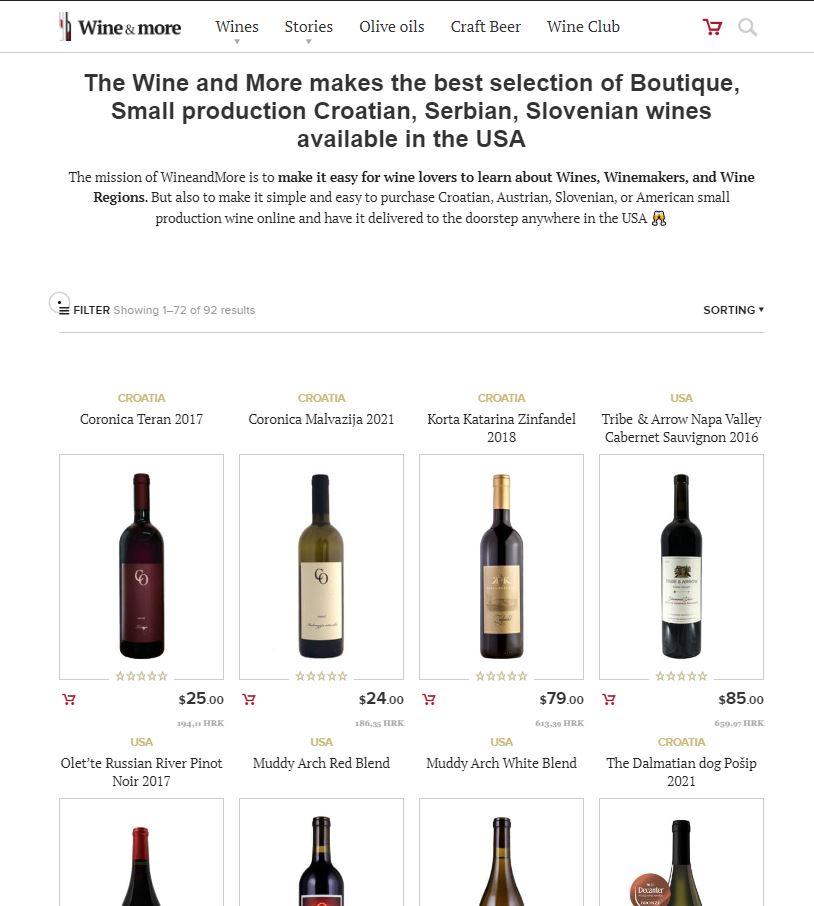 This is a marketplace, a platform connecting several wine stores all over the US, where you can buy Croatian wines. You can buy from various wine stores in different States. Twenty-one stores offer and deliver Croatian wine online, primarily within their State. In addition, they hold on to very small quantities and mostly have only a few labels available. Only Gnarly Vines stores eight labels, The Wine Country 7 labels, and Hi-Time Cellars and Astoria liquors have six labels.
However, this could be a place to seek out some Croatian vino. But probably if you already know what you're searching for. Otherwise, 1000corks could be a messy experience as it shows wines, spirits, beers, jams, and all sorts of stuff. A search might get confusing despite sorting by relevance, distance, price, and vintage. Many stores most likely offer the same labels because they all purchase from the same importer. Hence the search works, but it will help you only if you know exactly what you're searching for.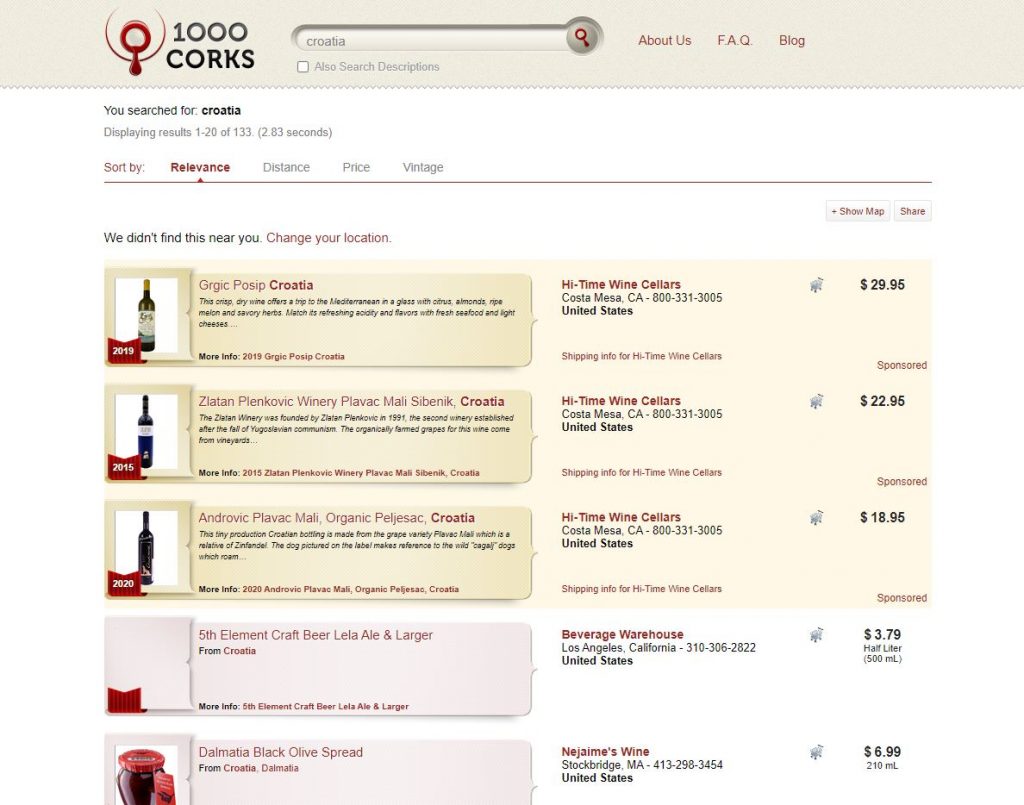 Based in New Jersey with some old and, today, obsolete labels no longer being produced, Madison Wine Cellar was one of the pioneer providers of Croatian wines to US consumers, and they still hold on to the "leading provider of Croatian and Slovenian Wine" motto. That was the case, perhaps, yet they do offer no more than 24 different labels of Croatian wines available online. This selection is carefully placed, though. It's a diverse selection of wines from Dalmatia, Slavonia, and Istria regions.
They also use UPS for deliveries and have a standard shipping policy.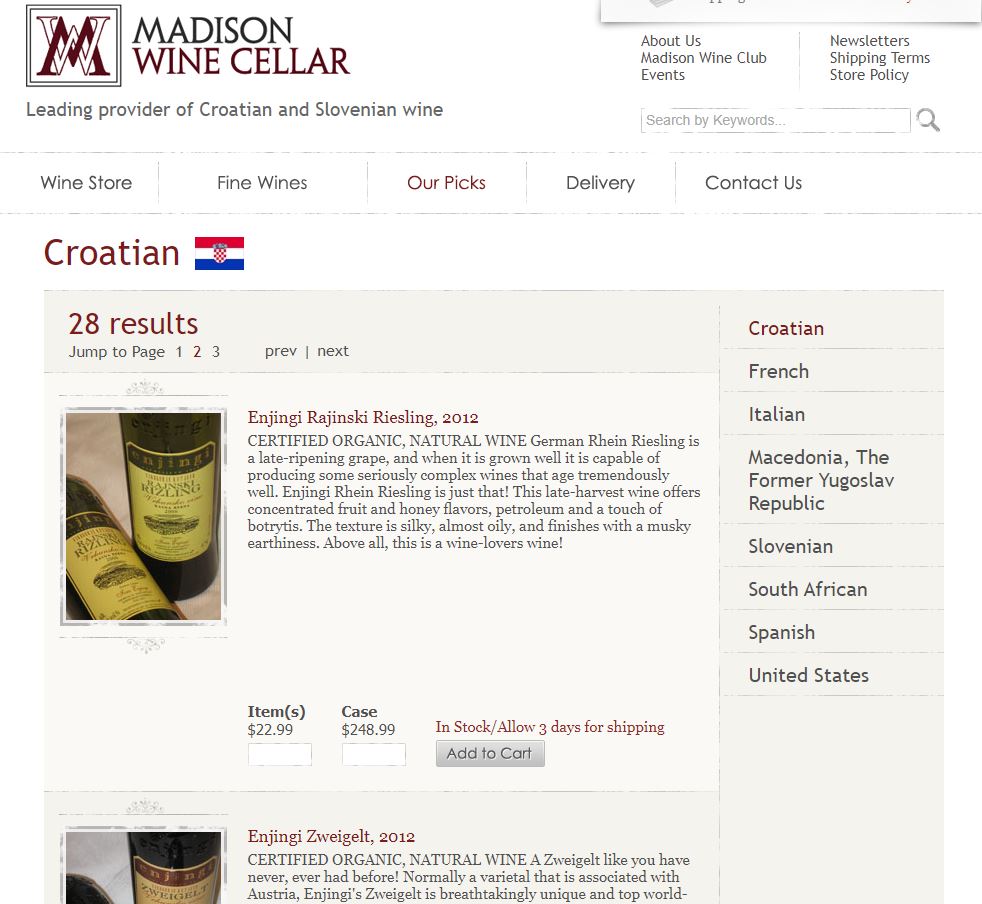 Headquartered in San Francisco, one of the biggest online wine retailers in the US, wine.com also ships to most States under today's standard delivery terms. Their site is intuitive and easy to use, but, regretfully, out of a total of nearly 17 thousand items, they offer only 9 Croatian wine labels, and six are from the same producer, Saints Hills. The prices are competitive, yet not the lowest on the market for these particular wines. Shipping&Handling costs are calculated immediately, and they use FedEx for deliveries. They have a lot of pickup locations.
Vinum USA should be mentioned because they focus on Croatian wines, yet they do not retail wines online. It's a shame because they have close to 40 Croatian wine labels with thorough descriptions and even tech sheets available. There is some misguidance in using popular terms such as minimal intervention to advertise their selection, although they also offer some mass-produced crowd-pleasers. Although, they are honestly dedicated to uniqueness in wine that is often associated with old winemaking techniques.
The Verdict
Let's compare the top 5 places to buy Croatian wine in the US based on the most critical factors:
availability
the quality/price ratio
delivery terms & conditions
payment terms
| | | | | | |
| --- | --- | --- | --- | --- | --- |
| | Croatian Premium Wine | Wine & More | 1000 corks | Madison Wine Cellar | wine.com |
| availability | XXX | XX | X | X | X |
| the quality/price ratio | XX | XXX | XX | XX | XX |
| delivery terms&conditions | UPS | UPS | / | UPS | FEDEX |
| payment terms | XXX | XXX | XXX | XXX | XXX |
Based on availability, it is easy to determine that Croatian Premium Wines is the winner, followed by Wine&More.
Considering the prices, the winner is Wine&More, offering most of the Croatian wines in the US at the most competitive prices.
Delivery terms & conditions cover more than shipping costs, but in that category, there is no significant difference in the best delivery price and performance. It falls to customer support to handle any issues that might occur, and all of these businesses have customer service, so it is an individual experience.
Finally, payment terms are also no issue today as all use certified safe payment systems and accept all major credit cards, PayPal, etc.
It's a close verdict, but one could safely assume that, depending on the wines ordered and the shipping destination, the best options to buy Croatian wine in the US online are Croatian Premium Imports and Wine&More. If you know exactly the wine you're searching for, it might pay off to use the 1000corks platform and find the local dealer.
And, of course, there is always the option to buy Croatian wine while traveling in Croatia. Unfortunately, the cost of returning them to the US might prove unaffordable. But, hey, that's just another reason to visit Croatia. Cheers!