Croatian wine is available in the UK from dozens of online retailers. Prices vary depending on the retailer, but you can expect to pay around £12-£25 for a good quality bottle of Croatian wine.
Many retailers (total number of 25 to be exact) list on Google as if they are Croatian wine suppliers, but when you search through the offer, there have maybe one or two labels available. They just want to be listed as Croatian wine retailers, but even these few bottles might be unavailable. Some of the wineries listed as Croatian wine suppliers in the UK don't even deliver to the UK (Croatianwine.eu, Croatian wine online, The taste of Croatia).
After analyzing the current offer of Croatian wines in the UK, only 5 sources are legit options for buying Croatian wines in the UK online.
Here are 5 of the best places to buy Croatian wine in the UK:
2. Wine&More
3. Novel Wines
4. 8Wines
Clearly, the most serious online retailer for Croatian wines based in the UK. Croatian Fine Wines provides a user-friendly experience at their mobile-friendly site offering 53 Croatian wine labels from a total of 14 different producers.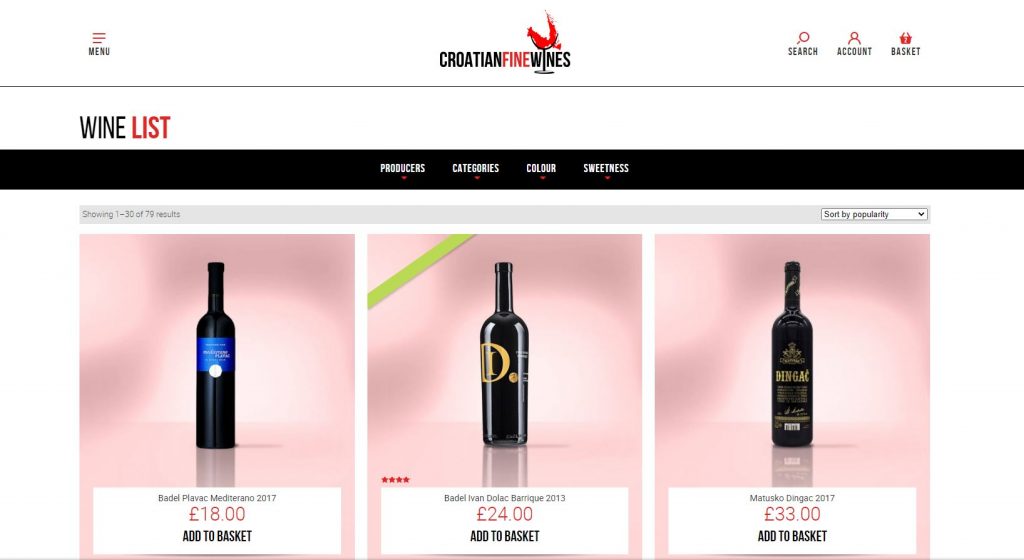 They are based in Northwich, Cheshire so shipping prices are fair and they also offer a Call&Collect option for customers, so it might be a convenient option for Manchester and Liverpool-based wine lovers. The website is operated by "a small but passionate team, namely Mark and Holly, who are passionate about Croatian wines and committed to their vision, for Croatian wines to be widely recognized for their quality, value, winegrowing integrity, and taste."
Pros:
user-friendly experience
largest selection, of UK-based shops
fair delivery prices (7.96£ and FREE for orders of 12+ bottles)
call&collect option
Cons:
Based in Croatia, they offer international shipping using DHL service to the UK. Every credit card payment including Pay Pal and even cryptocurrency is accepted and secure payment is installed. Wine&More key advantage is the availability of hundreds of different labels. Literally, more than 600 Croatian wines are available in the UK market! Prices include the UK tax and the VAT. Wine&More vision is to "become an integral part of everyday culture and living and finding a place on a global table for an authentic, high-quality bottle of Croatian wine." There is a minimum order of 40 £.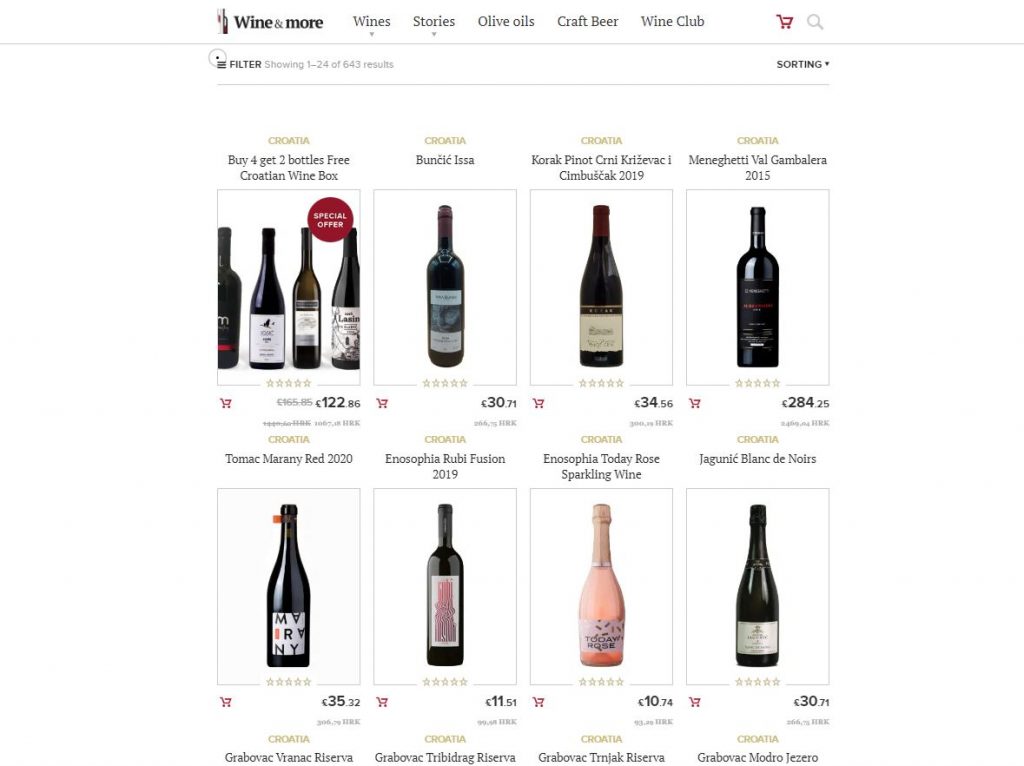 Pros:
most extensive wine selection by far
best prices generally (with calculated UK tax and VAT)
reliable service (DHL)
great customer support
Cons:
non-UK based
higher shipping costs compared to UK-based shops
no estimated delivery date
An "award-winning, unique online wine merchant.", based in Bath. They specialize in "undiscovered wines" from around the world. Novel Wines offer a range of Croatian wines from 6 different producers and 12 labels. There is no minimum order, and the cost of shipping is covered by Novel Wines for all orders over 95£.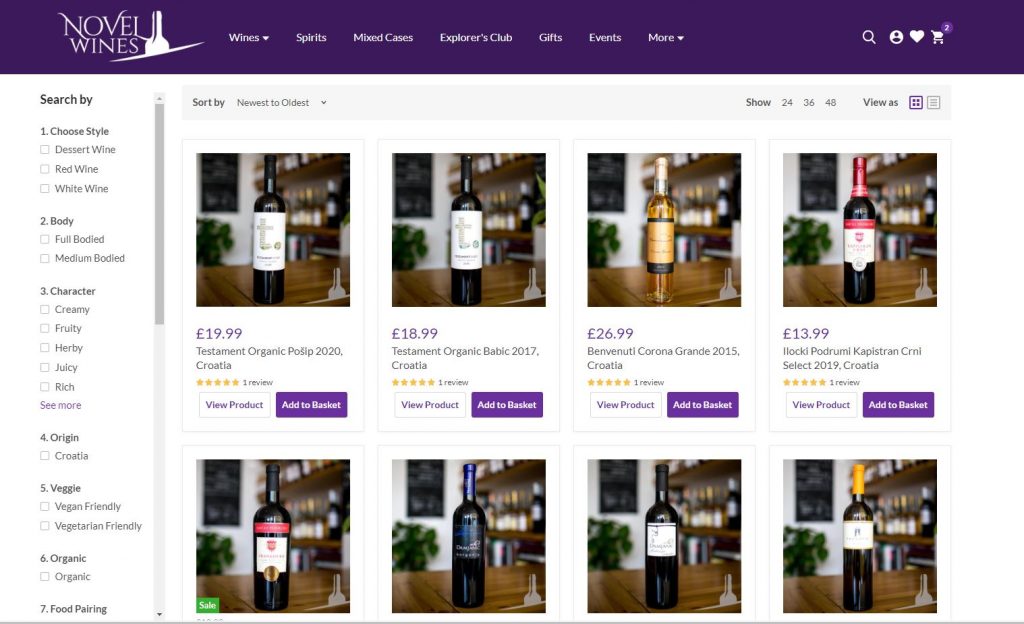 According to their website, they are "UK's most exciting wine retailer, specializing in the truly unique and wonderful. A place where people could find incredible wines they hadn't heard of before – wines from passionate small producers and community co-operatives, often from regions that aren't even known for their wines (but should be)."
Pros:
Fair delivery prices
Next Day delivery option
Free delivery on orders above 95£
Cons:
higher wine prices
small selection
With a selection of 61 labels from a dozen producers, 8Wines proves to be an important source of Croatian wine in the UK. They are registered in the Czech Republic but with UK-based customer service.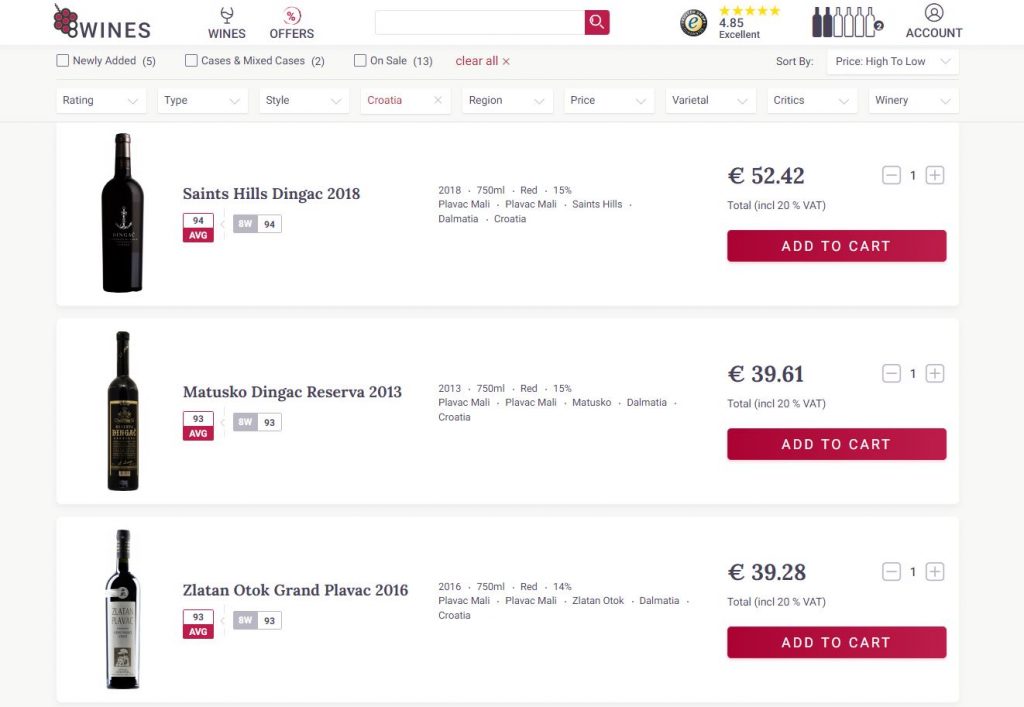 All major credit cards are accepted and secure payment, of course. However, it might be off-putting to see prices shown without the UK Wine Duty and VAT, so with UPS shipping prices they use, the final price of your Cart might be significantly higher than expected.
Pros:
reliable service (UPS)
decent selection of wines
Cons:
prices are in € without UK Tax and VAT
Non UK based
BlueIceWine is a new online retailer, specializing in Croatian Wine. They offer some 30 labels from 5 Croatian wineries and the delivery is free on all orders over 100£. There is also a 10% discount on all orders over 125£. It's a small business with dedicated customer service where you can expect the "most cost-effective, yet safe and reliable, method of shipping" could be found. Also, Mixed cases are 5% off full retail price with discounts applied automatically at the checkout.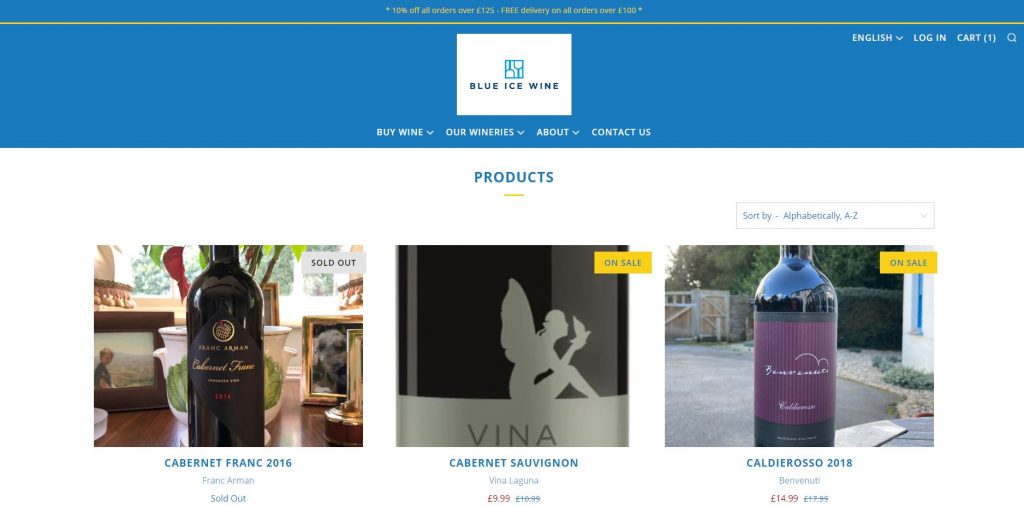 Pros:
dedicated small company
free delivery on orders above 100£
Cons:
small selection, and of not particularly hard-to-get labels
high delivery costs for small orders (15£ flat rate)
Hardly the first place that comes to mind when considering ordering wine online, but the world's largest online retailer surprisingly offers Croatian wines. There are currently 33 different Croatian wines available, from 13 producers. Coincidentally, it's all of the labels offered by Croatian Fine Wines who actually are dispatching and selling the wines. The prices and delivery are about the same compared to ordering directly from the seller and payments and terms & conditions are pretty much essential to the Amazon experience.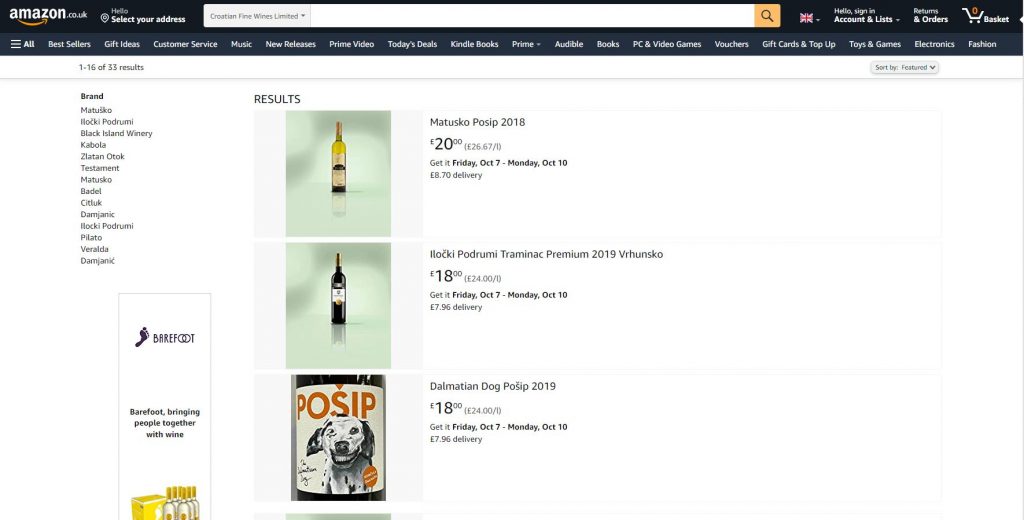 Pros:
Amazon service & reliability
Cons:
resell of an already UK-based seller
Online wine purchase
When purchasing wine online, you might want to consider several factors including:
– Availability
– The quality/price ratio
– Delivery terms and conditions
– Payment terms and conditions.
It pays off to compare the top 5 choices for Croatian wine in the UK, based on these factors.
Availability of Croatian wine in the UK
Only three UK-based online retailers who stock Croatian wine have a certain quantity of wine available, but only Wine&More currently ships directly from Croatia to the UK. This ensures the availability of hundreds of labels to UK customers.
In terms of availability, the winner is Wine&More.
The quality/price ratio
When it comes to Croatian wine, you can definitely get a lot of bang for your buck. The quality-to-price ratio can be excellent if you know where to look.
Wine&More offers a wide range of Croatian wines at the best prices, starting at just 7.65£. All of the prices include all UK excise duty and UK VAT! There are no additional charges for UK customers. This is not the case with 8Wines and additionally misleading are the prices not shown in £.
Out of UK-based shops, Croatian Fine Wines have the best prices generally and especially with wines on sale. Their Special offer takes 15-30% off the regular price.
But for those who are looking for the best deal on Croatian wine, Wine&More is hard to beat.
Delivery terms and conditions
Delivery is reliable in each instance, but 3 companies are located in the UK so they deliver faster and at a lower cost: Croatian Fine Wines, Novel Wines, Blue Ice Wine. All of them have very fair priced flat delivery rates for the UK mainland and free delivery for larger orders. If urgent, they all have the Next Day Delivery option.
Wine&more UK shipments are delivered by DHL delivery and there are two options to choose from, Direct and Express. Direct option delivers to the UK address within one week of sending. However, it could take only a day or two if you choose the Express delivery by plane.
Wines are delivered in special boxes that prevent breakage and heat damage.
In terms of the best delivery price and performance, the winner is Croatian Fine Wines.
Payment terms and conditions
It's today's standard to have the most common payment options: Credit Cards (Visa, Mastercard), Debit Cards (Maestro, Visa Electron), and PayPal. All of the 5 Top Places to buy Croatian wine in the UK are using a certified secure payment system. Wine&More also has a cryptocurrency payment option.
There is a refund policy prescribed by the law as well, and all of the Top 5 retailers offer refunds or replace in the unlikely case of spoilage or any other customer dissatisfaction.
Conclusion
The final verdict is up to individual preferences of course, but out of the five retailers with any selection of Croatian wine in the UK, Wine&More offers the best all-around service for UK customers looking to buy Croatian wine. A serious solution is also Croatian Fine Wines, especially if you require just a few bottles and you need them fast. For anything above 4 bottles, it probably pays off to order from Croatia directly, despite the higher shipping costs.
Whether you are a seasoned wine drinker or just getting started, buying Croatian wine in the UK is a great way to get your hands on some excellent quality wines at very reasonable prices. Now, you will be able to truly sample the culture and diversity Croatian wine offers.