Need a little help getting the romantic vibes going? Look no further – we're all about Croatian wines to set the stage for an evening of love! We've done some research so you won't have to – here are our picks of the top 7 Croatian wines for a romantic date that Cupid himself would like to enjoy!
Forget being stressed about what to pick – just grab one (or seven!) of these wine gems and you're ready to hit that cozy corner in style. Whether you're looking to impress on a first date or celebrating a special anniversary, nothing says "I'm thinking of you" like a fine bottle of wine!
Introduction to Croatian wines for a romantic date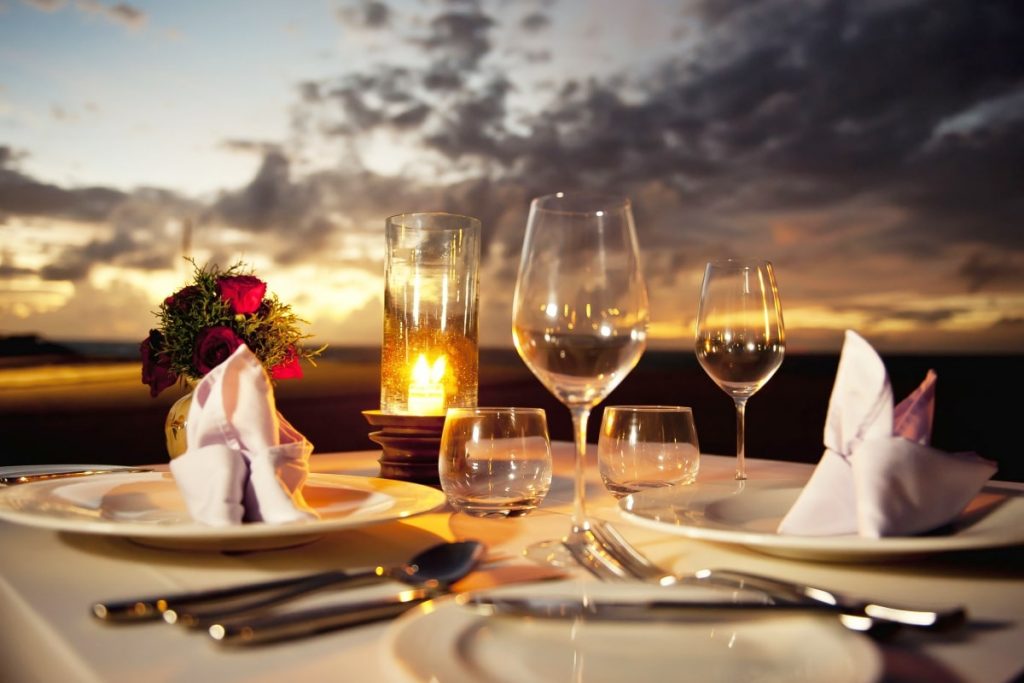 Are you and your significant other planning the perfect romantic dinner? Well, it looks like lovebirds everywhere have followed the unwritten rule – include wine in it! But why is this so? Is it because wine just seems to pair well with love?
Whether you're an avid wine aficionado or just occasionally enjoy a glass or two, we've compiled three popular reasons why you need to enjoy Croatian wine during a romantic date (or any other occasion, as a matter of fact).
Romance: No matter what your romantic dinner plans are, the common theme is love. And truth be told, in the right setting, Croatian wines tickle the senses. Aside from helping everyone relax, delicious Croatian wines really set the mood for a special evening.
Releases "love hormones": It's no secret that drinking wine encourages your brain to release oxytocin. Put those chemical compounds, responsible for affectionate types of emotions, to work with our top pick of Croatian wines.
Food pairing: If you're planning a fancy dinner or just a lighter meal, why not elevate it with the perfect wine pairing? Not only will it impress your date but also create a culinary experience you'll both cherish. Create a memorable dining experience and impress your partner by selecting a wine that pairs well with your chosen meal. With the variety of Croatian wines available, it's easy to find a perfect match for everything from chocolate to a hearty meal and even a sweet dessert!
Let's face it: when we think of romance, wine just seems to come with the package. So if you're feeling a bit lost regarding what bottle pairings best suit your special date or romantic night plans – look no further than these top picks of 7 Croatian wines for a romantic date!
Key Takeaway: If you're a wine enthusiast or just a casual sipper, you should raise a glass of wine on a romantic date (or any other occasion)! What better way to make your special evening extra memorable than with the perfect Croatian wine? Not only will it help create an unforgettable atmosphere, but also create the perfect ambiance of love and romance.
Jagunić Three Stars Brut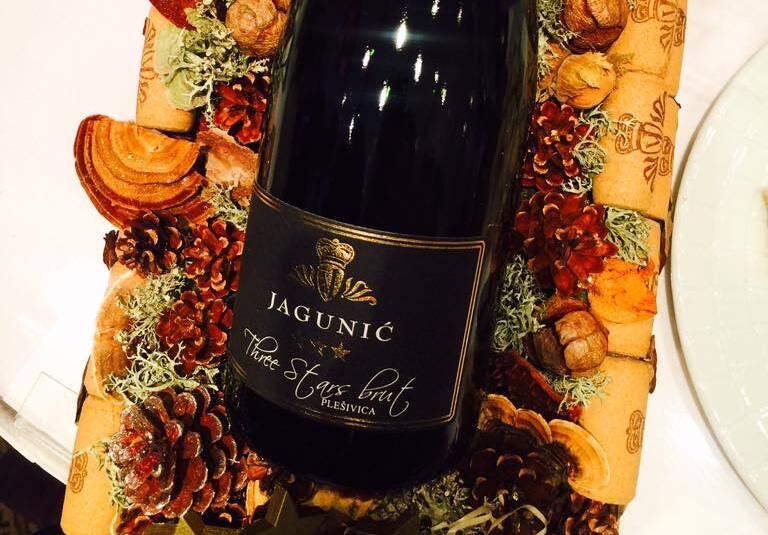 When it comes to deciding if still or sparkling wine is more romantic, it really comes down to your personal preference. Whether you're going to opt for a bottle of tasty sparkling wine, we've got you covered!
Jagunić's winery on Plešivica hills in Croatian Uplands is devoted to producing one of the most recognized and most-awarded Croatian sparkling wines. Today, the winery is focused on the production of sparkling, still white and amber wines. This is precisely the segment in which the potential of the Plešivica micro-region is reflected, one of the most potent terroirs in the recent history of Croatian winemaking.
The three stars in this case allude to the three best vineyards of the Jagunić family, from which the grapes for the base wine come. Namely, apart from Chardonnay and Riesling, the base of this sparkling wine consists of old Pleševica varieties, about 15 of them. The traditional champagne method with optimal aging on yeasts (20 months) gives this wine seriousness and character.
TASTING NOTES:
This delicious sparkling wine is a popular option for people preferring sparkling wines. With this Brut, the persistent bubbles and fruity aroma is a perfect romantic choice. If you're looking for a bottle that adds to your romantic décor, look no further! This bottle of popular Croatian sparkling wine with its crispy flavor and mild sweetness will definitely make a lasting impression!
Other recommendations from the same winery:
Jagunić Blanc de Blancs – sparkling wine
Jagunić La Bulle Rose – sparkling wine
Jagunić Blanc de Noirs – sparkling wine
Jagunić Crveni Traminac – white wine
Jagunić Rizvanac – white wine
Jagunić Amber Crveni Traminac – orange wine
Key Takeaway: There is a common opinion that love should be celebrated with a good old-fashioned bubbly! Sparkling wine symbolizes happiness, celebration, and good times! The fizzy bubbles of Jagunić Three Stars Brut in your glass just add to the love magic!
Kutjevo Rose Premium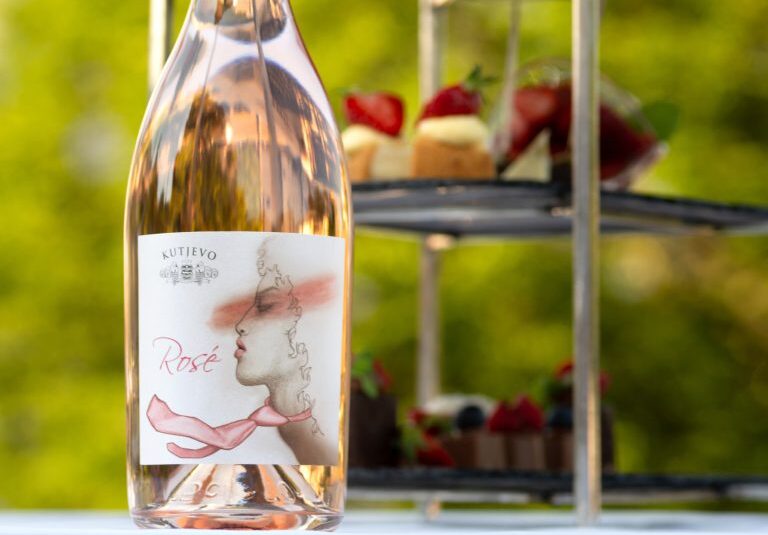 It's time to step up your game in the love department. Whether you're celebrating the love of your life or making memories with someone special, don't forget to add some Croatian rosé wine to the mix.
Kutjevo is the oldest winery in Croatia with a history of winemaking that dates back to 1232. Get ready for some serious romance vibes, though, because they produce one of the most popular Croatian rosé wines. A perfect invitation to include it in your romantic plans!
TASTING NOTES:
This rosé has a delicate and seductive salmon pink color and light fruity aromas of strawberry and rosé petals. With its refreshing and fruity character, captivates at first taste! Fine fruitiness and subtle harmony dominate the taste of this extremely drinkable wine.
Other recommendations from the same winery:
Kutjevo Maximo Brut
Kutjevo Graševina Vrhunska – white wine
Kutjevo De Gotho Graševina – white wine
Kutjevo Maximo Bianco – white wine
Kutjevo Maximo Oro – white wine
Kutjevo Maximo Nero – red wine
Kutjevo De Gotho Pinot Noir – red wine
Key Takeaway: Rose Premium with its soft red and pink color tones, is often the first choice for anything with a romantic theme. With this tasty option at hand, romance is always just around the corner!
Trapan Malvazija Uroboros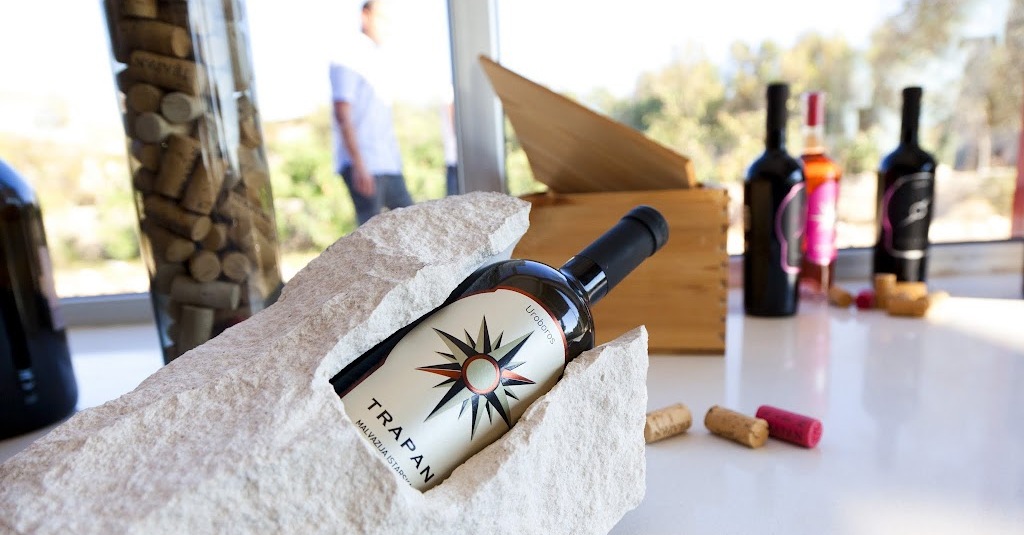 Let your romantic side shine! Get creative and make every day special with Croatian wines. Nothing says cozy like some quality wine – no matter what kind you choose, they all come together in perfect harmony for that ultimate night-in experience.
Make this month extra magical by treating yourself and someone special to something truly unique – we guarantee you'll be feeling smitten before bedtime rolls around again!
Bruno Trapan is a young Istrian winemaker whose wines are flavorful and passionate. For the last ten years, with hard work and persistence, Bruno created 12 hectares of ecologically managed vineyards.
One of the most romantic gestures is to spoil your partner with a bottle of his Malvazija (Malvasia Istriana) straight out of the popular Istria wine region! After you taste this white wine, you might even call it love at first sip (or gulp…we won't judge!). Delicious, ripe core fruits with a hint of floral aromas are a great way to put anyone in the mood!
TASTING NOTES:
The wine has an intense straw yellow color with some green tones. After pouring into a glass, layered and intense floral and fruity aromas of peaches, apricots, and apples develop. Tasty and concentrated wine with a long aftertaste, pronounced minerality, and freshness.
Other recommendations from the same winery
Trapan Ponente 2021 – white wine
Trapan Rubi Rose 2018 – rose wine
Trapan Terra Mare 2016 – red wine
Trapan Revolution 2017 – red wine
Trapan Istraditional 2016 – orange wine
Key Takeaway: While red wines are considered the wine of choice for romance, there's nothing unromantic about a crispy white! If white wines are your preference, consider this delicious Trapan Malvazija (Malvasia Istriana) Uroboros!
Pošip Milan
Who doesn't deserve to kick back with their special someone and enjoy the ultimate romantic date? If picking out wines isn't one of those things on your list, don't fret! We've got some amazing Croatian wine that will delight your senses – limited production native Dalmatian Pošip Milan from Kaštela.
Perfectly balanced shades and sun exposure bring out ideal sugar, alcohol levels, and ripening; all due to its unique pergola cultivation method. The result is an experience that will delight even the most sophisticated palates – make sure you don't miss out on the opportunity to taste it!
TASTING NOTES:
This light golden-colored wine has a super nice fruity aroma with a hint of minerals, salt, and limestone. The flavor is rounded out nicely with smooth fruity notes. It's medium-bodied with a long finish that's all apple and grape.
Key Takeaway: The wine you choose for your date can add just the right bit of sparkle that will turn even an ordinary meal into something truly magical. For that extra touch choose Pošip Milan!
Benvenuti Teran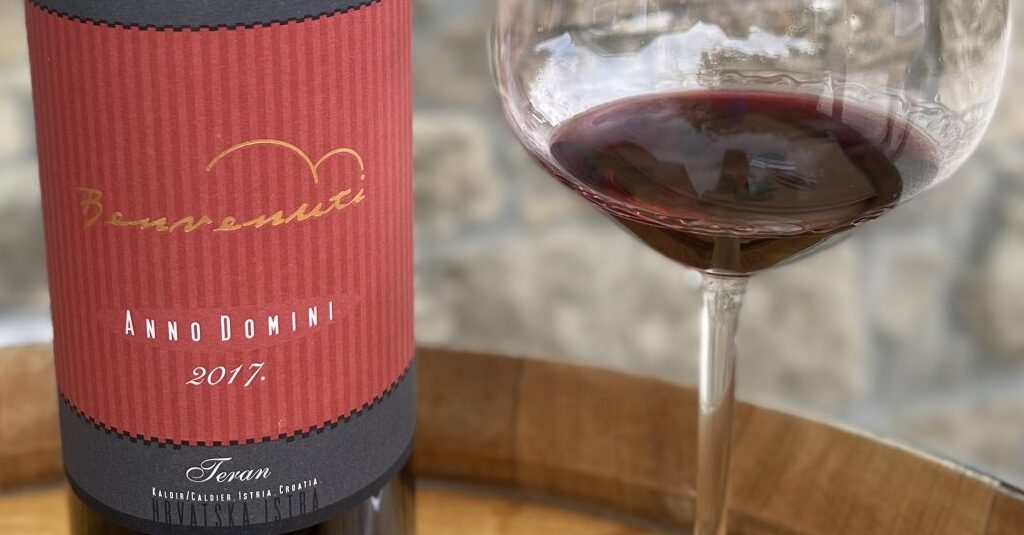 When it comes to setting the mood, a tasty bottle of red wine is essential. Whether you're looking for an intimate dinner with your partner or simply need something special after a stressful day at work, we've got just what you're craving!
The Benvenuti family's winery has been making flavorful, expressive wines in the small Istrian village of Kaldir for generations. Nestled among rolling hills with stunning views over Motovun, their vineyards are home to some unique and native grapes!
TASTING NOTES:
This Teran is a sensual delight for all your senses! With aromas of dried sour cherries and prunes, juicy forest fruits, fresh sour cherries, hints of spiciness from the oak, and profound ruby hues you'll swoon with eager anticipation.
Once it touches your palate you are bound to experience intense journey-think firm tannins caressing ripe fruitiness that linger in complexity! If there was ever a match made in heaven for haute cuisine dishes–it would be this full-bodied wine with subtle warmth meant to complement each bite!
Other recommendations from the same winery:
Benvenuti Malvazija AD – white wine
Benvenuti Malvazija Istarska – white wine
Benvenuti Caldierosso – red wine
Benvenuti Muškat San Salvatore – dessert wine
Key Takeaway: Red wines bring out different nuances that can captivate the senses and make any night feel like date night in no time. Benvenuti family produces red wine from native Teran that will surely kickstart those romantic vibes! So uncork one and let love pour forth into every sip!
Vislander Plavac Milna
Don't wait to show your special someone you care – plan a romantic evening that they'll never forget! Date night doesn't need an excuse; even without Valentine's Day, there are plenty of ways for couples to share moments filled with delicious food and great wine. So don't miss out on this fun way to keep romance alive in any relationship!
The people of the Dalmatian island Vis and their British allies had to get creative when it came to survival during WWII. Grandma Frona and grandfather Jure, two resourceful islanders, struck a unique deal with the Brits – Plavac wine in exchange for food! It worked out perfectly: The terrain on Vis was ideal for producing this type of vino while maintaining labor standards; meanwhile, England got something special from across the sea — delicious sustenance that made all heads turn! Nowadays we acknowledge that alliance through enjoying each sip of these tales-in-a-bottle wines – cheers to grandma Frona & grandpa Jure's ingenuity!
TASTING NOTES:
This incredible dark ruby-colored wine with an enchanting purple sheen is bursting with a range of mouthwatering aromas – from sweet black currants and juicy plums to fresh Mediterranean herbs. Its bold structure carries tannins like a breeze, leading you on a journey through Vis' sandy vineyards in one sip! Its full-bodied flavor will be even better after some aging, so save yourself for the best experience!
Other recommendations from the same winery:
Vislander Komiška bonda – sparkling wine
Vislander Viško bonda Rose – sparkling wine
Vislander Vugava – white wine
Vislander Vugava Antique – white wine
Vislander Cuvee – white wine
Vislander Rose – rose wine
Vislander Plavac Milna – red wine
Vislander Plavac Tihobraće – red wine
Vislander Plavac Milna – red wine
Vislander Plavac Ljubišće – red wine
Vislander Plavac Voščice – red wine
Key Takeaway: A Vislander Plavac Mali red is perfect for creating an ambiance that will help everyone relax and enjoy their evening – so you can focus on what really matters: appreciation and adoration.
Kozlović Muškat Momjanski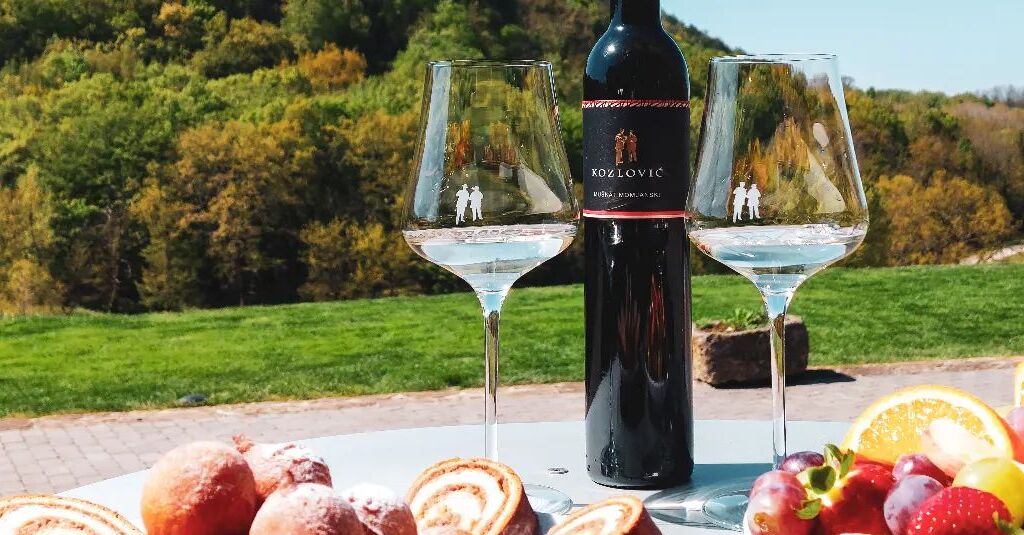 Kozlović wine is more than a simple sip – it's an experience. Produced with passion and pride in the Istria wine region, the Kozlović family has been crafting high-quality wines for generations thanks to their commitment to hard work and dedication. Their philosophy of preserving tradition while still innovating speaks volumes about what makes Kozlovic unique: they're always striving for excellence!
TASTING NOTES:
This semi-sweet Muscat is like a ray of sunshine in your glass! A delightful pale lemon hue, with aromas of luscious grapes, lychee, and juicy yellow fruits. The medium sweetness creates an invitingly creamy texture yet also remains full-bodied and vibrant. On the palate it offers intense complexity – think sweet spices to make you swoon – finished off perfectly by a silky long varietal finish. Enjoy this wine's perfect balance for maximum refreshment!
Other recommendations from the same winery:
Kozlović Malvazija Selection – white wine
Kozlović Santa Lucia Malvazija – white wine
Kozlović Malvazija – white wine
Kozlović Santa Lucija Noir – red wine
Kozlović Teran – red wine
Key Takeaway: If your romantic date includes an array of desserts, chocolates, or strawberries & cream, then this delicious Muškat (Moscato) Momjanski is the perfect replacement and go-to-wine!
FAQs About Croatian Wines For A Perfect Date
Which Croatian wine is best for romance?
If you are aiming to impress that special someone, then Croatian sparkling wines from winemakers such as Jagunić or Tomac are the best for romance! With its persistent bubbles and fruity aroma, enjoying these wines is sure to be an experience you will never forget. The crispy flavor with its mild sweetness makes this bubbly a popular option. Not only does it provide a unique taste, but it looks beautiful too! Your romantic décor will be complete with this Croatian wine making its presence known on the table.
Best Croatian red wine for couples?
Croatian wines are a sensual delight for all your senses, and this Teran is the perfect red wine for couples. From aromas of dried sour cherries and prunes to juicy forest fruits and fresh sour cherries, each sip of this ruby-hued Croatian red wine is sure to ignite a romance with its unique flavor profile. For a romantic evening, this sensual Croatian wine is tailor-made for delighting all your senses!
Best Croatian sweet wine for date night?
If you're looking for the perfect Croatian wine to add some romance to your dinner date, look no further. Muscat (Moscato) Momjanski from Kozlović winery would be a perfect choice – and one that your date won't soon forget! Bursting with delicious freshness, fruity aromas, and balanced sweetness, no ordinary bottle will do: your date deserves something truly special to create a night they'll never forget. Let this Croatian wine put the finishing touches on an unforgettable evening – pour a glass of Muscat (Moscato) Momjanski and enjoy!
Conclusion
If you're looking to add a special touch to your romantic dinner, look no further than the perfect glass of wine. From fruity and floral notes for those springtime dates, or full-bodied flavors that will knock your partner off their feet – there's something tantalizing out there for everyone!
Unleash your inner romantic by setting the stage for a special night with Croatian wine! After a long day, it's easy to be too exhausted and stressed for an intimate dinner. But don't worry – the secret ingredient is here! From full-bodied reds and sweet whites, our selection of the best 7 Croatian wines for a romantic date will have your taste buds tingling with delight.
These wines come in different varieties and styles, but all have one common goal: to make you feel cozy, relaxed, and ready to share some quality time with your special someone.
Grab an ideal bottle tonight and share in some much-needed relaxation with alluring aromas sure to set any mood from the stale back into "romantic" mode… You're welcome 😉