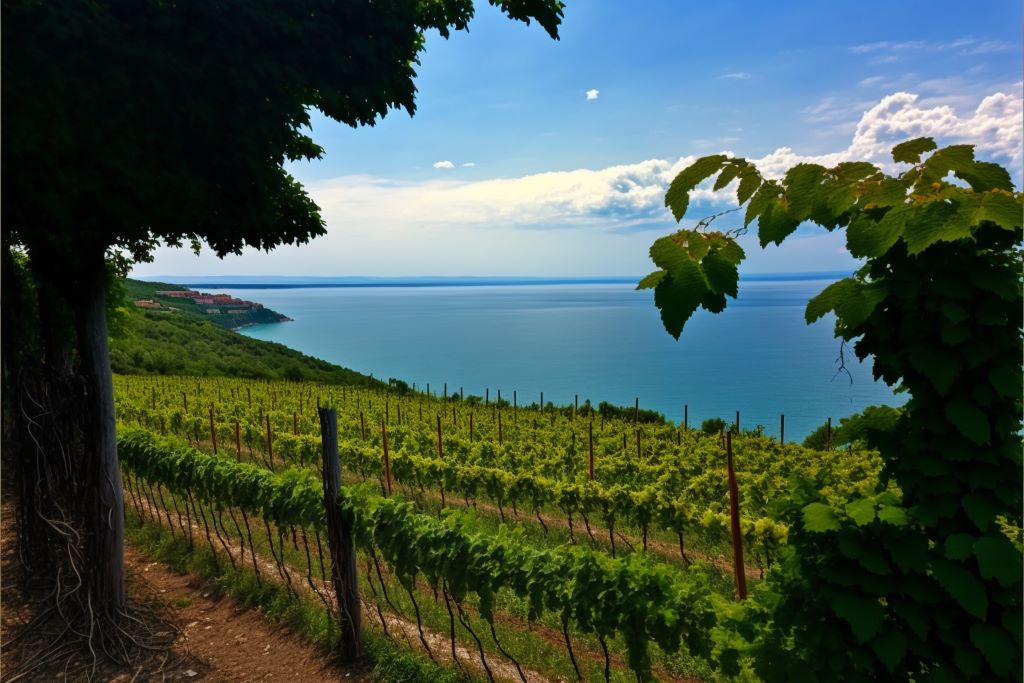 Immerse yourself in the rich tradition of Croatian winemaking with this blog post outlining the reasons behind the growing international popularity of Croatian Wines. We'll look at different Croatian wine brands available worldwide and give tips on pairing them with food.
We'll also cover buying options online and visiting wineries in Croatia if that sounds like your cup of tea (or a glass of wine). So pour yourself a nice one, and let's start discovering all that Croatia offers regarding its incredible selection of unique wines!
Introduction to Croatian Wine
The history of winemaking in Croatia stretches back to ancient Greek settlers in the 5th century BC. The traditional practices of winemaking were built upon through generations and allowed winemakers to understand better their land, terroir characteristics, and native grape varieties to craft truly unique wines.
Croatia has 130 indigenous wine grape varieties, some of which became true Croatian wine brands. Today's winemakers take pride in their craft as they continue this rich heritage by producing outstanding wines with a distinct Croatian character.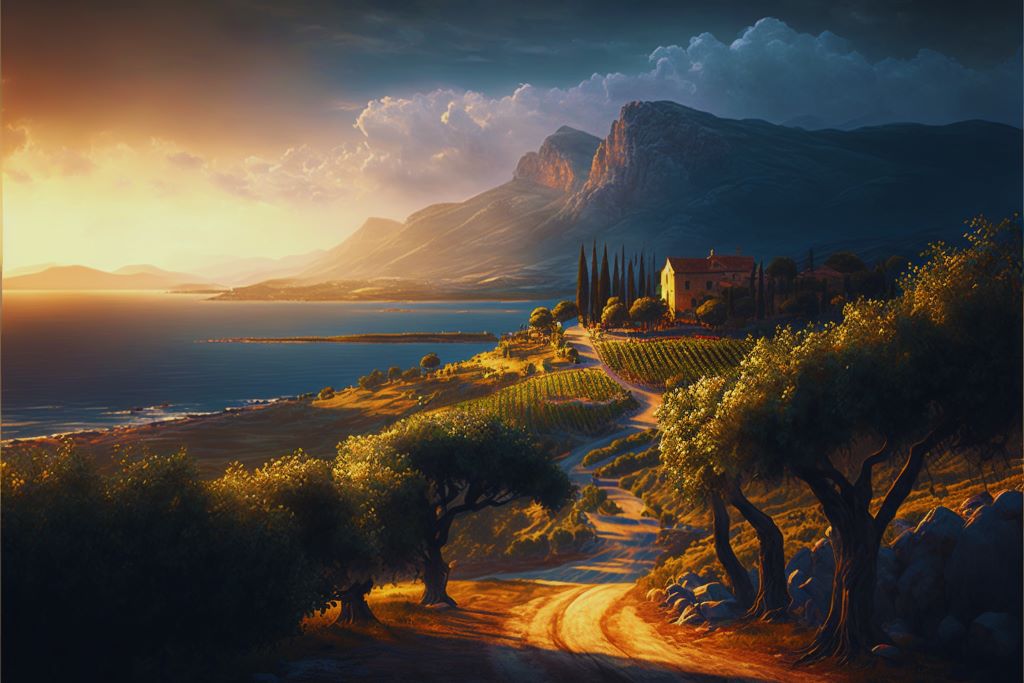 Croatia is unique in that it has a wide range of climates for growing grapes, from continental to the Mediterranean. The uniqueness of each region's climate creates different terroirs, allowing winemakers to craft outstanding wines with distinct flavors and aromas. So no matter the location, Croatia will always have something unique to offer regarding its viticulture and winemaking traditions. Popular wine regions include:
Slavonija (known for its refreshing whites made from Graševina),
Istria (home of white Malvasia Istriana (Malvazija) and red Teran),
Dalmatia (famous for native red Plavac Mali and white Pošip and Maraština),
Croatian Uplands (best known for whites Pušipel, Škrlet, and sparkling wines).
Croatia is home to many diverse wineries that produce wine styles ranging from medium and full-bodied reds to delicious, versatile whites, sparkling and orange wines. With the difference in local winemaking practices, terroir characteristics, and native grape varieties, it is no wonder that Croatian wines are so exciting.
In addition to traditional winemaking techniques, many Croatian wineries have adopted sustainable production methods such as:
organic farming techniques that limit chemical use,
crop rotation systems for soil health,
and water conservation methods like drip irrigation systems.
These innovative practices help ensure Croatian viticulture's longevity and celebrate its unique cultural history through its wines.
Key Takeaway: With a long and rich history, today Croatia boasts more than 130 indigenous grape varieties, as well as different climate zones, resulting in a large number of wine styles.
Exploring Croatian Wine Brands
Winemaking remains integral to Croatian culture, with each wine region offering its unique grape variety. Savoring Croatian wines is a multi-sensorial experience that pays homage to generations past and brings out the best in its unique local flavors.
Croatia has it all if you are looking for a light summer sipper or an aged red blend that will pair perfectly with your favorite meal. There are plenty of traditional dishes that pair perfectly with Croatian wines. With various grape varieties, regions, and styles, get to know where to start when pairing Croatian wines with food.
Traditional Dishes to Enjoy with Croatian Wines: Many traditional, hearty Croatian dishes feature bold flavors that pair well with medium and full-bodied reds like Plavac Mali from appellation Dingač, Babić from Primošten and Šibenik region, or Teran from Istria. Others include seafood, pasta, or different continental fish stews ideal for Malvazija, Graševina, or Pošip pairing.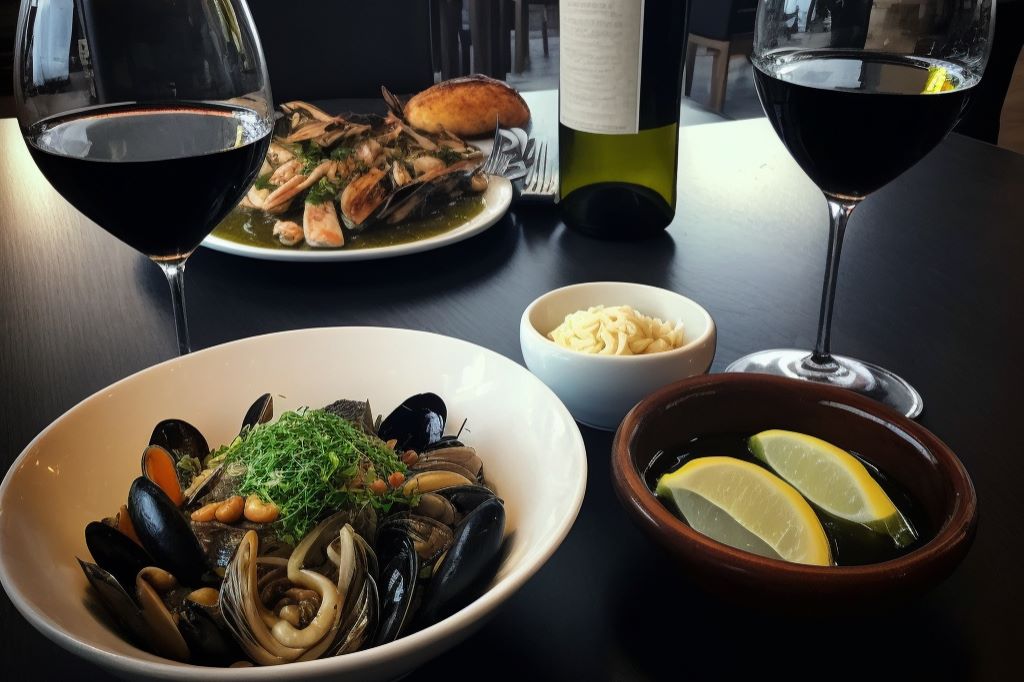 Regional Specialties for Perfect Pairings: Each region of Croatia has its specialties that pair wonderfully with local wines. When pairing food and wine together, it is essential to consider both flavor profiles – sweet versus savory, acidic versus tannic – and texture – light versus heavy body.
With that in mind, you can create a balanced combination that enhances both elements equally without overpowering them. Also, remember how long each dish will take to prepare so you don't end up serving your guest warm white wine. Finally, remember dessert.
Many delicious desserts use local ingredients, for example, homemade biscuits with dry fruits paired beautifully alongside late-harvest whites made from Muscat or traditional Prošek wine. This dessert wine is traditionally from the southern area of Dalmatia, made using dried wine grapes.
Regional specialties can perfectly match native wines and create a delicious experience. Some popular include:
seafood from Dalmatia,
pork from Slavonija,
truffles from Istria,
lamb stews from Kvarner and Dalmatian islands,
game meats from Istria, Kvarner, and Slavonija.
The following table will cover the most popular Croatian wine brands with recommendations for pairing with traditional food favorites. Let's dive into some of the most famous Croatian grape varieties and their classic food pairings.
Table 1. Top 10 most popular Croatian wine brands and traditional food pairing recommendations
Grape Variety
Characteristics
Traditional food pairing
Recommended producers
Malvasia Istriana (Malvazija)
– Native Istrian grape variety.
Aromatic profile: fruity and floral wines
with aromas of peach, citrus, and traces
of tropical fruits.
Kokošji žgvacet
(chicken stew with homemade pasta)


Benvenutti
Coronica
Kabola
Roxanich
Kozlović
Vina Laguna
Medea
Trapan
Ritoša
Graševina
– The most widespread variety in Croatia.
– Versatile variety that can have many faces.
Aromatic profile: delicious aromas of ripe fruit,
sweet and juicy apples, pears, and quince on the nose.
Sarma (stuffed cabbage rolls)
Dry-cured Slavonian ham
Krauthaker
Kutjevo
Josić
Adžić
Belje
Ilok wine cellars
Antunović
Enjingi
Petrač
Galić
Enosophia
Plavac Mali
– The most famous red grape variety in Croatia
– Plavac translates to 'Blue,' and Mali means 'Small.'
– Dingač and Postup are micro-locations famous for producing some of the best-known
Croatian Plavac Mali wines.
Aromatic profile: deep-colored, medium to full-bodied red wine with lower acidity
and dark cherry, pepper, carob, and dry figs aromatic profile.
Pašticada (marinated
beef stew served with
gnocchi)
Miloš
Korta Katarina
Grgić
Saints Hills
Matuško
Stina
Rizman
Volarević
Kiridžija
Plenković
Pošip
– A white grape variety native to the island of Korčula.
– This versatile variety can produce crisp fresh whites and structured and big white wines.
Aromatic profile: vanilla spice, citrus fruit,
and a subtle almond note.
Gregada (cooked fish)
Školjke na buzaru
(shellfish cooked in sauce)
Korta Katarina
Testament
Milan Pošip
Saints Hills
Stina winery
Grgić
Rizman
Volarević
Grk
– Native variety of Korčula island.
Aromatic profile: notes of white pepper,
melon, herbs, and sliced pear with lively
freshness and saltiness.
Ston steamed mussels with garlic and herbs
Škampi (shrimp scampi)
Bire
Zure
Cebalo
Babić
– Native Dalmatian red wine.
– When extracted and concentrated without overdoing it,
the subtlety of this wine is a delightful experience.
Aromatic profile: Mediterranean character and
flavors of marasca cherry, along with a smooth finish.
Janjeće koljenice (slowly
braised lamb shanks)
Testament
Gracin
Prgin
RAK
Teran
– Red grape native to Istria.
Aromatic profile: the most famous examples
are deep ruby red wines ranging from fruity,
rich and complex flavors of forest berries,
violets, and minerality.
Pljukanci (homemade pasta) served with a sauce
made from
boškarin meat (
native Istrian ox)
Coronica
Benvenuti
Kabola
Franz
Arman
Lasina
– Rare native Dalmatian variety.
Aromatic profile: transparent cherry color,
delicate texture, intense red currant
and sour cherry aromas with pleasant spicy notes.
Manistra na pome
(creamy tomato risotto)
Ante Sladić
SLADIĆ family
Plavina
– Native variety of northern Dalmatia.
Aromatic profile: light-bodied, balanced, and
easy-drinking wines with berries
and sweet spices aromas.
Crni rižoto
(squid ink risotto)
Ante Sladić
SLADIĆ family
Debit
– Native Dalmatian white grape variety.
Aromatic profile: well-balanced, light, fresh,
with herbal character.
Octopus peka
(octopus cooked in
a ceramic dish on an
open fire)
Ante Sladić
These grapes are grown throughout Croatia's various regions and produce distinctive flavors depending on where they are grown. For example:
Malvazija from Istria tends to be fresh with fruity primary apple and apricot aromas.
In Dalmatia, Plavac Mali produces bolder flavors with higher tannins.
The wineries mentioned above have some of the best Croatian wine brands and showcase Croatian wine in all its glory. As awareness continues to spread, these high-quality Croatian wines are being recognized more and more on the global wine scene.
To better understand each region's unique character, try other Croatian brands. With more than 2,600 registered winemakers, there's a wine for every palate.
Key Takeaway: Due to climate and terroir distinctions, Croatian wines offer a unique and flavorful insight into the rich stylistic diversity. As such, they are a perfect pairing to some of the most famous traditional regional dishes.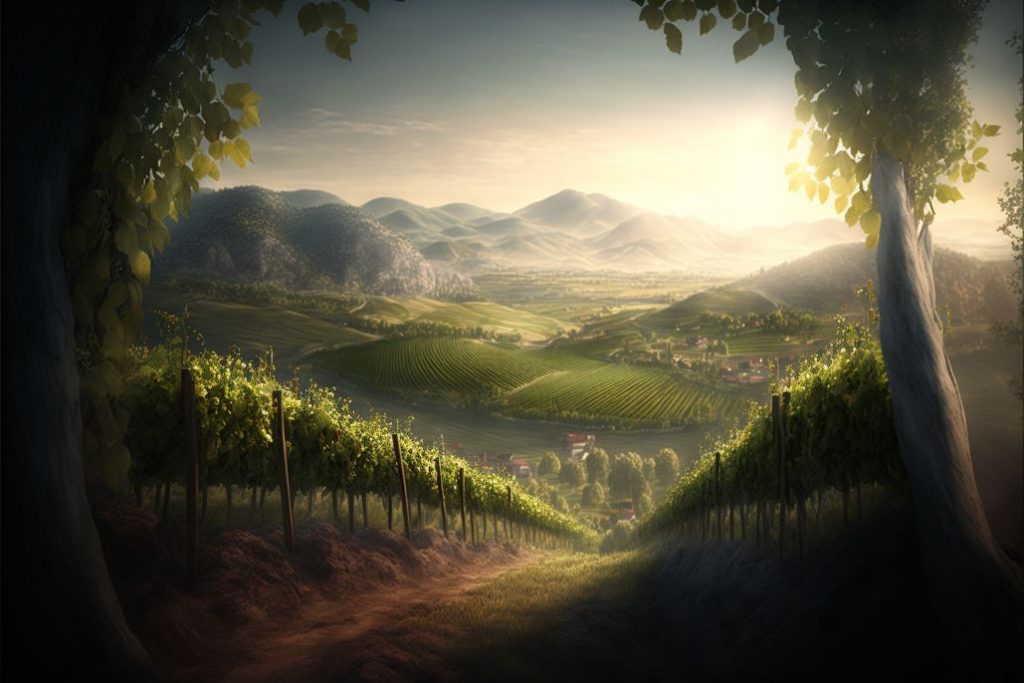 Buying Croatian Wines Online
When it comes to purchasing Croatian wines online, there are a few things you should keep in mind.
First and foremost, make sure that the wine is authentic. Many claim they have Croatian wines, but in reality, they could be challenging to get.
Be sure to purchase from reputable retailers or wineries with a proven track record of quality and authenticity.
Next, consider your budget when shopping for Croatian wines online. Quality bottles can range from affordable everyday sippers to expensive collector's items – so decide what type of wine you want before beginning your search.
If you're looking for something special but don't want to break the bank, look for deals or discounts from retailers or wineries.
Finally, if you live outside Croatia, it is essential to check shipping options before making a purchase. Many international customers may find that their chosen online retailer only offers delivery services in Croatia. However, some companies specialize in the global shipping of Croatian wines, making ordering more accessible and convenient.
Ready to explore the delicious world of Croatian wine? From affordable everyday sippers to expensive collector's items, we've got you covered. Shop online with confidence and get your favorite Croatian wines delivered right to your door. #CroatianWine #ShopOnline
Visiting Croatia's Wineries in Person
Visiting Croatia's wineries is an experience like no other. From the continental climate of Slavonija to Istria and Dalmatia's Mediterranean climate, there are various unique wines and flavors to explore. Tourists can find popular tourist destinations for wine lovers, plan trips to visit wineries in Croatia, and experience local culture through wine tastings.
Popular Tourist Destinations for Wine Lovers: Many popular tourist destinations throughout Croatia offer excellent opportunities for exploring Croatian wines.
Istria combines picturesque Mediterranean coastal towns and hilltop villages with native white wines made from Malvazija grapes and red made from native Teran.
Further south along the coast, Dalmatia, with its many islands, is another tremendous Croatian wine region. A surprising number of native grape varieties, both white and red, found their home in one of the top tourist destinations in Croatia. Most popular ones are Plavac Mali, Pošip, Grk, Maraština, Babić, Lasina, Plavina, Kujundžuša.
Near the capital city, Zagreb, wine enthusiasts can find excellent sparkling wines, with several white wines, such as Škrlet, Pušipel, Sauvignon Blanc, and Rhein Reisling. This region encompasses the Croatian Highlands, a series of rolling hills and mountain ridges with a cool climate.
A star variety in eastern Croatia, Slavonia, and the Danube wine region, is Graševina. Other white varieties are similar to those in the greater Zagreb area. Additionally, you can also find some red and white international varieties there. Most popular are Merlot, Cabernet sauvignon, Pinot noir, Chardonnay, Gewürztraminer and Sauvignon Blanc.
Planning a Trip to Visit a Winery in Croatia: When visiting one or more Croatian wineries, research each destination thoroughly before booking any tours or accommodations. Many vineyards offer guided tours with tasting sessions included.
However, some may require reservations due to limited availability or capacity restrictions during peak season months (May–September). Check opening hours and days when making plans, so you don't miss out on any special events, such as harvest festivals or cellar door sales during wine festivals.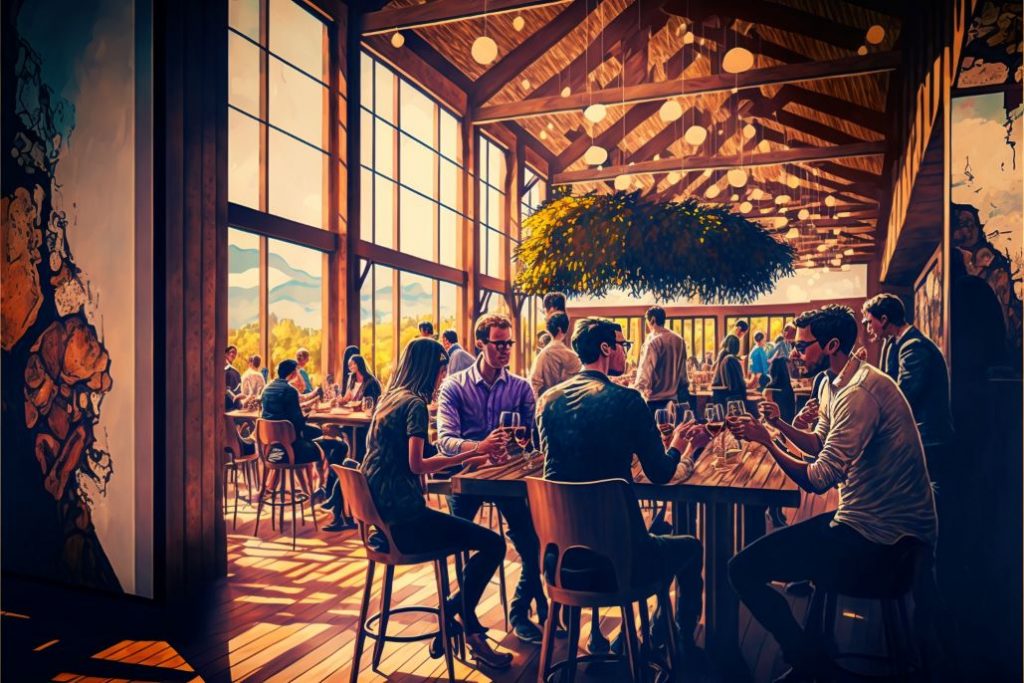 Visiting a Croatian winery allows visitors to taste great wines and learn about traditional methods used by local vintners over generations past and present.
Enjoy food pairings prepared by expert chefs who showcase each varietal's flavor profile. During your tour, you will likely have access to exclusive offers featuring rare bottles that aren't available anywhere else in the world.
Key Takeaway: Visiting Croatian wineries is a unique experience that allows tourists to explore and taste wines from different regions. Plan your tours, check out for winery opening hours, explore local specialties, and events calendar that can make your trip even more enjoyable.
FAQs About Croatian Wine Brands
What wine is popular in Croatia?
Croatian wine is known for its diversity and quality. Many Croatian wines have won awards at international competitions and are becoming more popular and recognizable worldwide.
Popular wines are made from native whites Malvazija, Graševina, Pošip, Grk, Maraština, and reds Plavac Mali, Teran, and Babić. Croatian winemakers produce wine from different international varieties, as well. Most popular are from Merlot, Cabernet Sauvignon, Cabernet Franc, Pinot Noir, Chardonnay, Sauvignon Blanc, Pinot Grigio.
Does Croatia have good wine?
Yes, Croatia has excellent wine. Its diverse climate and terroir create a wide range of grape varieties and styles, making it an ideal destination for wine lovers. Croatian white wines are known for their freshness and diverse fruity aromas. In contrast, red ones are famous for their rich, flavourful, and complex taste.
The country is home to some of the oldest vineyards in Europe, with many wineries producing high-quality wines from native grapes like Malvazija, Graševina, Plavac Mali, Pošip, Babić, Grk, Debit, Maraština or Teran. Croatia offers something special for every palate with its unique terroir and passionate winemakers.
Where is the best wine in Croatia?
Croatia is home to some of the world's unique wines, with a wide variety of native grape and wine-producing regions. There are plenty of excellent Croatian wines to explore. It's hard to say where you can taste the best Croatian wine, so we encourage you to try wines from each region and decide for yourself.
From the Slavonija and Danube region, we recommend some fantastic white wines from native Graševina. Other whites to taste are Gewürztraminer, Chardonnay, and Sauvignon Blanc. For reds, go with wine made from Merlot, Cabernet Sauvignon, Blaufränkisch, or Cabernet Franc.
In Croatian Uplands, the wine region closer to the capital city Zagreb, try white wine Pušipel, Škrlet, and Kraljevina.
Dalmatia in the south, where the Mediterranean climate, diverse topography, and soil create distinctive whites, we recommend wines from Pošip, Grk, Maraština, and Kujundžuša. From reds, there is Plavac Mali, Babić. Istria is another significant region to explore. Some of the most awarded wines are produced there from native varieties, white Malvazija and red Teran.
Whether you're looking for a light white wine or an intense dessert wine, Croatia has something special for every palate. With its rich history and unique terroir, Croatia is a great place to find the perfect bottle of wine.
What are the finest Croatian wines made from?
The most awarded and finest Croatian reds and whites come from the coastal regions of Dalmatia and Istria. But Slavonia and Danube region and Croatian Uplands should be considered as well. Some of the best and finest white wines come from those regions.
The diverse and dynamic Croatian wine scene will offer you plenty of different wine brands to taste on a path to discovering the wine that suits your taste.
Conclusion
Croatian wine brands are becoming increasingly popular and accessible to consumers worldwide. From exploring unique grape varieties to pairing wines with food, there is much to discover about this vibrant and diverse wine scene.
Whether you're looking for a special occasion bottle or want to explore some of Croatia's best wineries in person, there is something for everyone. So why not take a journey through the delicious world of Croatian wines today?
Explore the wonderful world of Croatian wine!
From Slavonija's continental climate to Dalmatia and Istria's Mediterranean one, different varieties and regions offer something special. Discover unique stories from wineries all over Croatia, get tips on pairing wines with food, and learn about the best grape varieties for each region.
Let us take you on a journey through this delicious culture – join us now to experience it first-hand!