Der Zweck dieses Artikels besteht darin, deutschen Weinliebhabern, die sich für kroatischen Wein interessieren, nützliche Informationen bereitzustellen. Die Online-Verfügbarkeit kroatischer Weine ist wichtig für die Bestätigung der kroatischen Weinkultur in der Welt.
Or translated into English, this article aims to provide helpful information to German wine lovers interested in Croatian wine. Furthermore, the online availability of Croatian wines is important for confirming Croatian wine culture worldwide.
Germany is home to a growing community of wine enthusiasts, many of whom have developed a keen interest in exploring wines worldwide. When it comes to Croatian wines, renowned for their unique flavours and rich history, the convenience of online shopping allows German wine lovers to indulge in these delightful offerings without leaving the comfort of their homes. In this article, we present the 10 best places to buy Croatian wine online in Germany, ensuring that every wine lover can discover and savour the essence of the "Kroatische weine" tradition.
Here are the top 10 places to buy Croatian wine in Germany:
Delicije
Wine&more
Wein haus
8Wines
Croatianwine.online
Kroatische Feinkost
Dalma
Jadrovino
croatianwine.eu, and
Balkan Food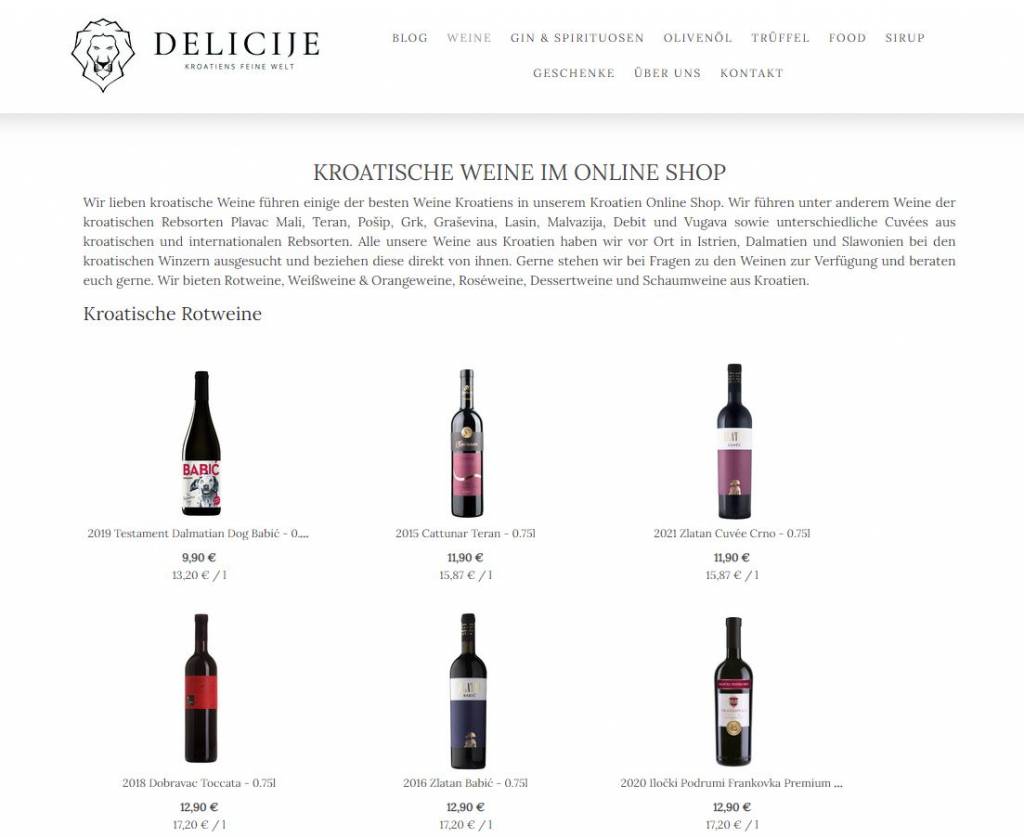 Delicije, an exceptional online store specialising in gourmet products from Croatia, invites German wine enthusiasts on a tantalising journey through their remarkable selection of wines. With over 200 Croatian fine wine labels carefully categorised by type, from sparkling to dessert wines, Delicije offers a treasure trove of flavours to delight the discerning palate.
True to its name, Delicije focuses on quality and authenticity, curating a diverse range of Croatian wines that showcase the rich tapestry of flavours this region has to offer.
Delicije, based in Dachau, goes well beyond wine, importing a selection of other Croatian delicacies to tantalise your taste buds. From spirits to truffles, honey to jams, salt to olive oil, and fruit syrups, Delicije offers an array of gourmet products that embody the essence of Croatian delicacies.
Delicije strives to provide competitive prices, with certain wines offering particularly favourable deals. While the user experience may have some room for improvement, the fixed amount shipping cost inside Germany of 7.90 Eur presents an attractive and cost-effective option for wine enthusiasts.
While the blog section is a bit neglected, it still offers valuable information for general orientation.
In summary, Delicije stands as a gateway to Croatian gourmet delights, offering a remarkable selection of wines alongside a range of other delicacies. Embark on a gastronomic journey guided by Delicije's commitment to quality and authenticity.
While the user experience may have its quirks, the competitive prices and convenient shipping make it a worthwhile destination for German wine enthusiasts seeking to uncover the hidden gems of Croatian cuisine.
Pros:
Remarkable Wine Selection
Other Gourmet Products
Competitive Prices
Convenient Shipping
Cons:
User Experience Challenges
Blog Neglect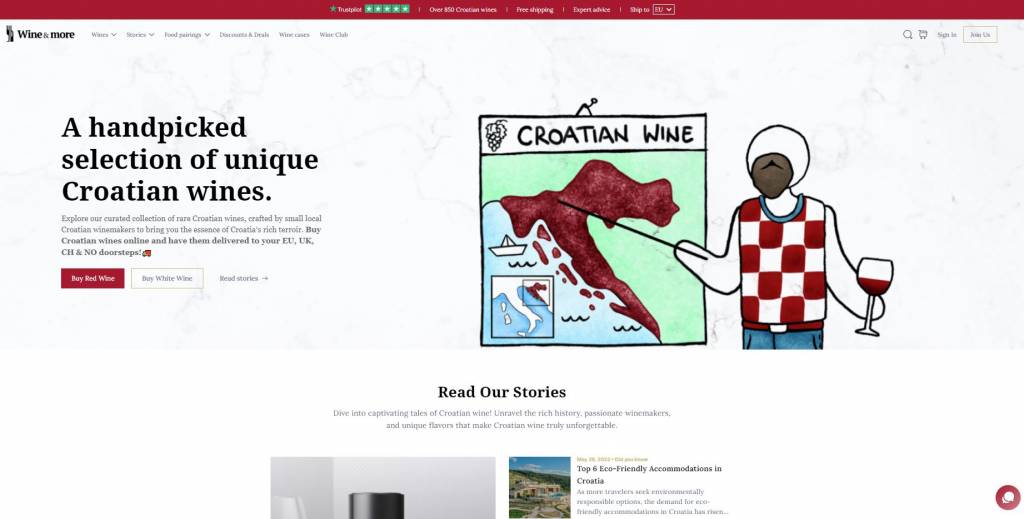 Immerse yourself in the enchanting world of Croatian wines with Wine&more, a premier online store based in Croatia. While primarily serving the European Union market, Wine&more also offers to ship to non-EU countries, including Switzerland. The competitive prices and exceptional selection make Wine&more a destination worth exploring.
Wine&more takes pride in its extensive collection, boasting over 850 labels from hundreds of producers. With such a diverse range of options, every wine enthusiast is bound to find something to suit their taste. While the vast selection may initially seem overwhelming, Wine&more understands the importance of customer support, including expert advice in guiding you through the choices, ensuring a personalised and enjoyable shopping experience.
Wine&more team is dedicated to sharing their love and expertise for wines, and they go above and beyond to assist and advise customers. Moreover, Wine&more recognises the value of education and information, providing a wealth of content about Croatian and Balkan wines. This commitment to enhancing your wine knowledge sets Wine&more apart, making it an exceptional destination for wine enthusiasts.
Wine&more also prioritises your peace of mind when it comes to payment transactions. Utilising the WSpay system, they ensure secure and seamless credit card transactions, including popular options such as PayPal and even cryptocurrency. With a focus on customer satisfaction, Wine&more ensures that the purchasing process is as smooth and secure as possible.
Wine&more is a reliable online destination for wine lovers, featuring the most comprehensive collection of Croatian wines by far. Their commitment to quality ensures that only the finest wines from renowned Croatian vineyards grace their digital shelves. Wine&more's seamless ordering process and prompt delivery make it a top choice for German consumers.
Pros:
Extensive Croatian Wine Selection
Competitive Prices
Educational Content
Free Shipping (over 300 Eur)
Cons:
Shipping Costs for Smaller Orders
Weinhaus well-organized website enables German consumers to explore the rich tapestry of Croatian winemaking, ensuring a memorable wine-buying experience.
Weinhaus Kroatische Weine is a distinguished online store based in Germany, offering wine enthusiasts a selection of fine wines from Croatia. With an impressive range of around 90 wines sourced from a dozen different Croatian wineries, Weinhaus presents a tantalising array of flavours that will captivate any wine lover's palate.
As Croatian red wines have gained international recognition for their robust character, it is no surprise that Weinhaus Kroatische Weine boasts an impressive selection of 48 different labels of Croatian red wines.
Navigating Weinhaus Kroatische Weine's extensive collection is effortless thanks to their use of the Shopify e-commerce platform. You'll find an intuitive interface that allows you to explore the diverse range of Croatian wines with ease. Plus, with various payment options available, you can complete your purchase hassle-free, and confident in the security and convenience of the online shopping experience.
Weinhaus aims to bring the beauty of Croatian wines to wine enthusiasts across Germany, Austria, and Switzerland. Their delivery service ensures that your chosen bottles arrive at your doorstep in perfect condition. To sweeten the deal, they offer free shipping for orders over 100 Eur, making it even more tempting to embark on your Croatian wine journey.
Pros:
user-friendly experience, especially mobile friendly
fair delivery terms and conditions
Shopify e-commerce platform
Cons: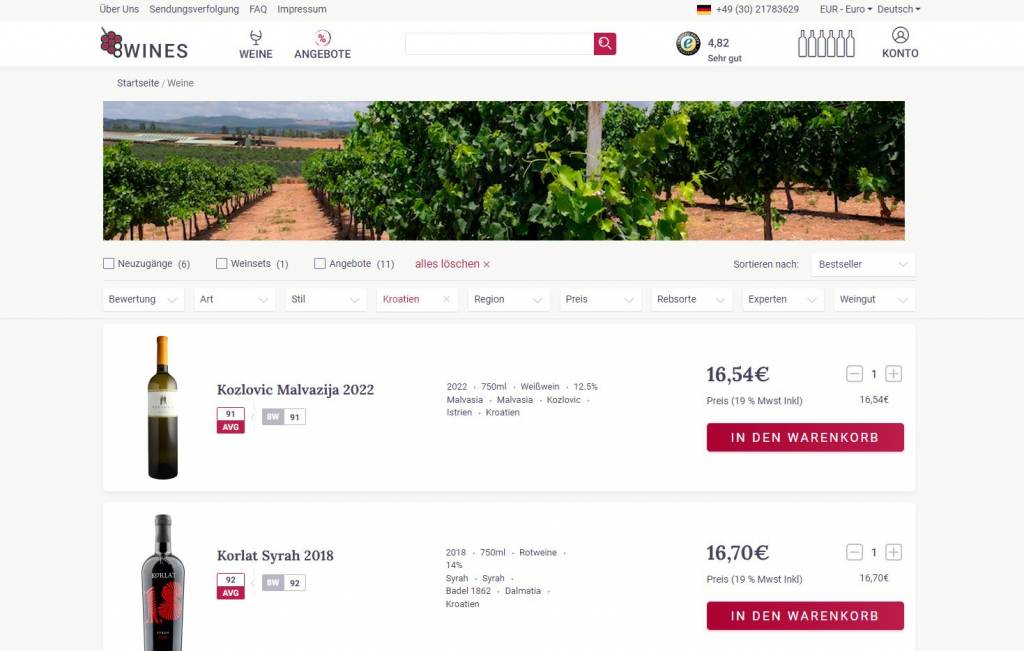 As a prominent online retailer specialising in international wines, 8Wines offers a wide selection of Croatian wines that are carefully curated to cater to diverse tastes. With its user-friendly platform, 8Wines provides an exceptional shopping experience for German consumers seeking Croatian wine.
Registered in the Czech Republic and utilising UPS for delivery, 8Wines offers an array of 53 labels sourced from various producers. While the selection may be more limited than other options, the allure of Croatian wines still beckons.
8Wines presents a sufficient selection of different Croatian wines, allowing enthusiasts to embark on a captivating journey through the country's winemaking regions. While the assortment may be smaller in scale, the focus on quality ensures that each label showcases the unique essence and character of Croatian wines.
8Wines understands the importance of secure payment options and accepts all major credit cards, providing customers with a hassle-free checkout experience.
One aspect to consider when ordering from 8Wines is the shipping costs. Free shipping to Germany is advertised for orders over 200 Eur.
Pros:
Cons:
Shipping Costs
Limited Stock Availability.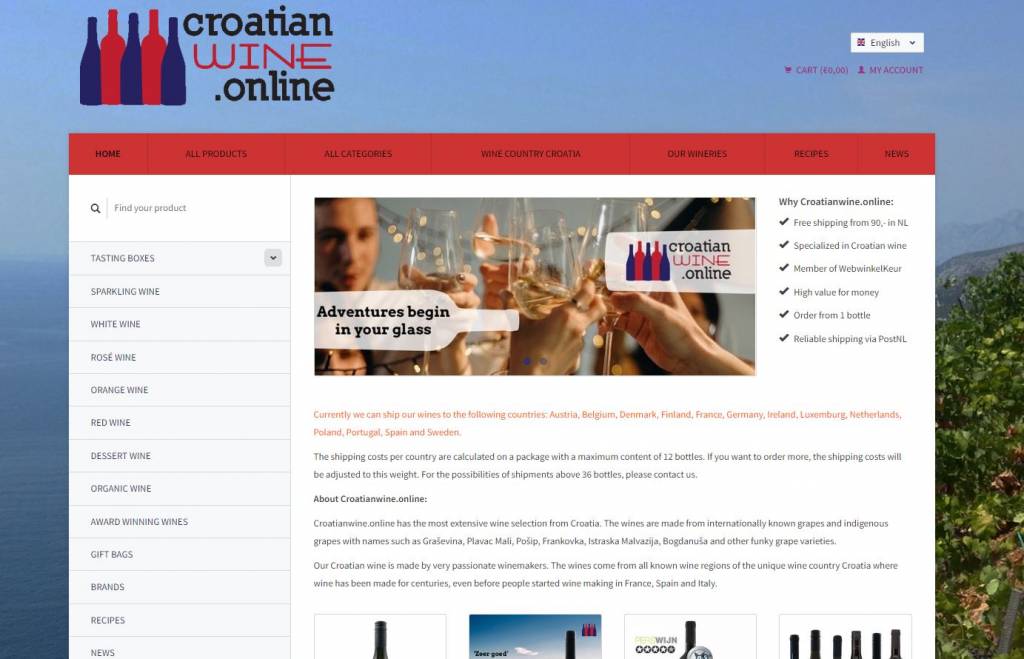 Croatianwine.online is a dedicated online retailer that offers an introduction to the rich winemaking heritage of Croatia. With a focus on affordability, this Amsterdam-based platform carefully selects wines from a handful of Croatian wineries, offering German consumers access to a collection of no more than 50 labels.
While the selection may be smaller compared to other retailers, the emphasis on affordability ensures that customers can experience the flavours of Croatia without compromising their budget.
Croatianwine.online's primary focus is on shipping to the Netherlands, Belgium, and Germany. This localised approach ensures that customers in these regions receive a streamlined and efficient delivery service, enhancing their overall shopping experience.
While the selection may not encompass a wide variety of unique and lesser-known Croatian wines, Croatianwine.online provides a gateway to discovering the basics of Croatian winemaking. It is an entry point for those new to Croatian wines or looking for more accessible options within the country's diverse offerings.
Pros:
Cons:
Selection of lower price point wines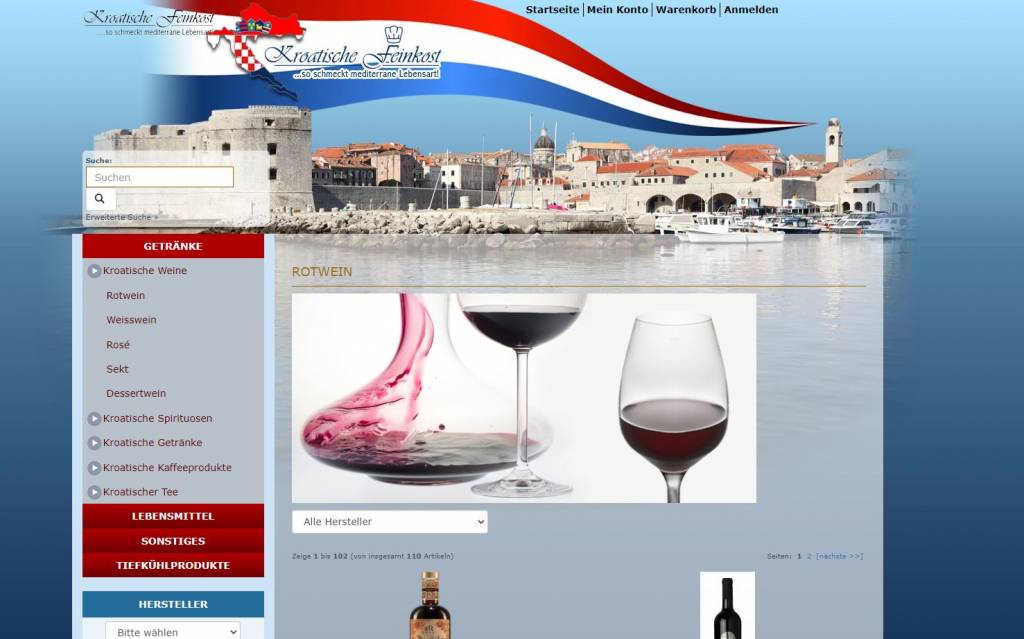 Dedicated to all things Croatian, Kroatische Feinkost offers the whole range of other Croatian quality products: meat, cheese, fish, canned food, oils, spreads, spices, spirits, tea, coffee, soft drinks, even vegetables…
Kroatische Feinkost also showcases a range of Croatian wines within their diverse selection. While the wine selection is not small, it may be considered somewhat rudimentary. With over 100 Croatian wines available in the webshop, it is important to note that many of them come from larger wineries that often make their wines available in supermarkets as well.
The visual presentation and user experience of their website may not meet the desired level expected in today's digital landscape. It is worth considering that improvements in terms of user-friendliness and aesthetics could enhance the overall shopping experience.
Despite the limitations, Kroatische Feinkost serves the purpose of a virtual Croatian supermarket very well.
Pros:
Relatively large selection
Virtual Croatian Supermarket
Cons:
Limited and not diverse wine selection
User Experience Improvements Needed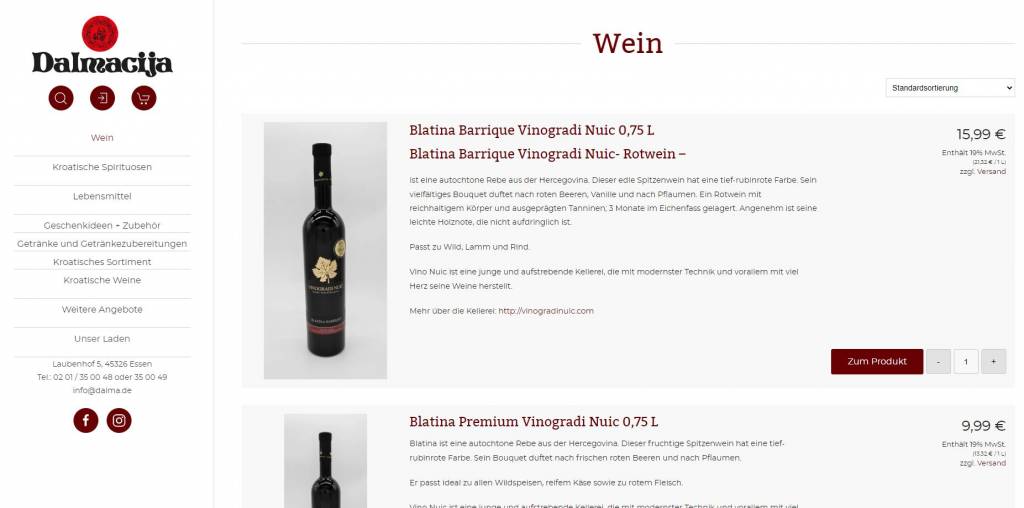 Dalma.de is an online retailer that specialises in products from various Balkans countries, focusing on Croatia. While their wine selection of approximately 50 labels provides an entry point into Croatian wines, it's important to note that there are many 1L bottles and predominantly wines from larger wineries, which may not always deliver the desired level of quality.
Similar to Kroatische Feinkost, Dalma.de serves as a virtual supermarket, offering a diverse range of goods from Croatia and other Balkan countries, extending beyond wine. Customers can explore an array of products that showcase the flavours and specialities of the region, providing an opportunity to recreate a Balkan culinary experience at home.
Dalma.de presents a relatively better visual and functional experience than Kroatische Feinkost, for example. However, the overall design may still feel inexpensive, which could impact the overall impression of the online store.
Similarly, the wine prices may also be perceived as more affordable, but it's essential to consider the potential trade-offs regarding quality and selection.
Despite Dalma.de is located in Essen, it's important to be mindful of the shipping costs. Customers should consider the potential additional expenses associated with the delivery of their orders.
Pros:
Virtual Balkan Supermarket
Very affordable prices
Cons:
Very limited Wine Selection and Quality
Shipping Costs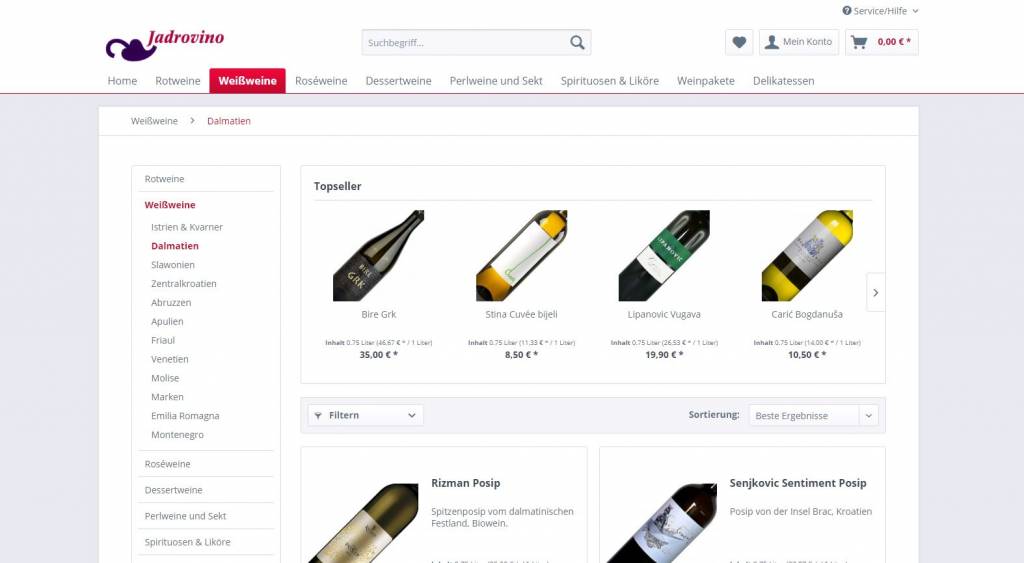 Jadrovino prides itself on being one of the leading online platforms for Croatian wines in Germany. With a wide selection encompassing all the main Croatian wine regions, Jadrovino ensures that German consumers can access some of the fine Croatian wines.
Jadrovino goes the extra mile in educating and engaging consumers by providing extensive wine descriptions. This commitment to explaining each wine's characteristics enhances wine enthusiasts' overall experience, allowing them to delve deeper into the world of Croatian wines.
To further enhance customer satisfaction, Jadrovino offers free shipping for orders over 150 Eur. This allows customers to conveniently receive their desired Croatian wines without the additional burden of shipping costs.
Pros:
Smart Selection of Premium Croatian Wines
User Experience
Cons: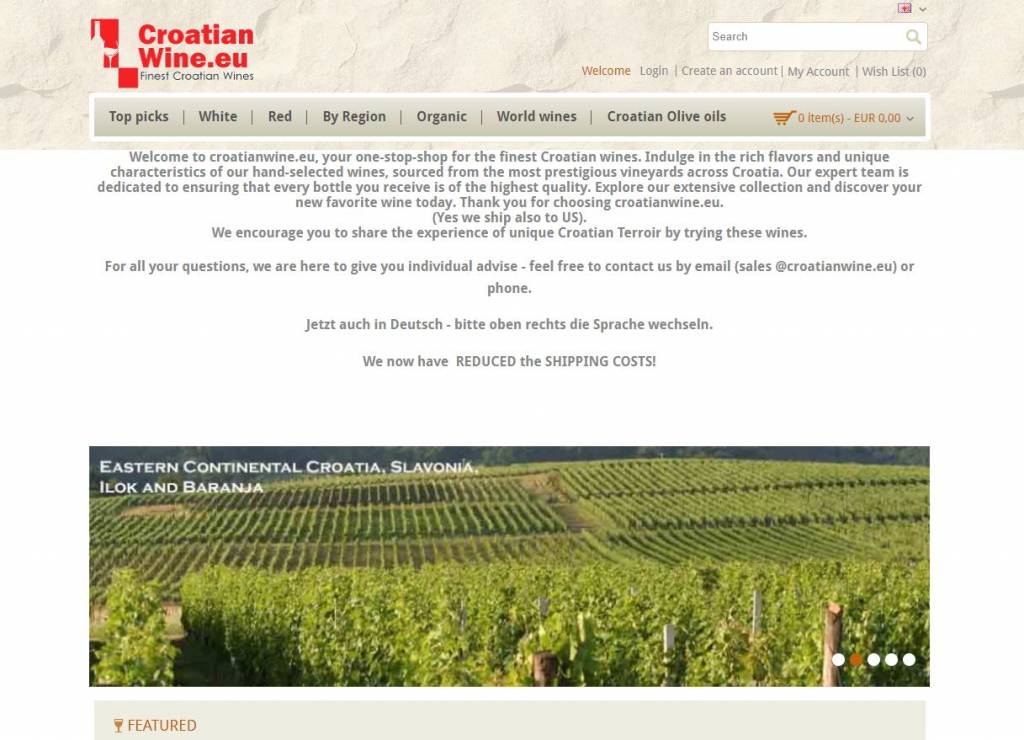 Embodying its mission in its name, croatianwine.eu is an online retailer committed to showcasing the very best of Croatian wines. German wine enthusiasts can embark on a delightful journey through Croatia's vinicultural landscape with croatianwine.eu's comprehensive range of wines (cca 250), sourced directly from renowned Croatian wineries.
To ensure a seamless shopping experience, croatianwine.eu handles all shipping to the EU through trusted services such as DPD and GLS. Shipping costs range from just under 0.5 to 2 EUR per bottle for an order of approximately 20 bottles, considering each bottle's weight.
In keeping with the expectations of today's online purchasing landscape, croatianwine.eu provides a wide range of payment methods. Customers can enjoy the convenience of choosing from practically every payment option available, ensuring a seamless and secure transaction process.
While croatianwine.eu is based in Croatia and sources its wines directly from wineries, it is important to note that prices may be unexpectedly high. Customers should be mindful of this aspect when making their purchasing decisions.
Pros:
Comprehensive Range of Croatian Wines
Cons: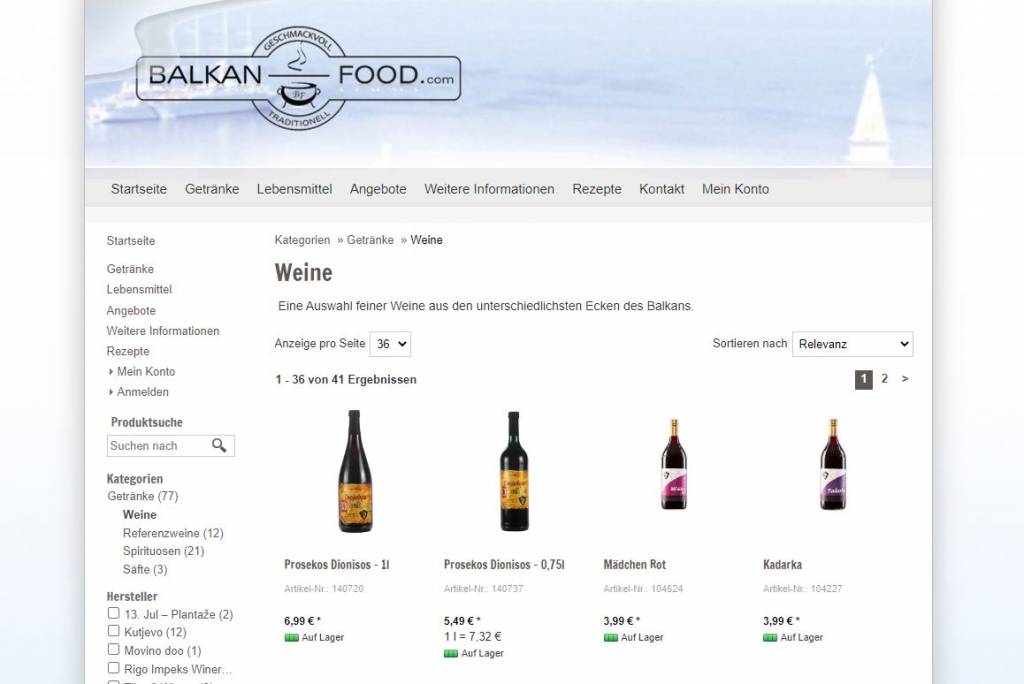 Balkan Food is a platform that celebrates the rich culinary heritage of the Balkans, encompassing Croatia and beyond. While their primary focus lies on offering a diverse range of Balkan ingredients, it's important to note that their wine section is a complementary addition to their offerings, featuring 12 wines exclusively from a single Croatian winery.
German customers can still indulge in the wines of one of Croatia's largest and most celebrated winery, boasting a long-standing tradition. Despite the limited selection, Balkan Food provides an opportunity to explore and savour the wines crafted by this esteemed winery, offering a glimpse into Croatia's winemaking heritage.
Balkan Food goes beyond just wine, positioning itself as a comprehensive supermarket for Balkan ingredients. German customers can conveniently choose between a self-pickup option or having their orders shipped at a reasonable price, ensuring a seamless and flexible shopping experience.
Pros:
Affordable option of a single, but important winery
Cons:
Only 12 Croatian wine labels
In summary, Balkan Food is a platform that celebrates the culinary heritage of the
Conclusion
For German wine lovers seeking to explore the world of Croatian wines, the online shopping landscape offers a gateway to a delightful vinicultural journey. The 10 best places to buy Croatian wine online in Germany, provide exceptional options for accessing the diverse and exquisite Croatian wine offerings.
Whether you are a seasoned wine connoisseur or an enthusiastic beginner, these online retailers offer an opportunity to discover the unique flavours and rich history of Croatian wines right at your fingertips.
In summary, Delicije stands as a gateway to Croatian gourmet delights, offering a remarkable selection of wines alongside a range of other delicacies. Embark on a gastronomic journey guided by Delicije's commitment to quality and authenticity.
While the user experience may have its quirks, the competitive prices and convenient shipping make it a worthwhile destination for German wine enthusiasts seeking to uncover the hidden gems of Croatian cuisine.
In conclusion, Wine&more stands out again as a premier destination for wine enthusiasts seeking the finest Croatian wines. With an extensive selection, competitive prices, dedicated customer service, and educational content, Wine&more offers a complete wine experience showcasing the best Croatian winemaking.
Delve into the world of Croatian wines and let your wine journey unfold with every sip.